Nikon's D3X; One Of The Best Just Got Better Page 2
In the studio the D3X shines because of that big, beautiful chip and its ability to capture uncompressed TIFF files that don't require conversion or processing. Although they may take a little more time to write to the memory card—not so much that it's noticeable—and will gobble up hard drive space, I like TIFF files anyway. I also applauded the D3X's ability to capture studio images at ISO 100 to maximize image quality. When you "get it on the chip" the photograph is ready to go.
MTM model Haley Graves was photographed in studio using three Adorama Flashpoint II monolights and various Westcott (www.fjwestcott.com) light banks and umbrellas. Photograph was made with an AF Nikkor 85mm f/1.8D lens and an exposure of 1⁄60 sec at f/8 and ISO 100.
© 2008, Joe Farace, All Rights Reserved
Tip: The D3X's TIFF files weigh in at 72MB while a JPEG runs around 11MB. It's a good idea to use large-capacity memory cards or use both of the D3X's twin slots (set the camera to "Overflow" mode) to handle large file sizes. That's why SanDisk makes a 16GB Extreme IV CompactFlash card. Lest you think I'm being flippant, look at the economics: A 16GB card represents only about 4 percent of the cost of a D3X while the lower capacity, less expensive 4GB Extreme IV card is 26 percent of the cost of a Nikon D40. If you can afford the camera, the card is cheap.

Like any real professional studio camera, the D3X has a real, jumping up and down PC (Prontor-Compur) flash connection so traditionalists can use a sync cord to connect to their studio lights. Since I'm always tripping over cords in the studio, fewer cords are safer for me and all of the portrait and fashion images I shot were made using Booth Photographic's (us.boothphoto.com) Flash Waves wireless transmitter and receiver. (See the October 2008 issue of Shutterbug.) For my toy product shots, a PocketWizard (www.pocketwizard.com) was used to trip the Elinchrom (www.bogenimaging.us) strobe. After making a series of test shots under both studio lighting setups, the first thing I noticed was how closely the in camera LCD images matched what I saw on my color corrected 23" Apple Cinema Display. The whole "what you see is what you get" aspect means that you can trust what you see on the camera to be what you get in the file.

Image quality of the files—even JPEGs—from the Nikon D3X are so stunning that you will inevitably run into one of Farace's digital laws of unintended consequences and find that being able to see even the tiniest flaw in your subject simply must be corrected. You're going to be using Photoshop's Magnifying Glass tool now more than ever to enlarge sections of the image to fix the tiniest imperfection. Maybe you won't but I felt this Lorelei call irresistible.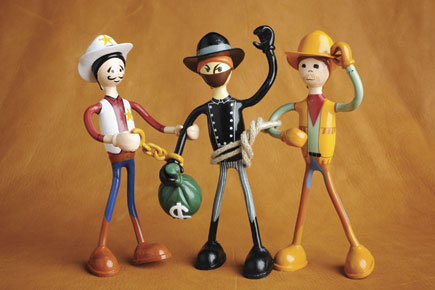 I photographed Cowboy Bob™ and his posse arresting that notorious bandit Loot™ using an Elinchrom 50 monolight with a Rotalux light bank attached. A white board placed on camera left provided fill as did an overhead skylight. Lens was an AF Micro-Nikkor 60mm f/2.8D with an exposure of 1⁄50 sec at f/18 and ISO 100.
© 2008, Joe Farace, All Rights Reserved
Is the D3X enough to make users of another camera system want to switch? Maybe, if they have the money to foot the bill for a conversion along with another more compelling reason, such as the ability to use Nikon's awesome new Perspective Control lenses. Will D3 owners feel a need to upgrade? I don't think so. With their different ISO and capture speed capabilities, the D3 and D3X are complementary and aimed at different kinds of shooters or different kinds of shooting environments. Maybe you will find that you need both cameras. Clearly any Nikon shooting pro who wants the maximum image quality will not only want a D3X but may actually need one to deliver the kind of image quality that demanding clients require.
D3X Vs. 1Ds Mark III
What's the difference between a D3X and a Canon 1Ds Mark III? I set out on a cold winter's day to find that out with a head-to-head shootout between both cameras mounted with similar lenses. For the wide angle shot I used an AF-S Nikkor 24-70mm f/2.8G ED and for the longer lens photograph I used an AF Nikkor 85mm f/1.8D. Tests were made with the cameras sitting atop a Manfrotto tripod with both D-SLRs set in Aperture Priority mode and at ISO 200. Images were captured as raw+JPEG formats using identical manufacturer and type of memory card. Files were captured at the camera-selected exposure but a two-stop bracket was shot starting at one stop under and increasing in 1⁄3-stop increments to one stop over. I tried to keep white balance, type of metering, and anything else that would affect the image to be as close as possible. In my preliminary analysis of the wide angle JPEG files, the Nikon images were physically larger (20.16x13.44 vs. 18.72x12.48"), brighter, and warmer. To get a similar overall density required a Mark III image with 2⁄3 stops more exposure. The Canon images appeared more neutral (I found out later that my Canon shooter, Matt Staver, had set the camera's Picture Styles for Neutral, not Standard) but somewhat underexposed for the same or similar indicated exposure as the D3X shots.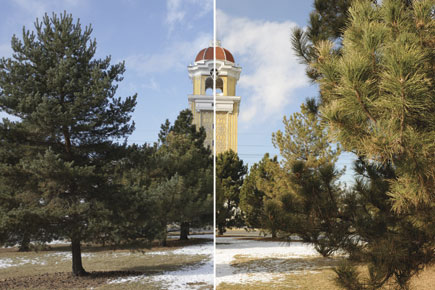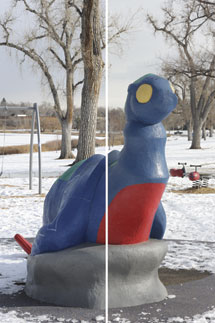 (Top) I tried to line up the JPEG files from the two cameras but could only get close. So please, no letters about the shadows on the left and right half. I provided the Webmaster with full-frame shots of both files so you may be able to check them out full frame on Shutterbug's website. Both shots were made with zoom lenses set at the 35mm focal length. Exposure on the left (Canon) half was 1⁄80 sec at f/16 with a +2⁄3 stop exposure compensation. Exposure on the right (Nikon) half of the frame was the camera-selected 1/100 sec at f/16. Both images are different but is one better than another? Check the text for a few caveats. (Above) I was able to better line up the two "snow turtle" images made with a fixed focal length (85mm) than the zooms used in the other comparison. Exposure on the left (Canon) half was 1/100 sec at f/16 while exposure on the right (Nikon) half of the frame was the camera-selected 1/125 sec at f/16 with a plus one stop exposure compensation. Both images are different but is one better than another? Read the text for the details.
Photos © 2008, Joe Farace/Matthew Staver, All Rights Reserved
The photographs of the "snow turtle" were much closer, with the D3X files being slightly more neutral, snappier, and requiring slightly more exposure to match the Mark III file's overall density. I was surprised there was any noticeable difference in the JPEG files but analysis of the raw files from both sessions showed them to be much closer together in tonality; anyone who processes the images could make them look identical or as far away as possible. I showed the JPEG shots to several pros and asked their opinions, including an Olympus-shooting photographer who liked the Nikon shots better and a Canon shooter who thought the D3X files "kicked some a**."
I originally photographed this hospital from approximately the same place and time of day but at a different time of year with a Nikon D3. The exposure for this D3X shot was 1/125 sec at f/22 and ISO 200, which was very close to the original but because of the time of year (July vs. December) the lighting is completely different and I must confess that, image quality aside, I like this version better. Oh yeah, the image quality of the unmanipulated files is many orders of magnitude better.
© 2008, Joe Farace, All Rights Reserved
When evaluating subjective tests such as this, it's important to keep two critical points in mind: First, with large imaging chips such as both these cameras offer, design and construction of the lens used takes on much more importance and is likely to have a much greater effect on sharpness and image quality than when shooting with D-SLRs with smaller sensors. Second, no matter what conclusion I drew it is highly unlikely that will have any effect on the serious Nikon- or Canon-using professional. They already made their decision about the system they want to use and are not likely to change because one D-SLR body has a temporary advantage and they know digital imaging quality is a perpetually moving target. What looks awesome today will be overshadowed with whatever the camera manufacturers have in store at the next photokina or PMA 2010.
Speedy Memory Cards
I tested the Nikon D3X with several memory cards but primarily a 16GB SanDisk (www.sandisk.com) Extreme IV CompactFlash card. The SanDisk Extreme IV high-performance series just received a 12.5 percent performance bump up to 45MB/second and that's twice as much as previous capacities or, as the wolf told Goldilocks, "the better to capture those big D3X files." SanDisk Extreme IV memory cards are compatible with the latest UDMA-enabled cameras.
Depending on the D-SLR, the SanDisk Extreme IV's increased performance may reduce delay between shots, enabling you to make more shots and improve workflow with fastercard-to-computer data transfer speeds, something I'd previously verified via real-world tests. Prices are what you might expect for high performance: a 4GB memory card is $89.99 and a 16GB card costs $299.99. Extreme IV cards carry a lifetime-limited warranty and have an operating temperature range from 13?F to 185?F. I shot the D3X with a 16GB card in chilly conditions at or below the lowest operating temperature and while I was cold, the camera and card came though without a hitch.
D3 Vs. D3X: What's The Difference?

D3X
D3
Sensor Size
24x35.9mm
23.9x36mm
Effective Pixels
24.5 million
12.1 million
ISO Sensitivity
100-1600
200-6400
Focus Points
51 points (15 cross-type sensors)
51 points (15 cross-type sensors)
Continuous Shooting
5 fps (FX, 5:4); 7 fps (DX)
9 fps (FX, 5:4); 11 fps (DX)
Number Of Shots/Charge
4400
4300
Start-Up Time
0.12 seconds
0.12 seconds
Lag Time
0.04 seconds
0.04 seconds
LCD Screen
920,000-dot (VGA), 3", 170? wide angle view
920,000-dot (VGA), 3", 170? wide angle view
Live View
Handheld mode/Tripod mode
Handheld mode/Tripod mode
Active D-Lighting
Auto, Extra High, High, Normal, Low, or Off
High, Normal, Low, or Off
In Camera Image Editing
Yes
Yes
Dimensions
6.3x6.2x3.4"
6.3x6.2x3.4"
Weight
43.03 oz
43.74 oz
Price
$7999.95
$4999.95
Technical Specifications
Image Sensor Format: FX (24x35.9mm)
Image Sensor Type: CMOS
Effective Pixels: 24.5 million
LCD Monitor Resolution: 920,000 dots
Slowest Shutter Speed: 30 seconds in steps of 1⁄3, 1⁄2, 1 EV
Fastest Shutter Speed: 1/8000 sec in steps of 1⁄3, 1⁄2, 1 EV
Mirror Lockup: Yes
Lowest Standard ISO Sensitivity: 100 in steps of 1⁄3, 1⁄2, 1 EV
Highest Standard ISO Sensitivity: 1600 in steps of 1⁄3, 1⁄2, 1 EV
Lowest Expanded ISO Sensitivity: Lo-1 (ISO 50 equivalent, in steps of 1⁄3, 1⁄2, 1 EV)
Highest Expanded ISO Sensitivity: Hi-2 (ISO 6400 equivalent)
Viewfinder Frame Coverage: Approx. 100 percent
Flash Sync Speed: Up to 1/250
FP High-Speed Sync: Up to 1/8000
Battery Life (Shots Per Charge): 4400 shots (CIPA)
Approx. Dimensions: 6.3x6.2x3.4"
Approx. Weight: 2.69 lbs
Cost: $7999.95

For full list of specs, visit www.nikonusa.com.
Acknowledgements: Many thanks to Matthew Staver (www.matthewstaver.com) for working with me and providing gear for the D3X vs. 1Ds Mark III shootout. Thanks to Lightware's (www.lightwareinc.com) Paul Peregrine for the use of his studio for the Cowboy Bob shoot and loan of the AF Micro-Nikkor 60mm f/2.8D lens used to make the photograph.
For more information, contact Nikon Inc. at: www.nikonusa.com.

FEATURED VIDEO