New Year's Resolutions; What Santa Should Bring You Page 2
Multimedia Magic With Roxio
I love Roxio's (www.roxio.com) Easy Media Creator 9 Suite because of the comprehensive way it approaches managing and reproducing media as well as labeling for that media. This major upgrade to this suite of Windows CD and DVD authoring, burning, photo, video, and music applications includes high-definition video creation tools supporting Blu-ray Disc (no HD DVD?) recording. Easy Media Creator 9 Suite supports portable devices such as iPod, PSP as well as Windows media players such as Samsung's Yepp and mobile phones. Its Media Manager can organize and access photo, music, and video files, allowing you to upload content to multimedia mobile phones through a USB or Bluetooth connection.

Easy Media Creator 9 Suite also lets you send camera phone images to a computer for storing or sharing. You can create a mobile digital album or upload music as personalized ringtones! (It's all the rage with the kids.) You can also transfer DivX content or programming from a TiVo system or set-top DVD recorder. Easy Media Creator 9 Suite is compatible with Microsoft's Windows Vista and costs $99.99. Registered owners of Roxio and Sonic products are eligible for special upgrade offers.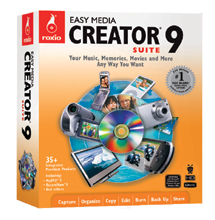 Paint Shop Pro Photo XI
Aficionados of this popular program have always claimed that Corel's (www.corel.com) Windows-only Paint Shop Pro is "just as good as Photoshop" and with the launch of Version 11, it takes a giant step in challenging the 800 lb gorilla of imaging. Paint Shop Pro Photo XI lets you edit, manage, and share photos as well as create photo projects such as presentations, technical documents, collateral materials, and e-mails.

This new version contains lots of one-step fixes along with a set of advanced image-editing tools that pros will enjoy. Color Changer lets you change the color of an object or an area in a photo with a few clicks. Color Changer detects and analyzes variations in brightness caused by real-world lighting and reapplies the illumination to the new color, producing a realistic effect. Time Machine replicates processes from bygone ages of photography to create an "old-time" look. The Organizer is a customizable photo management center that helps you manage image files and is built into Corel's Paint Shop Pro Photo XI, eliminating the need to switch between applications as with Adobe's Bridge. There's also Enhanced Raw Camera Support so you can open and edit raw files from many different digital cameras.
© 2006, Joe Farace, All Rights Reserved
Put The Hood In Hoodman
The $69.99 Hoodloupe Professional can be worn around your neck like a normal loupe but when it's time to review your shot, you can place it on LCD screens up to 3" in size for glare-free viewing. For those with less than perfect vision, Hoodloupe has an adjustable +/- 3 diopter. It focuses like a binocular eyepiece by rotating the eyepiece in or out. To eliminate pixilation, minimal magnification is used. Each Hoodloupe includes a lanyard and protective storage case and is encased in rubber for protection from the inevitable bumps that occur during a shoot.

LATEST VIDEO

SPONSORED VIDEO