New Nikkor AF-S Silent Wave Pro Zoom Lenses
Although somewhat large and heavy, the AF-S 28-70mm f/2.8D IF-ED was an ideal companion in travel photography thanks to its excellent autofocus and optical performance. (At 35mm; f/5.6; fill flash; Ektachrome E100 VS.)
Photos © 1999, Peter K. Burian, All Rights Reserved
Although most autofocus Nikkor lenses employ a focus motor in the camera body, Nikon was actually the first manufacturer to build a motor into the lens barrel. In 1983, they unveiled two such AF lenses--the 80mm f/2.8 and 200mm f/3.5ED, both for the F3AF. That system did not prove to be a stellar success commercially, but the AF-I series of pro telephotos (introduced in '92) with integral AF motor became best sellers. Since then Nikon has upgraded the technology and now offers some AF-S lenses containing a more advanced Silent Wave motor.
During March '99, I had the opportunity to test the first two AF-S zooms while shooting stock photography in Southern California, Mexico and for spring skiing activities in Canada. This was a very positive experience, since both lenses proved to be superb performers. Anyone who wonders whether Nikon has perfected autofocus will be quickly satisfied as I was. Particularly with the advanced AF system of the F5 and the F100, the AF-S zooms will convince the most cynical photographer.

Common Characteristics. Before moving on to consider the design of each AF-S zoom lens individually, let's consider the similarities. (Check the section on AF-S technology as well.) Both are sold with a removable "corner-cut" lens hood--designed to shade the front element without vignetting at longer focal lengths. These are highly effective but too large to fit into the sectional compartments of most camera bags. By removing some internal dividers from a large Domke bag, I was able to make space for the hoods.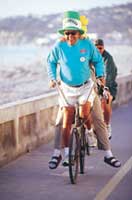 The autofocus tracking performance of the AF-S 80-200 f/2.8D IF-ED zoom--on an F100 body--was impressive as this grame from a series of 10 images indicates. This makes the combination highly suitable for action photography. (At 100mm; f/2.8; Ektachrome E100 VS.)
Both lenses are designed with a nine blade diaphragm that produces a more circular aperture at any f/stop. Consequently, out of focus highlights in the background are reproduced as pleasing round blobs, and not octagons as with many other lenses. Zooming operation is rotary (not push/pull) assuring precise control of focal lengths. A distance scale (under glass) is provided, but there's no depth of field scale; use the camera's stop-down control to assess the range of sharpness at any aperture. Naturally, these are D-type lenses, including the Distance Signal chip for optimum results in Matrix metering with recent Nikon cameras, especially when flash is used.

These AF-S zooms are sold with a cylindrical (leatherette exterior, with soft, plush interior) hard shell carrying case useful especially for situations where you must pack some equipment inside checked baggage when traveling by air. They offer maximum protection from shock, bumps, scratches, and dents. Extensive use of metal in barrel construction makes the zooms extremely rugged like all Nikkor pro lenses. Both offer a dust and moisture-resistant design which is well appreciated in outdoor photography, especially with one of the well-sealed bodies such as the Nikon F100, F4 or F5.

Tele-Zoom Characteristics. Pick up the new AF-S 80-200mm f/2.8D IF-ED zoom and it will seem very large/hefty, as expected with a pro lens of wide f/2.8 maximum aperture. In fact, it's only about 5 oz heavier than the current AF-series model, probably due to the addition of the Silent Wave motor. Actually, it's the oversized lens hood that makes it appear so formidable. An optional HN-34 hood is also available, designed for more convenient operation of a polarizing filter.

This zoom is equipped with a rotating tripod mounting collar which is well placed for excellent balance. Adequately large and sturdy for good support even with an F5 body, this accessory adds 4 oz to the weight, but can be removed when not required. Do note that the lens barrel length remains constant while zooming, assuring that optimum balance is maintained at all times.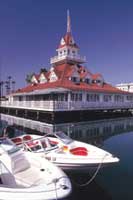 Even at f/22, the AF-S 28-70mm f/2.8D IF-ED zoom produced slides with incredible high sharpness. This is an avantage in land and cityscape photography where we often stop down to small apertures for maxium depth of field. At 28mm; B+W polarizer; Sensia II 100.
The minimum focusing distance of 4.9' remains constant throughout the zoom range. Three Focus Lock buttons are provided, useful in continuous AF Servo focus when the photographer wants to stop tracking. These are well placed and at least one is always near a finger when the lens is handheld. The Focus Range Limiter can be set to restrict focus to the 8' to infinity range when desired; this speeds up focus acquisition, as the system is not required to search the entire range.

All of the AF 80-200mm f/2.8 zooms incorporated extra-low dispersion glass in the optical formula, but the newly designed AF-S model includes five ED elements. Because it is fully compatible with the AF-I series tele-converters, it is likely to be used frequently at long focal lengths. This makes premium-grade optics even more important: to compensate chromatic aberration which would be problematic otherwise in the 280-400mm range. The TC-14E and TC-20E converters are not inexpensive, but are designed to maintain excellent image quality and full automation.

Tele-Zoom Evaluation. The AF versions of the 80-200mm f/2.8 have always been among the top rated of the Nikkor zoom lenses, and this new AF-S model is the best ever produced. I tested it with the Nikon F100 body and found the autofocus to be incredibly fast, capable of tracking a high-speed vehicle as well as more erratic motion. For example, skiers and snowboarders performing stunts and cyclists along the boardwalk in Pacific Beach. While reviewing my slides, I made the following notes of optical performance:
· Even at f/2.8 this zoom produces extremely high central sharpness and very high edge sharpness at all focal lengths. There is no color fringing visible under a 10x loupe. By f/4 the sharpness at the edges matches central sharpness and this continues to f/16. The finest detail is clearly defined.
· Contrast is also very high, helping to increase the impression of sharpness. Linear distortion is virtually non-existent. Color rendition is neutral without any cast or flare and is extremely well controlled, even without the lens hood.
· In extreme close focusing pro-caliber sharpness is possible at every aperture from f/5.6-f/16.
· With the AF-I tele-converter TC-14E excellent image quality is possible by one stop down from the maximum aperture. Autofocus speed reduces very slightly (due to the loss of light) but AF remains highly reliable.
The AF-S 80-200mm f/2.8D IF-ED zoom proved to be a first class performer in all respects; focus acquisition in AF, color endition. (At 200mm; f/11; B+W polarizer; Ektachrome E100 VS.)
Short Zoom Characteristics. Another large, heavy, and solid lens, the AF-S 28-70mm f/2.8D IF-ED is an entirely new model, without a counterpart in the conventional AF Nikkor line. (Nikon does offer lightweight AF 28-70mm, AF 28-80mm, and AF 28-85mm zooms but all with a maximum aperture of only f/3.5-4.5.) This new lens will appeal most to photographers who considered the AF 35-70mm f/2.8D too restrictive in terms of the limited focal length range. The wide f/2.8 constant maximum aperture will also maximize its value in low-light conditions. Zooming is not internal, but the length of the barrel increases by only about an inch when shifted to the 28mm focal length.

As expected, the newly designed optical formula--with Nikon Inte-grated Coating for exceptional color rendition and contrast--is impressive. It features a molded-glass aspherical element (with non-spherical surface) for superior image quality at the shorter focal lengths. This type causes all light rays to converge at a common point, correcting spherical aberration for more consistent edge to edge sharpness even at wide apertures. It reduces halo as well as comatic flare and also minimizes size and weight since fewer elements are required for a high level of correction.

Two ED (Extra-low Dispersion) glass elements minimize chromatic aberration at longer focal lengths, especially valuable at wide apertures. The intended result is superior image quality, with high resolution even at the corners of the frame and excellent color rendition without color fringing. Such optics are not common in zoom lenses of such short focal lengths but should ensure the very best performance possible.
Evaluation. The AF-S 28-70mm f/2.8D IF-ED incorporates the finest optics available, even better than those of its AF 35-70mm f/2.8 model. Consequently, optical performance is incredibly high, even at f/2.8, at every focal length. By f/5.6, sharpness is nothing short of stunning: I could easily make an excellent 16x24 print from my Velvia slides. Very slight barrel distortion is visible at 28mm, but this is negligible. In close-focusing (down to 1.6' in the Macro setting) optical performance is first rate. Although this is not a "macro zoom," it focused close enough for anything I would photograph with this range of focal lengths. And AF performance has also been improved. On a scale of 1-10, I would rate autofocus with the F100 as a 9.5, competitive with the very finest of any brand.

Conclusion. Professional photographers and discriminating photo enthusiasts who demand the very finest will definitely want these two AF-S lenses. They are a credit to the engineers and designers at Nikon, boasting the advanced optical, mechanical, and electronic technology. Because a fast telephoto zoom is the workhorse of many photographers, the AF-S 80-200m f/2.8D IF-ED especially should become a favorite with press, fashion, travel, and other outdoor photographers. Full compatibility with the AF-I tele-converters--a first for an AF Nikkor zoom--will offer a significant advantage.

Anyone who doubts that zooms can match one of the top "prime" lenses should definitely try one of these new models for an eye opener. In terms of sharpness, resolution of intricate detail, snappy contrast, freedom from flare and aberrations, both are outstanding performers. Although the Silent Wave motor adds to the cost, it makes the lenses even more desirable. This technology will surely help photographers to increase their success ratio of sharply focused images, paying dividends that will justify the higher price.
AF-S Technology At A Glance
Nikon has been producing AF-S Nikkor lenses--with the integral Silent Wave motor since 1996, starting with the fast telephotos from 300-600mm, and adding the two AF-S zooms in 1999. The following technical information and AF-S advantages are worth considering; they are common to all AF-S models produced to date.
· The Silent Wave motor focuses internal lens elements using ultrasonic traveling waves which are converted into rotational energy. (Conventional DC motors convert electromagnetic force into rotational force.) The high torque motor is powerful, driving the AF elements with instant start up and highly effective stopping ability. Both factors make it highly effective for action photography with high speed subjects and those with erratic motion.
· AF-S lenses provide nearly silent ("whisper-quiet") autofocus operation. Because there is no gear train as with conventional driving systems, there is no gear noise or power loss. Longer motor life is a bonus.
· The M/A mode of current AF-S lenses allows the photographer to manually fine-tune focus even in autofocus operation. When the lens is set for manual focus, there is no power consumption (as with all Nikkor AF lenses). In cold weather photography, this helps to extend the useful life of the camera's batteries.
· All AF-S lenses include Internal Focusing (IF) for ultra fast autofocus performance, relatively compact size, excellent balance, and closer focusing ability. Because the front element does not rotate, using polarizers, graduated and special effects filters is a pleasure with the AF-S zooms. (The filter's position and effect do not change during focusing or zooming.)
· Autofocus operates with the Nikon F4, F5, N90, N70, F100, and the Pronea cameras. With older Nikon SLR bodies, the AF-S lenses can be focused manually. This assures a high level of system compatibility through the use of the Nikon F-mount.
· Autofocus and all camera automatic features are maintained when an AF-S telephoto--or the new AF-S 80-200mm f/2.8D IF-ED zoom--is used with AF-I tele-converter TC-14E or TC-20E to increase the focal length. (Naturally, AF is disengaged with the f/4 AF-S lenses when the TC-20E is used, as the maximum effective aperture is then smaller than f/5.6.)
.

Technical Specifications

AF-S 80-200mm f/2.8D IF-ED
Maximum Aperture: f/2.8
Lens Construction: 18 elements in 14 groups
Angle Of View: 30° 10' to 12° 20'
Minimum Focus Distance: 4.9'
Maximum Reproduction Ratio: 1:6.3
Filter Size: 77mm
Dimensions: 207x88mm
Weight: 55 oz (51 oz without tripod collar)
Accessories: Hood and carrying case, included; fully compatible with TC-14E and TC-20E converters
AF-S 28-70mm f/2.8D IF-ED
Maximum Aperture: f/2.8
Lens Construction: 15 elements in 11 groups
Angle Of View: 74° to 34° 20'
Minimum Focus Distance: 2.9' (1.6' at Macro setting)
Maximum Reproduction Ratio: 1:5.6 (in Macro setting)
Filter Size: 77mm
Dimensions: 124.5x88.5mm
Weight: 33 oz
Accessories: Hood and carrying case, included

LATEST VIDEO