New Gear For 2007: PMA Report; Fast, High-Capacity Memory Cards Page 2
Note: All of the new SanDisk SDHC cards--regardless of the price--are bundled with a free SDHC card reader, a $20 value, suitable for use with any SD card. The Extreme III series also includes ESP Technology to streamline data transfer, RescuePRO software to recover accidentally deleted files, a tech support telephone hotline, and a limited lifetime warranty.

Sony: The primary proponent of the Memory Stick format, Sony has doubled the storage capacity of the PRO Duo series to 8GB ($299, list). All Memory Stick PRO Duo media come complete with a Memory Stick adapter for compatibility with older cameras and card readers. These are very durable cards, with a temperature range rating of -13ÞF to 185ÞF. Sony is not publishing speed data at this time, but in 2006, their 4GB cards were rated as 67x; frankly, they seem much faster than that when used in recent prosumer-level Cyber-shot cameras.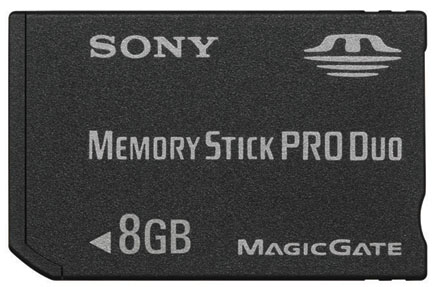 Sony Memory Stick PRO Duo
Since the Alpha D-SLRs also accept CompactFlash cards, Sony will start marketing such cards with 66x and 133x transfer speeds in capacities between 1GB and 4GB. These products will be branded as part of Sony's Alpha camera system; price information not yet available.
Sony Alpha 4GB CompactFlash
What's SDHC, And Will It Work With Your Camera?
In practical terms, SDHC cards are compatible only with certain recently built digital cameras and memory card readers. On the other hand, an SDHC-compliant camera or other device will work fine with the older SD cards.

In order to determine whether your current equipment is SDHC compatible, check the detailed specifications on the manufacturers' websites. And if shopping for new equipment, make sure that it's SDHC compliant if you want to use the new high-capacity cards. As discussed in this report, some companies provide a free SDHC compliant (USB 2.0) card reader with certain products, but you can also buy one for as little as $15.

In order to provide some consistency as to actual speed, the SD Card Association (an industry standards board) developed new "guaranteed ratings." These denote the minimum sustained data transfer speed, abbreviated as DTR. A Class 2 SDHC card provides a DTR of 2MB/sec, a Class 4 card provides a DTR of 4MB/sec while a Class 6 card provides a DTR of 6MB/sec. Some preliminary tests have already concluded that some--but not all--SDHC cards can accept data at a much faster rate. Consequently the SDHC Class rating doesn't tell you which cards are the fastest but at least it provides a guarantee of minimum speed.
The New UDMA Standard
There's a new standard in CompactFlash cards, too. At least two manufacturers are marketing cards with a new data timing mode called Ultra Direct Memory Access (UDMA). That includes the SanDisk Extreme IV series (available since late 2006) and Lexar's new 300x Pro cards. The UDMA technology is complex, but in practical terms, it's lightning fast. According to Lexar, their UDMA-enabled 300x Pro card can deliver "a minimum sustained write speed of 43MB/sec" in a UDMA-compliant camera.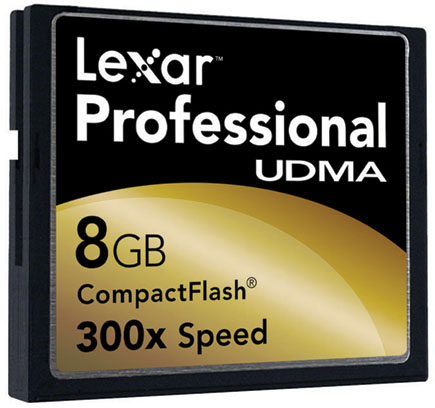 As of this writing, there were no suitable digital cameras; only a few medium format digital backs were UDMA compliant. With current D-SLRs, the UDMA cards employ only the slower, conventional (PIO) technology. In unscientific testing with a Canon EOS Digital Rebel XTi, a preproduction 8GB Lexar 300x card was very fast, but provided no obvious advantage over my already fast Lexar 133x cards. We should start seeing UDMA-compliant digital SLRs by the end of 2007 and these will be able to take maximum advantage of the ultrahigh-speed CompactFlash cards.
Note, too, that only a few memory card readers are UDMA compliant. That includes the SanDisk Extreme FireWire model and two brand-new Lexar Pro models: the UDMA Dual-Slot USB Reader and the UDMA FireWire 800 Reader. As well, Delkin Devices makes a CardBus 32 UDMA CompactFlash adapter ($59, list) for Apple and PC laptop computers for ultra-fast data transfer. (All of those accessories also work fine with conventional memory cards.)
Manufacturers/Distributors' addresses can be found by visiting the Instant Links section of our website at: www.shutterbug.com/currentissuelinks/.

LATEST VIDEO

SPONSORED VIDEO