New Gear For 2007: PMA Report; Dedicated, Hot Shoe Flash & Flash Diffusion Devices Page 2
Very little data was available yet on a new dedicated compact flash unit to come along later this year from Pentax. Called the AF200FG, it will have a GN of 20. Since it's short in height, it won't make the camera top heavy as many hot shoe flash units tend to do.
ToCAD showed the new Sunpak PF30X digital hot shoe flash in versions for use with Canon, Nikon, and Sony digital cameras. This smaller, low-profile unit is about half the height of most hot shoe units thus it's lighter and less top heavy. The output GN is 100 and the non-zoom head covers up to 20mm. Fully compatible with TTL light control systems, it's simple to operate with a button layout on the back. There is vertical bounce capability and an autofocus assist light. The MSRP is $150. The Sunpak PF20XD is a small sensor slave flash having a shoe for convenient mounting onto a camera body or to a supplied bracket. Suitable for both film and digital cameras, the GN is 66 and there are five steps of manual output control, plus adjustable pre-flash to set to match various cameras. The MSRP is $100.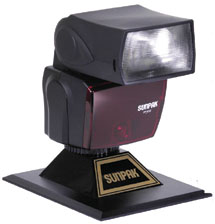 Also seen at ToCAD was the DSU-01, a wireless triggered digital slave unit that works with any shoe mount or PC cord operated flash unit to remotely trigger the flash. It has a multi-flash sync socket so you can attach two extra flash units for more light and five pre-flash settings to adapt it to various digital camera pre-flash types. The MSRP is $50.

New Flash Brackets
BKA showed the brand-new Stratos bracket that's lighter, has a 90Þ camera tilt, a comfortable foam grip, and leg supports. It will sell for about $150.

Custom Brackets introduced the Digital PRO-M black anodized aluminum bracket with 90Þ ball-bearing rotation for changing from horizontal to vertical composition and improved quick camera release. It's strong and maintenance free, has adjustable camera height, a comfortable foam grip, foldout base support so the camera can be set down, and retractable upright column to make it easier to put into a camera bag. The MSRP is $435. Also new is the CB Junior, which is now offered in a kit. This anodized aluminum bracket is light and strong, has adjustable flash height, a comfortable soft foam grip, and foldout leg to balance when placed on a table. The MSRP is $127.
Dot Line Corp. showed some new brackets, including the versatile RPS Studio 420 model for use with Canon or Nikon digital cameras, a base that flips for horizontal or vertical composition; it's very easy to carry. This is said to be the first bracket to include all the components needed for use with digital cameras, including dedicated flash cord, electronic shutter release, and adaptable to right- or left-hand use. The MSRP is $150. The Stealth Bracket is thinner and lighter and has two heights so it can be used with either a regular SLR or one with a thicker battery pack base. It lists for $90.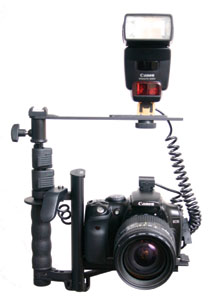 New from Tiffen is the Stroboframe U Pro bracket with 90Þ rotation and a universal mount that's cut out for easier access to the front of the lens. The vertical portion is extendable upward to position the flash above the lens and adjusts side to side. I saw a prototype unit so there is no photo or MSRP yet.

Flash Diffusers
A brand-new system of flash diffusers and accessories was introduced by Harbor Digital Design that easily and securely fit onto the head of major brands of portable flash units. The choices include domed diffuser, light box, mini reflector, black box, and sensor shield. These translucent diffusers reduce or eliminate harsh shadows produced by powerful flash units and offer adjustable diffusion levels. The Pro Kit has an MSRP of $99 and the small diffuser is $59.
Harbor Digital Design Ultimate Box Diffusers
THK was demonstrating an interesting new translucent flash diffuser that works with the pop-up or built-in flash on any camera. It's an egg-shaped diffusion shield with an off-center hole that easily slips over and holds onto the camera lens; this allows the shield to protrude above the lens and diffuse the direct flash. Since the camera meters the flash internally, exposure correction is automatic. It will list for $25.
Manufacturers/Distributors' addresses can be found by visiting the Instant Links section of our website at: www.shutterbug.com/currentissuelinks/.

LATEST VIDEO

SPONSORED VIDEO
Testing Tamron's SP 150-60mm G2 lens while capturing birds and alligators in Apalachicola, Florida.