The Mystery Of The Aurora Borealis; Capturing Nature's Light Show Page 2
It's best to cover your bets with bracketing and err on the side of a longer, not shorter, exposure. Lens selection will depend on what's available to you as well as just how much of the sky/foreground you'd like to include in your image. When using film I generally use a Nikon 20-35mm f/2.8 as it's fast enough with Provia 400 and allows me a bit of flexibility in my composition. Occasionally I'll put on a 16mm fisheye for a frame-filling 180Þ view of a particularly broad and interesting aurora. Other times I like to use a 35mm f/1.4, particularly if the aurora is moving/changing rapidly and I want to capture as much of the event as quickly as possible. The longer exposure times will give you more of a blur than some people are fond of so try to limit times if you wish to avoid this. It will also allow for many more stars to show up in your image than a shorter exposure would.
Aurora Candle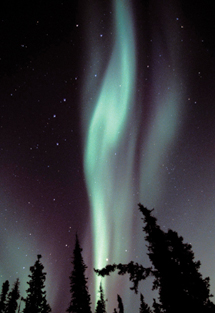 If the lights are especially active, too long of an exposure will result in a sort of washed-out blurry image that's not very satisfying to look at. Of course, we all go with what we've got and I certainly have my share of "habitat" shots simply because I didn't have the right lens at the time.

The beauty of digital cameras is the ability to change ISO rapidly along with being able to view your results immediately and adjust your technique, literally on the fly. While the first digital cameras suffered the same problems as film of high noise with long exposures and/or high ISO settings, today's better models have sophisticated software that virtually eliminates this problem. I presently use a Nikon D200 and am continually amazed at its ability to deliver sharp, clear images with long exposures or high ISO settings. Although it's not a cure-all for poor technique or composition I honestly can't imagine going back to film for most of the work I do these days.

I have been told that the creation of vignettes in your image is possible during long exposures due to heat generated by the electrical charge entering and leaving the sensor on digital cameras. If this is a problem, "fixing" it can be as simple as adjusting your composition for cropping later, if shooting raw, using the Vignette control in raw converter software.

A few other notes are in order to get you set up to shoot the aurora. When using film, it's generally a good idea to overexpose the first frame of each roll so the technician knows where #1 is when he/she starts to cut. This is particularly useful if your film's being developed in an area where they don't often think about night photography. Also, don't try to squeeze that 37th shot out of a roll of 36, especially if it's on a motorized drive. Nothing is worse than having that dry, brittle film break in the back of the only camera body you brought out with you because you were in such rush to not miss the event. I routinely use motor-driven bodies and have been fortunate to not have a problem with either static electricity buildup or having the film break except as I've already mentioned.

That said, there have also been plenty of nights where I've just stepped out onto the porch and simply watched the show without even thinking about setting up a camera. Not a bad thing either. A little hot cocoa, laying on the porch in a sleeping bag looking up at the heavens and just soaking in the view. What a treat!
Red Aurora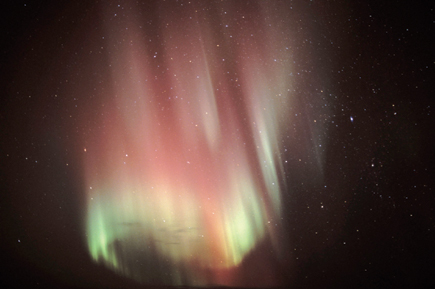 Finding The Beauty
While the aurora can occur throughout the year and is visible as far south as the middle latitudes of the US, you are more likely to see one along the same latitude as Fairbanks, Alaska, an area of maximal auroral activity. According to the Geophysical Institute at the University of Alaska/Fairbanks you have the possibility of seeing an aurora some 243 times within a single year in Fairbanks. That's assuming minimal cloud cover and dark skies. Of course, that rules out the majority of the summer months for us so it's pretty much late fall, winter, and then early spring or roughly September-April from about 10pm until 4 or so in the morning.
Exposure Recommendations
Here are some recommended exposures at various aperture and ISO setttings. If possible, bracket and try to shoot a few tests when possible to get the best possible results.

APERTURE

1.4

1.8

2.0

2.8

3.5

4.0

4.5

5.6

F

25

1'52"

2'54"

3'44"

7'28"

11'12"

14'56"

22'24"

29'54"

I

50

56"

1'28"

1'52"

3'44"

5'36"

7'28"

11'12"

14'56"

L

64

42"

1'2"

1'25"

2'50"

4'15"

5'40"

8'30"

11'20"

M

100

28"

44"

56"

1'52"

2'48"

3'44"

5'36"

7'28"

S

200

14"

22"

28"

56"

1'24"

1'54"

2'48"

3'44"

P

400

7"

11"

14"

28"

42"

56"

1'24"

1'52"

E

800

4.5"

5.5"

7"

14"

21"

28"

42"

56"

E

1000

3"

4.5"

5.5"

11.5"

17"

23"

34"

46"

D

1600

2"

3"

3.5"

7"

10.5"

14"

21"

28"
Useful Web Resources
Additional explanations: www.alaskascience.com/aurora.htm
Aurora forecasts from Fairbanks: www.gi.alaska.edu/cgi-bin/predict.cgi
Site in Norway: www.northern-lights.no

If you would like to see more of Mike Endres' work, be sure to visit his website, www.wanderlust-photo.net, or e-mail him at mendres@alaska.com. Please note that Endres, who was born in Fairbanks, is currently serving in the Army and his
website is still "under construction" as he remains deployed.

LATEST VIDEO