Music To My Eyes; Sites Full Of Soul Page 2
Ron Steele is almost 70 and living proof that photography is a life-long hobby and that you don't just get older, you also get better.
© 2004, Ron Steele, All Rights Reserved
Man Of Steele
Ron Steele (www.ronsteelephotography.com) has been making images for 50 years: First with a Kodak Baby Brownie and now with Canon EOS digital SLRs. His flower photographs are notable, not just for their quiet elegance but for the fact that they were made in beds just "outside his door," proving once again that you needn't trek to Katmandu to make remarkable images. The soft flower photographs in Gallery 1, shown as a row of tiny thumbnails across the top of the screen, have a Zen-like tranquility about them, so it didn't surprise me when Steele told me he's had several solo and group exhibitions. Over in Gallery 2, you'll find images of butterflies made in a nearby conservatory.

While Steele's titles (e.g., #010) may not be especially mellifluous, his image of a blue butterfly on pink blossoms is like his flower photographs, a meditative reflection on a tranquil moment. A few that he blasted with flash may appeal to etymologists, but not me. I prefer the moody interplay of colors such as the Monarch (#015) resting on bright pink blooms. Steele is proof that photography is a life-long hobby and you don't just get older, you also get better.
Kevin Swan's site design is one of the more clever interfaces I've encountered and provides just three ways to access information: View, Shop, and Read.
© 2004, Kevin Swan, All Rights Reserved
Alternative Wedding Photography
Kevin Swan (www.kevinswan.com) doesn't just photograph weddings--he provides alternative wedding photography. I immediately thought of Queens of the Stone Age, but I think Swan means his wedding style is contemporary. His site design is one of the more inventive I've encountered and provides three ways to access information: View, Shop, and Read. Clicking some of the weddings listed lets you look at some of the actual events he's covered in a style that combines some elements of traditional wedding photography with casual portraiture. His photographs are in color and monochrome and I don't care if he shoots digital or film, these images are beautiful. I especially loved the images of Mike and Sarah's wedding and Swan's use of black and white (with just a dash of color) to produce to a look that is simply drop-dead gorgeous. Check out the Shop section which shows his basic wedding packages in a stylish and effective way. The same is true of his Read section which features client testimonials. All of this innovative design makes visiting the site fun. When you're asking people to spend money it's nice to have them in a good mood. Ya gotta love a guy who on his introductory page says that instead of shooting "a near-extinct critter in Africa, I'll take the bride and groom every time." But what about that not-so-endangered species, the bride's mother?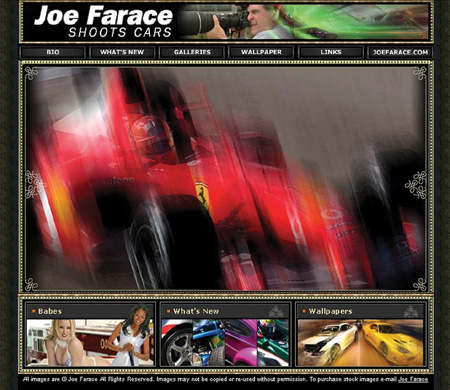 Thanks to the creative design talents of Brian Ellis, JoeFaraceShootsCars.com has a fresh new look and is actually finished. Thanks, Brian.
© 2004, Joe Farace, All Rights Reserved
They Bet It Couldn't Happen
Las Vegas oddsmakers were betting 8:1 that www.joefaraceshootscars.com would never get finished, let alone be updated. I hope you took that bet. It took a designated hitter, Brian Ellis (bce99@ bellsouth.net), to come in to give my "Cars" site a facelift and he did such a great job that he's currently working on www.JoeFarace.com, which should be finished by the time this issue hits your mailbox.

Oh, I used to play the piano and guitar. But I'm not that Joe Farace.


LATEST VIDEO

SPONSORED VIDEO
Testing Tamron's SP 150-60mm G2 lens while capturing birds and alligators in Apalachicola, Florida.