Mounting Canvas Prints; Gallerie Wrap Makes It A Snap Page 2
With the canvas trimmed, run a small bead of glue along the inside edges of the stretcher bars (if you're not using glue supplied with a kit, be sure to use a pH neutral glue to avoid any discoloring with age along the stretcher bars).

At each corner, cut a 45? angle from the inside edge of the stretcher bar to the outside of the canvas. Fold these flaps onto the adhesive backing on the beveled end of the stretcher bars (#6).
The final steps are to turn the stretcher bars up to close the frame, and then insert the staples in the slots at the corners of the frame. Finally, insert the tensioners into the slots. You'll want to be sure that you don't have these pressing against the canvas or they'll be visible when the print is hanging (#7).
Believe it or not, that's all there is to it! If you want to take it a little further, you can add a backing to the print and wire mounts. This gives the finished image a more professional look and can increase the apparent value to a customer.

Here is the finished print mounted on a wall (#8).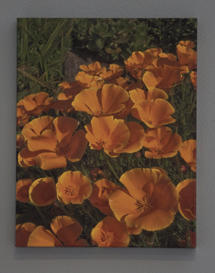 What About Protecting The Canvas?
I've had a number of people ask whether canvas prints need additional protection. It is a good idea to use a varnish coating on your prints, and this should be done prior to mounting as it might cause some slight shrinking, which can lead to cracks in the canvas surface if you've mounted prior to coating. There are two main types of coatings, a spray varnish and a roll-on varnish.

Tip: Never use a brush to apply varnish. You will leave brush marks, and you will not be able to eliminate them. You should use a foam roller for best results.

Hahnemühle makes a good product, their Fine Art Masters Varnish, in a quart size can for rolling on. Other good choices are Glamour II from Breathing Color (www.breathingcolor.com) that is also a roll-on product. In a spray varnish, I've had very good luck with Moab's Desert Varnish Spray (www.moabpaper.com).
Jon Canfield is the author of several books on digital photography and output, including the "Photodex ProShow Visual Quick Start Guide" and "Print Like a Pro." Canfield teaches workshops around the country, including the Panasonic Digital Photo Academy (www.digitalphotoacademy.com) and the Lepp Institute (www.leppinstitute.com). You can reach Canfield at: www.joncanfield.com.

LATEST VIDEO

SPONSORED VIDEO
Testing Tamron's SP 150-60mm G2 lens while capturing birds and alligators in Apalachicola, Florida.