Master Class
Sharing The Secrets Of The Craft
Some New Additions To A Teaching CD Page 3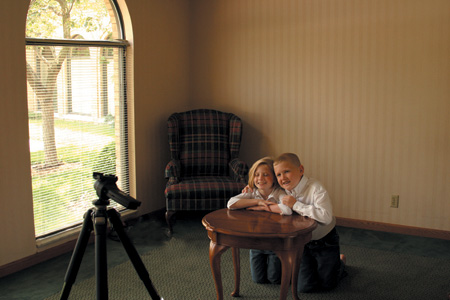 The resulting portrait is very natural (except for the fact that the young man has his arm around his little sister).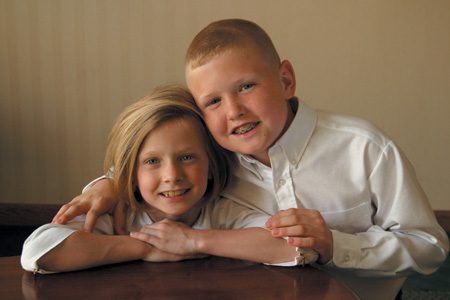 The lighting was so good there I brought the next few subjects to the same location. It doesn't get much easier than this.

All I had to do was to keep the baby entertained. As it turned out his toes and socks did the job for me. In this particular case I decided to place a reflector to his left and below, popping light into his eyes.
Traditional Family Groups
Photographing groups is one of my favorite things to do. I have simple formulas that work just about all the time. For a group of four, for instance, I begin by posing two in the front row, one slightly higher than the other. Then, I add the next two--one in between the seated subjects, the second on the outside, as shown here. The two heads in the back are parallel to the people seated below.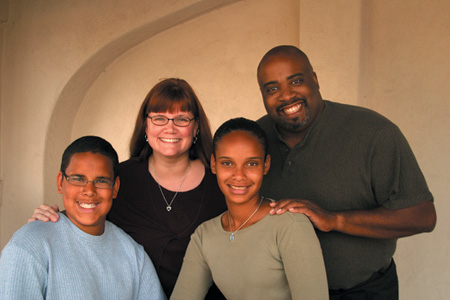 When photographing groups of four or more I use fairly flat, even lighting. I took this portrait under cover with a wide-open light source coming from behind the camera. They are angled only slightly from the opening, so that the light would not be totally flat. There is a second light source coming from behind them to create a little backlighting and to keep the background from going too dark.

If you like the hints that I've shown here you're going to love the whole CD, "How'd He Do Dat?" It will contain over 200 images with a PDF file that you can print for a full description of how each picture was made.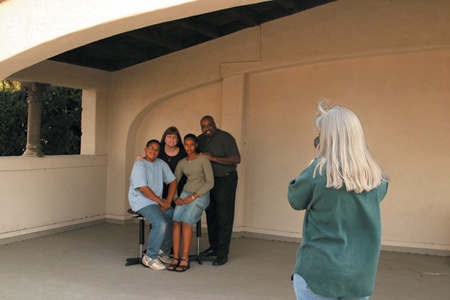 Equipment Details
I guess that all of you steady readers know by now that I'm shooting with a Canon EOS 10D camera. My basic lens for all of these pictures is the Image Stabilized Canon 28-135mm--the image stabilization that's built into the lens is worth the price alone!

My CompactFlash card is the 640MB eFilm PRO by Delkin Devices. It's fast, accurate, efficient, and indispensable. I have two tripods--both Manfrotto, distributed by Bogen. One is the 3221WN with a fantastic Manfrotto head, #322. My background shown in these pictures is a black/white 4/6 ft pop-up background by Westcott. My reflector, of course, is Westcott's Monte's Illuminator--black on the back, silver on the front.

My indispensable posing table is by Photogenic. The stools are by ALM, also known as Monte's Posing Stools. They are stocked by Unique Photo, New Jersey (ask for Michael Green).

Lastly, for all my printing needs I rely on Buckeye Color Lab in Ohio. I'll write more about my printing needs in later issues.
Look for details, and information on my upcoming classes, on my website at: www.montezucker.com.

LATEST VIDEO