For The Love Of Photography; Don't Allow The Challenge Of A Disability Stop You From Making Great Pictures Page 2
When you're ready to head for the great outdoors, nearby county, state, and national parks usually offer special facilities that give handicapped visitors safe access to designated areas. Special parking areas, boardwalks, benches, and tables allow people of limited mobility to photograph scenic areas in safety and relative comfort (#5). Scenic drives often allow photographs of wildlife and landscapes to be made directly from a car window or from special pullouts (#6).
#5. Boardwalks in local parks enable a photographer to use a wheelchair to transport gear and a tripod to a good scenic location. (Canon EOS 20D, Canon EF-S 17-85mm lens, f/6.3 at 1/200 sec.)
#6. From a bench on the walkway, photographs of beach activities can be made without interfering with other visitors or activities. (Canon EOS 20D, Canon EF-S 17-85mm lens, f/11 at 1/400 sec.)
As a person with a passion for photography, it is not important what you photograph or how you photograph it. It is only important that you get back to living your life and if photography is part of that life, you may find it to be your very best therapy (#7).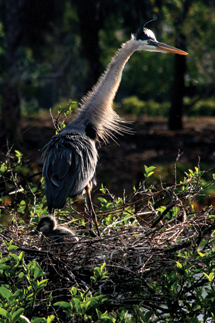 #7. Disabilities may slow us down and force changes in the way we work, but we cannot allow them to force us to give up photography. (Canon EOS 20D, Canon 100-300mm lens, f/9 at 1/640 sec.)
Photos © 2006, Ralph J. Adkins, All Rights Reserved
Recognize A Stroke
Photographers rely heavily on their own abilities often in isolated situations. Just as frequently they work with many people in stressful conditions. It is very important that you be able to recognize the symptoms of a stroke for your safety as well as the safety of those people around you. Doctors recommend asking the person having problems three questions:

1) Ask them to smile.

2) Ask them to talk, just to speak a simple sentence.

3) Ask him or her to raise both arms.

If they have trouble with any one of these tasks, call 911 immediately. These simple steps will help you recognize the symptoms of a stroke and could save a life.
Safety First
Don't let your enthusiasm for your craft get in the way of your common sense. Share your plans with your doctor and therapist and follow their advice. Remember your weakened condition and your loss of agility as you plan your first endeavor. An elderly lady in a big SUV can be tough on a slow-moving photographer in a wheelchair. Make your first sessions short and don't overdo it.

LATEST VIDEO