Photographer Creates Stunning Insect Portraits by Combining 10,000 Images Into One Amazing Shot (VIDEO)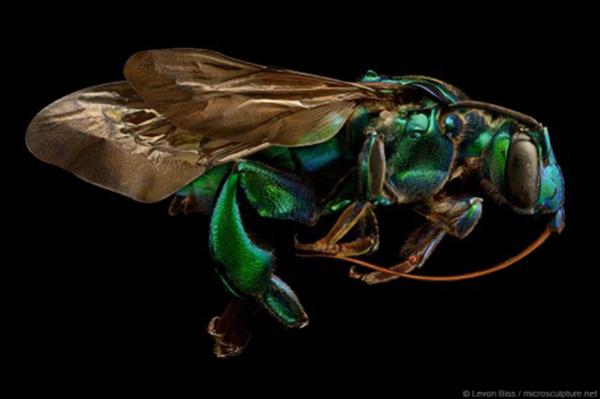 Levon Bliss is a photographer who thinks big, and his groundbreaking "Microsculpture Macro Photography" show is on display at Oxford University Museum of Natural History from May 27 through October 2016. Bliss creates his stunning work by combining approximately 10,000 photos into one high-resolution image.
He uses a 10X microscope lens attached to a 200mm prime lens mounted on his 36-megapixel Nikon D810, to create images that portray a unique combination of science and art.
"I photograph the insect in approximately 30 different sections depending on the size of the specimen," he explains. "Each section is lit differently with strobe lights to bring out the micro-sculptural beauty of that particular section of the body. This process continues until I have covered the whole surface area of the insect."
As you can see in the Vimeo video below, the result is an insect measuring 10mm or less displayed as a mind-blowing 3-meter print (almost 10 ft.). The Microsculpture website provides a closer, zoomable look at the images. You can also see more of Levon's work on his Facebook page.

FEATURED VIDEO