Lenses; Great New Optics For Digital And 35mm SLRs Page 2
Note the 1:2 designation, indicating extremely close focusing ability (37.4") in Macro mode, available in the 180-300mm range. At the 300mm end, this Tamron lens can provide a 0.5x magnification, rendering a tiny subject as 1/2 life size on a 35mm size film frame or a large digital sensor. When used with digital SLRs with the smaller sensor, apparent magnification is even higher (at the roughly 465mm equivalent), because of field of view crop. In other words, the subject appears larger because the smaller sensor reproduces less of the surroundings. (Specs: 62mm filter size; 15.3 oz; hood included; in Nikon D, EOS, Pentax, and Maxxum D mounts; $189, street price.)
The various versions of Tamron's multi-purpose compact zoom have been best sellers and the new AF28-200mm f/3.8-5.6 XR Di Aspherical [IF] Macro should be even more desirable. This one incorporates XR glass as well as the same optimization features and provides an approximately 43-310mm equivalent with most digital SLRs. The new lens features an upgraded chip, moderately close (19.3") focusing for a maximum magnification of 0.25x at the long end; even greater apparent magnification is possible in digital capture. (Specs: 62mm filter size; 12.5 oz; hood included; available in the same mounts; $299, street price.)
In the pro-caliber Sigma line, the large, hefty, wide aperture APO 70-200mm f/2.8 zooms (roughly 108-310mm equivalent in digital capture) have always been my favorites. Now, there's a new version, the EX DG MACRO HSM model that provides two primary benefits over the previous DG (digitally optimized) zoom: closer focusing to 39.4" for a 1:3.5 reproduction ratio and a larger (removable) tripod-mounting collar for greater stability. It should provide equally superb image quality thanks to the two ELD (Extraordinary Low Dispersion) and two SLD (Special Low Dispersion) elements as well as super multilayered coatings. Except in Pentax mount, this lens employs Sigma's proprietary HSM (ultrasonic) focus motor for very fast, nearly silent operation. Add an optional 1.4x EX DG APO or 2x EX DG APO tele-converter for maximum versatility; autofocus will be maintained with either accessory. (Specs: 77mm filter size; 48.7 oz; hood included; in Nikon D, EOS, Sigma, and Pentax AF mount; price not yet set.)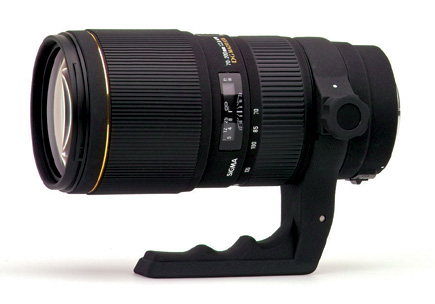 Nikon makes some superlative lenses, and their "Micro" models have always been among the very best in the line. The new AF-S VR Micro-Nikkor 105mm f/2.8G ED-IF is even better in some respects. This is the first macro lens to incorporate the Vibration Reduction (VR) stabilizer and the super-fast Silent Wave (ultrasonic) focus motor. The new VRII system is said to provide a four shutter speed step advantage over conventional lenses, ideal in handheld close-up photography where the effects of any camera shake are amplified. In addition, VRII offers a stable viewfinder image for shake-free framing even in high-magnification shooting.
This wide aperture, internally focusing Nikon macro lens provides full 1x magnification in 35mm photography and even higher apparent magnification in digital capture (at the 157mm equivalent). For superb image quality, Nikon employs extensive multilayered coating, a Nano Crystal Coat-deposited element said to "drastically" reduce flare plus one ED glass element to minimize chromatic aberration to provide high resolution, contrast, and color accuracy. (Specs: 62mm filter size; 25.4 oz; close focusing to 12"; hood included; price not yet set.)

Boasting an incredibly wide maximum aperture for depth of field control or fast shutter speeds in low light, the large/rugged EF 85mm f/1.2L II USM is the improved Mark II version of Canon's popular professional portrait lens. Benefits include "vastly" improved autofocus speed (with new algorithms and USM motor) and full compatibility with the latest E-TTL II flash metering system. Designed to provide the "pinnacle of optical performance" this lens benefits from extensive multilayered coating plus "optimized elements" for flare control and high image quality in 35mm or digital photography. According to Canon, the large circular aperture diaphragm provides "good background bokeh": a pleasing, circular rendition of defocused highlights even at mid-size apertures. (Specs: 72mm filter size; 36.2 oz; close focusing to hood included; $2100, list price.)
Zeiss ZF T* Lenses
Probably available by the time you read this, two Zeiss brand lenses are also worth considering. Information about the Planar T* ZF lenses in Contax and Nikon F mount has been released in dribs and drabs, and full specifics were not available at our press time. However, we were told that the lenses would be available as soon as a US distributor and service facility were confirmed. The first two will be a 50mm f/1.4 and 85mm f/1.4; both are manufactured by Cosina in the same factory as the M-mount Zeiss lenses.

Since Kyocera no longer makes Contax lenses, and since Nikon has discontinued most of the manual focus Nikkors, the Zeiss brand may be of great interest to those who own the pertinent 35mm SLRs. The Nikon-mount ZF lenses include an AI coupling fork but no electronic communication or linkage with a camera. Hence, they won't be fully compatible with digital SLRs, except for the D200 perhaps, because that camera provides light metering when AI lenses are used.

According to Kornelius Mueller, Marketing Manager, the ZF series employs a great deal of technology originally developed for their cine (movie) lenses. These are "the sharpest SLR lenses we have ever tested," Mueller said. They provide "unusually high mechanical quality, very precise manual focusing, reliability, exceptional durability...and a guarantee of absolute color matching throughout the whole range of lenses." Six others will be shown at photokina in October; apparently, that will include a Distagon f/2 wide angle and a Makro-Planar f/2.

Prices for North America had not been set at our press time, but the 50mm f/1.4 was to be sold in Germany for 499 euros while the 85mm f/1.4 was to be priced at 999 euros. Additional information should be available at www.zeiss.com/de/photo/home_e.nsf or on the US distributor's website, after one is announced.

Manufacturers/Distributors' addresses can be found on page 174.

LATEST VIDEO

SPONSORED VIDEO
Testing Tamron's SP 150-60mm G2 lens while capturing birds and alligators in Apalachicola, Florida.