Leica M10-D Camera Review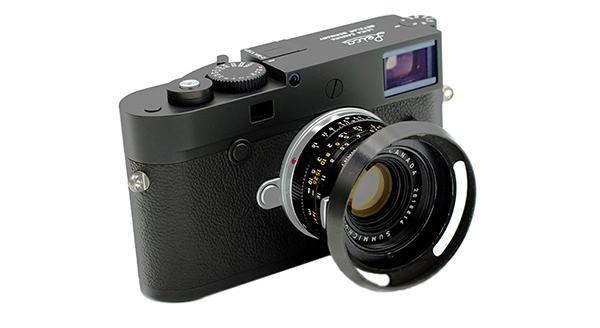 Leica just unveiled a new M-series digital camera, the M10-D. It's an exciting blend of Leica's oldest, most basic technology combined with today's most modern, most advanced capabilities.
It's a camera with a dual personality, and although that's not the meaning behind the "D" in its name, it very well could be. Shutterbug spent some time using an early sample before its release. Here's the rundown on the new M10-D and a hands-on user report.
Hybrid or crossover, no matter what you call it, the new Leica M10-D delivers two separate and equally enjoyable experiences. The user can choose between the advantages of wireless remote control and detached LCD viewing/downloading, or the nostalgic, fundamental, throwback experience of using an optical-viewfinder-only, manual focus, film-like rangefinder camera, complete with faux film advance lever.
The new ingredient is the all-new Leica Fotos app for iOS and Android smartphones. Leica Fotos is compatible with any Wi-Fi-enabled Leica camera and does not require connection to your home wireless network (LAN).
The new M10-D and the previously announced M10-P (our review of the M10-P here) are based on the 24-megapixel Leica M10 full-frame mirrorless digital camera. Here are the features they share in common:
Leica M10 / M10-P / M10-D Major Features
• Compact manual focus rangefinder-style digital camera
• 24-megapixel full-frame CMOS sensor
• Aperture Priority Automatic or fully Manual
• Leica Maestro II image signal processor
• Optical Viewfinder (0.73 magnification)
• ISO 100-50000
• Shutter to 1/4000 second
• High speed shooting up to 5-fps
• DNG and JPEG file formats
• Built-in Wi-Fi
• Black chrome or silver-colored chrome finish
Taking these model variations in chronological order, you'll find George Schaub's in-depth review of the Leica M10 here. You may also be interested in viewing our firsthand look and unboxing of the Leica M10 Zagato Edition at Leica's headquarters.
Keep Your Ps and Ds Straight
The M10-P model added four features to the original Leica M10:
1. Nearly silent shutter
2. Touchscreen LCD monitor
3. No logo on front
4. Metal hot shoe cover
You can read the details here in our M10-P User Report.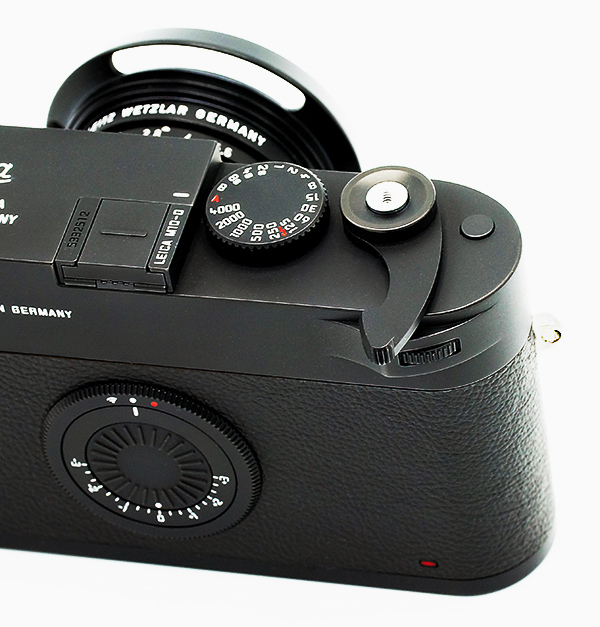 The latest model, the M10-D, breaks some new ground. Here's how it compares to the M10-P:
1. No LCD – composition and rangefinder focus via optical viewfinder
2. Wireless remote operation, focus aids and image viewing/downloading via smartphone
3. Fold-out thumb rest resembles 35mm camera's film advance lever
4. Genuine leather body cover
5. Relocated On/Off switch incorporates Wi-Fi On/Off
6. Exposure Compensation control on camera back
7. Multifunction button on top plate (check remaining shots and battery level)
Like the M10-P, the Leica M10-D has the same super-quiet shutter, script logo on the top and no red logo dot on the front. In other words, it's equally covert and subdued for under-the-radar shooting—perhaps even better suited, because of the remote LCD capability.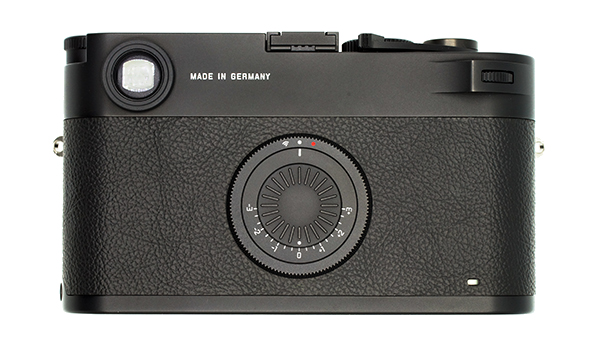 About that thumb rest…
It seems that some unscrupulous person(s) leaked an image of the M10-D before Leica released it officially. The photo depicted the fold-out thumb rest, but the villain didn't know its purpose. It's quite simply a place to rest your thumb, and I think it's a great idea.
Plus it gives the camera a truly retro film-camera look. I use a similar aftermarket thumb rest on one of my Fujifilm X-Pro1 cameras and I'm quite fond of it. I found myself using it nearly 100% of the time while testing the Leica M10-D in the field.
As previously stated, the Leica M10-D has a dual personality. You can shoot it like an elemental, film-based rangefinder Leica or you can operate it remotely with the Leica Fotos app and your smartphone and be able to view and selectively download images to a dedicated folder.
Film Camera Emulation
When you're feeling analog, use the M10-D the same way you'd use a Leica film rangefinder camera. Completely remove the bottom to insert battery and SD card. Set the aperture. Manually focus using the converging image rangefinder. Press to release the nearly silent shutter. If the camera is set on Aperture Priority, it automatically picks the shutter speed for you; otherwise, select it yourself.
If some of this sounds a bit familiar, it should. The Leica M10-D in many ways is similar to the Leica M-D which I reviewed on these pages.
Remote Operation via Smartphone
You can use the new Leica Fotos app (iOS or Android) to control the M10-D. The LCD on the smartphone becomes a detached LCD viewfinder for the camera. The new Leica Fotos app was not quite finished for the M10-D when we evaluated it, and more functions have been added since then. Even so we could easily set ISO, Shutter Speed, File Format, EV Compensation and enjoy 100% resolution Previews. Aperture, of course, on the M10 series is strictly manual, but when the Fotos app is used with other Wi-Fi enabled Leica cameras that have electronically controlled apertures, the f/stop can be set as well. The Fotos app also has image sharing options.
Scan to Connect
Connecting wirelessly is as simple as scanning the unique QR matrix barcode hidden under the Leica M10-D camera's bottom cover with your phone. Once paired, the camera and phone remain paired, i.e., this is a one-time operation. Multiple cameras can be paired to a single phone and operated individually. Changes to camera setting are stored in the camera. On Leica cameras equipped with LCD monitors, the QR raster appears on the LCD. No local area network or password exchange required.
Once connected you can view images that have been recorded in the camera and optionally make selections for download to the Leica Gallery, a dedicated album that meshes with the standard storage album architecture on Android and iOS smartphones. In addition you can view the images that you previously downloaded. So even if you prefer to use the Leica M10-D in its strictly analog mode, the Fotos app is still a very useful tool. Although this app works only on phones for now, Leica hinted that the Fotos app will be available for tablets in the future.
In the Field
Because I could preview the image, check focus, confirm/adjust camera settings and release the shutter using my iPhone 6S, I did what seemed natural—I used the Leica M10-D as a wirelessly-tethered studio camera. The lens I borrowed (Leica Summarit-M 50mm f/2.4) wasn't exactly ideal for close-up work, but I was able to use the set-up successfully with my Fotodiox LED Photo Studio-in-a-Box (reviewed here).
But the most fun came when I took the M10-D and my old 35mm f/2 Summicron and 90mm f/2.8 Tele-Elmarit lenses to the local farmer's market. It felt just like old times, years ago when I roamed the streets with my Leica M4 and a pocketful of Tri-X film. Performance was flawless and the images superb.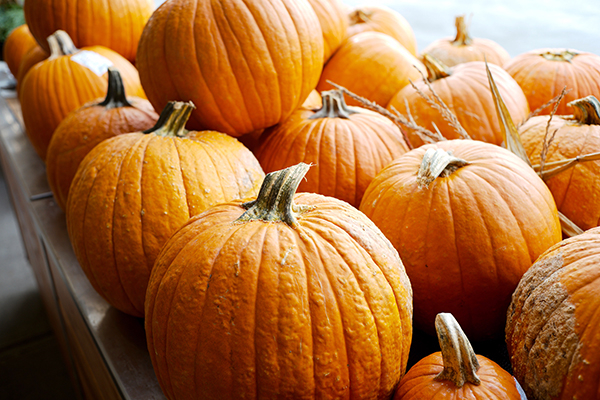 Conclusion
Having used both the Leica M10-P and M10-D cameras I must confess that it would be difficult to make a decision between them. Lucky for me, my financial situation saves me from ever being faced with that dilemma.
I like the M10-D for three reasons. It produces exceptionally high quality images. It forces me to rely on the fundamental photography skills normally honed by shooting film, but also allows me to leverage the latest smartphone technology. It can use my classic, 60-year-old Leica M-mount lenses without modification.
Price and Availability
The Leica M10-D is available today from authorized Leica dealers, Leica stores and Leica boutiques. Body only price in either finish is $7995. The M10-D is offered in parallel with the Leica M10-P (at the same price) and the standard Leica M10 which stays in the lineup at $7295. The Leica Fotos app is free and can be downloaded from Google (Android) and Apple (iOS) as per usual.
—Jon Sienkiewicz


FEATURED VIDEO