Leica's Noctilux-M 50mm f/0.95 ASPH & Summilux-M 24mm f/1.4 ASPH; Super Fast For Low Light And More Page 2
The Summilux-M 24mm f/1.4 incorporates five separate elements with anomalous partial dispersion and to correct color aberrations, five of these elements are made of glass types with anomalous color dispersion and one has an aspherical surface, hence the ASPH designation. To maintain performance in close-ups, one group toward the rear of the optical system uses a floating element that moves independently of the rest of the mechanism. As a result, vignetting and distortion, traditionally difficult to control in fast wide-angle lenses, are corrected so well it's not noticeable in real-world shooting. The maximum distortion of the lens is 2.2 percent, which in practical terms is negligible. Even at f/2.8 only natural vignetting is present and that's virtually, maybe completely, eliminated in digital capture on Leica M8-series digital rangefinder cameras.
Rat rod by Leica has a wonderfully eclectic sound to it but I used the Summilux-M 24mm f/1.4 to photograph this romantically nostalgic rat rod with an equally romantically nostalgic Leica M8.2. Exposure was 1⁄125 sec at approximately f/8 (the Summilux-M f/1.4 doesn't pass on the aperture to the EXIF data in Av mode) and ISO 320.
Field Test (Drive)
For this test drive I used two cameras, including a borrowed Leica M8.2 and also my personal M6 TTL, so I could get a feeling for the lenses without the results being affected by the M8.2's 1.33x cropping (Leica calls it "extension") factor that produces an effective angle of view of a 32mm (31.92 to be precise) lens with the Summilux-M 24mm f/1.4. For the film shots, I used Fujicolor Pro 160S color negative film because it matched the M8.2's lowest ISO setting of 160. If you look at the comparison photographs of the historic tractor when the M8.2 is used, you get a nice photo of the tractor, but when it's shot with the M6 TTL, you'll also see part of the truck that the tractor is setting on as well, which emphasizes the visual differences between film and digital capture using this amazing lens.

At 1.54 lbs the Noctilux-M 50mm f/0.95 is hefty, especially when attached to the M8.2 which itself could stand to go on a diet (but so could I so I'm not going to call any pots and kettles here). By contrast, the Summilux-M 24mm f/1.4 weighs 1.1 lbs but, because of its shape and balance, proved to be a superb lens to use, even on the hefty M8.2, but especially on my M6 TTL, where I got the full benefit of the focal length on a slightly less bulky camera. This combination of lens and camera body would make an ideal package for film-based travel photography.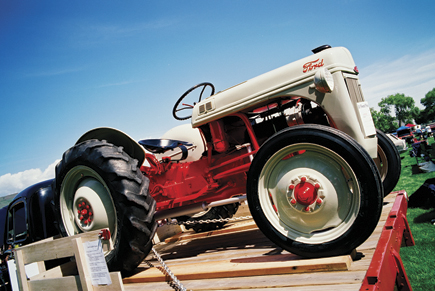 The top photo was made with the Summilux-M 24mm f/1.4 mounted onto a Leica M8.2, producing the angle of view of a 32mm lens. Exposure at ISO 160 was 1⁄250 sec at f/11. A similar exposure was used standing in the same spot when the lens was mounted on a Leica M6 TTL and shooting Fujicolor Pro 160S color negative film. There are some differences in color tonalities but I tried to get them as close as possible in Photoshop so you could focus on the differences in angle of view. With the M8.2 you get a nice photo of the tractor, but when shot with the M6 TTL, you will also see part of the truck that the tractor is setting on as well as part of the event grounds in the background.
While a Leica rangefinder camera (parallax and all that ya know) may not be the ideal tool for close-up photography, I was still a little disappointed with the Noctilux's close-focusing capability of just 39.3". I constantly found myself moving backward in order to get what I wanted in focus, which is of course exacerbated by the 1.33x crop factor on the M8.2. By comparison, the Summilux focuses closer to 22" and I never felt like I needed more. Nevertheless, I felt constantly drawn to use the Noctilux because I liked the perspective it produced, especially with digital capture.

I didn't realize that the Noctilux-M 50mm f/0.95 cost almost $10,000 until after I made a few test shots and then read the specifications and that's when I also realized why Leica included an E60 UV/IR filter in the package they sent me. That's also when I screwed it onto the lens and used it for all the shots you see here and so should you if you happen to be one of the lucky owners. The filter costs about $175, which is a good investment because the built-in sliding lens hood by itself may not provide sufficient protection to the front element unless you are constantly alert to potential problems. With the filter in place and lens cap fitted, it sticks out beyond the flush fit compared to when the lens cap is in place.

Tip: If those aesthetics bother you, just slide the hood forward to meet the cap. I still recommend you get a filter with the lens. It's more than cheap insurance for original M8 owners because of space limitations between the lens mount and sensor. Leica limited the amount of infrared filtering done at the sensor and, under certain lighting conditions, you can get pinkish blacks when shooting. This filter eliminates this problem. The Summilux-M 24mm f/1.4 has a hard lens hood that provides some protection with space for a Series VII drop-in filter and I used a Leica UV/IR filter ($179.90) on it for all of the aforementioned reasons. The lens hood uses a clever slip-on lens cap but it can also slip off if you're not paying attention.

Do you really need a $10,000 f/0.95 when a mere $5000 will get you a gently used f/1 lens that will perform perfectly well? By the same token, do you really want a 2008 Lamborghini Gallardo for $189,950 when you can spend close to a half-million on a new Murcielago LP670-4 SuperVeloce? Perchance to dream…

Out here closer to the real world you might ask if the Summilux-M 24mm f/1.4 and Noctilux-M 50mm f/0.95 twins are the ultimate street photography lenses. I'd hazard a yes on that. Are these two lenses the ultimate M-mount lenses for low-light and general photography? Oh yeah. If that translates into street photography for you, then go for it! What the Summilux-M 24mm f/1.4 and Noctilux-M 50mm f/0.95 embody is the ultimate in the lensmaker's art and that kind of quality has never been inexpensive. If you want—hands down—the best optical performance for M-series cameras, these are the lenses for you.

For more information, visit Leica Camera Inc. at: http://us.leica-camera.com.
Joe Farace is coauthor, along with Pulitzer Prize-winning photojournalist Barry Staver, of "Better Available Light Digital Photography" published by Focal Press. It is available from your friendly neighborhood bookstore or Amazon.com.

LATEST VIDEO