Kodak EasyShare DX7590; Big 10x Zoom With 5-Megapixel Res Page 2
The camera does let you customize settings, including focusing targets (multi, center, left, center or right), ISO (the native 80-160 auto plus 100, 200, and 400, with 800 getting you a low resolution of 1.8 megapixel), flash and exposure compensation. You can also work with the standard aperture and shutter priority and manual, plus you can select from metering targets such as multi, center-weighted and spot. You also get autoexposure bracketing, saturation settings and sharpness options. In short, a most customizable piece of gear.
Inside the camera sits 32MB of internal storage plus you can add any memory capacity with handy SD cards, more and more the standard memory card format. Plus you get the Kodak dock included for battery charging and picture sharing, using Kodak or any third party software (we used Picasa), which also handles the downloading. The DX7590 is PictBridge compatible, meaning you can print right from the camera to compatible printers. And an included li ion 1700 mAh battery means that one charge gets you through even the most intensive picture-taking day.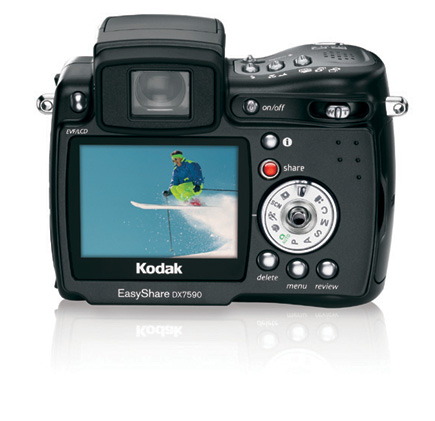 We used the camera for a wide variety of picture-taking, including the Shutterbug/eDigitalPhoto cruise to Alaska, a soccer game and portraits of some of our favorite subjects. In most cases the camera delivered everything we wanted, and the near-15MB files allowed us to make sharp and colorful 8x10" prints. We also used the Kodak EasyShare Printer Dock Plus for great 4x6" borderless prints. While you can of course print from your files on your computer the Printer Dock Plus (MSRP $199) allowed us to get fast, photo quality prints without a fuss in under a minute. We made the print order in the camera itself using the Share function, mounted the camera on the Printer Dock Plus and pressed the print button and voila, we got great prints to share with ease.
LCD
(Liquid-Crystal Display.)
Any complaints? Our main one is the viewing of images while making pictures in the field in bright light. Whether we used the LCD or EVF (electronic viewfinder) we could only approximate expressions and sometimes even subjects because of the fairly fuzzy EVF through the eyepiece and high reflectivity off the LCD. When we photographed at a soccer game with the light high but in front of us (that's where the stands were) it was almost hopeless. Another peeve is a marketing claim Kodak makes that we think is out of whack. The company states that you can get prints up to 20x30" from the near 15MB files. Unless Kodak knows something about upsampling that we don't we wish they'd get real with this claim.
Overall, at $499, the EasyShare DX7590 is a very good camera that delivered very good images under a very wide set of circumstances and lighting conditions. The size, weight, and handling were excellent, and photos were very pleasing. The
optional Photo Dock Plus is a great companion when visiting, as you can pay a call, photograph your hosts and leave prints behind when you leave. Why, it's better than a Polaroid!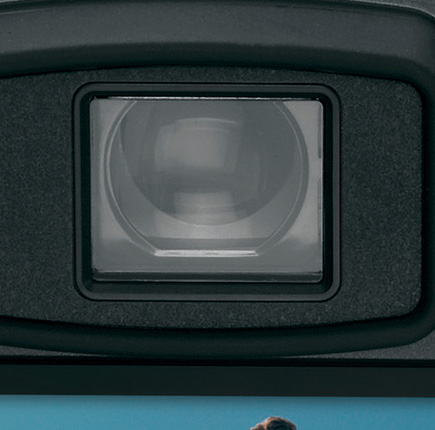 EVF
(Electronic Viewfinder).
Contact
Kodak
(800) 235-6325
www.kodak.com

LATEST VIDEO

SPONSORED VIDEO