Knoll Light Factory For Photoshop; Creative Lens Flare For Your Images Page 2
In the flare in (#6), three Elements are used. A GlowBall (a bright round center surrounded by a gradient glow) provides the heart of the effect. Two Spike Ball Elements were added; these spikes of light create the look of rays of light emanating from the sun.
6. A lens flare added to enhance the presence of the sun in the photo.
For (#7), I decided to add some PolySpread Elements to create a flare with a new look. PolySpreads occur frequently with lens flares; they are colored dots or polygons of light, which appear at an angle to the light source. If you look closely at the NASA image in (#1), you'll see a PolySpread creating blue areas of light near the lower right corner of the image.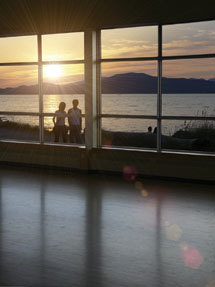 7. The lens flare from (#6), this time with several
PolySpread Elements added.
Lens Flares And Lighthouses
Lighthouses are another light source that frequently creates lens flares when photographed. In this lens flare, in addition to basic Elements such as a GlowBall, I used several Stripes Elements. These are long, narrow, tapered beams of light that can be refracted by a lateral light, such as a coastline (#8) and (#9).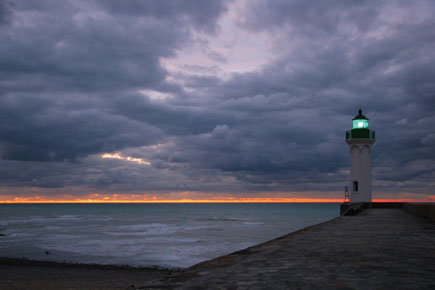 8. A lighthouse photo before adding a lens flare.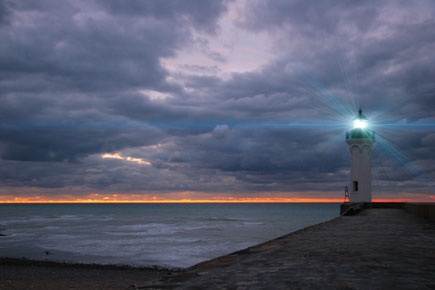 9. The lighthouse photo with the lens flare added. In addition to the lighthouse, this image contains a second light source (the lateral shoreline), which is emphasized by the lens flare's long lateral beam of blue light, set at an angle parallel to the shore.
Lens Flares And Stage Lights
Lens flares can also be used to create new light sources in photos, and to adjust their appearance. Stage lighting is a good example of this usage. Photographs of lit stages don't always look to the camera the same way that they look to the naked eye. If photographed from too far away, the subjects on the stage can be drowned out by the overwhelming light. Close-up photos are more accurate, but there's still the issue of focusing in on the stage, which can cause the stage lights to look different than they did when viewed live. In the examples in (#10) and (#11), I'll use the Rock Concert preset in Knoll Light Factory to adjust the appearance of stage lighting.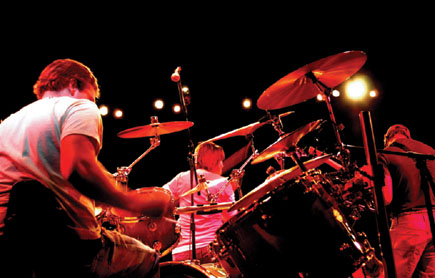 10. A concert stage with stage lights that have lost their color and glow.
11. The stage lights after fine-tuning their look with Knoll Light Factory. Note that I also created three new lights: two on the far left and one on the far right.
Red Giant Software's Knoll Light Factory 2.0 for Photoshop is available for Windows and Macintosh systems for $99 from www.redgiantsoftware.com/knollphotoshop.html. Knoll Light Factory also worked flawlessly for me in the two non-Adobe image editors that I tested it in, Corel's PHOTO-PAINT X3 and Ulead's PhotoImpact 12. Users of video-editing software should note that a powerful motion version of Knoll Light Factory is available for many Windows and Macintosh video editors, see the Red Giant website for details.
Update
Version 3.0 of Knoll Lens Factory is now available. The 3.0 upgrade introduces a complete redesign of the user interface. The Light Editor has been integrated into a single interface that can be moved and re-sized to your work space, a real-time interactive preview is now available, along with 16-bit color support, for smoother gradients and glows. Plus, an additional 50 new presets give you more ready to work with effects that range from natural to surreal. It must be noted, too, that the software is compatible with Intel Macs and Photoshop CS3. Knoll Lens Factory 3.0 is available from www.DigitalAnarchy.com. Digital Anarchy creates plug-ins for Adobe, Apple, and Autodesk products.

Anthony Celeste appreciates feedback from his readers. You may contact him via e-mail at Anthony.Celeste@gmail.com.

FEATURED VIDEO