Keith Lanpher; Virginia Tourism "Live Passionately" Campaign Page 2
"Every set had its own lighting requirements, either daylight or flash. I had planned to use the film company's hot lights when possible, but on the sets I discovered the film director's approach was far different than mine. So my team and I adapted to the sets in each location to get the images we wanted. Our flexibility allowed me to shoot from angles I felt dramatized each situation."
Lanpher says his photographic jobs typically present problems in execution, but he welcomes challenges. The Virginia Tourism ad campaign was successful, and has won a number of national awards.
Haunted House Guide
Shot early in the evening, smoke and backlight were critical. Keith Lanpher put some front light on the model for detail, then encouraged him to perform. Time was short and Lanpher credits his crew for getting the job done on schedule.
Surf Instructor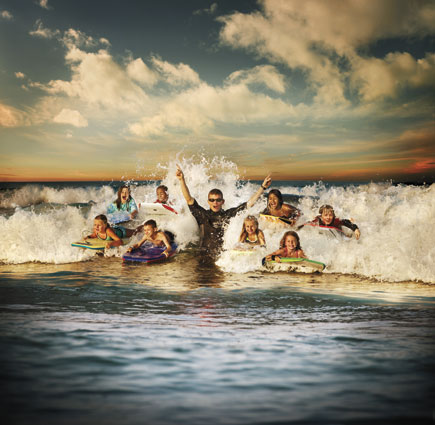 There was no way Keith Lanpher could capture all those kids on one wave, so he came as close as possible and added the rest in postproduction.
Virginia Tourism Guide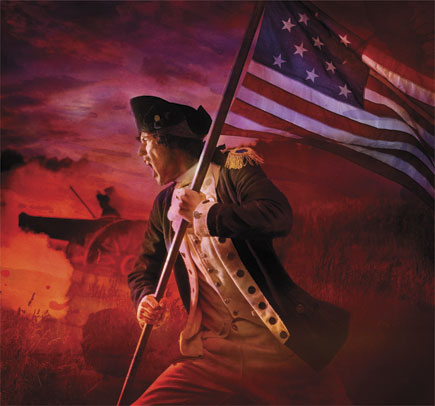 Cover for Virginia Tourism annual magazine, made on the battlefield in Yorktown, Virginia.
Equipment List Camera & Lenses
• Canon EOS-1Ds Mark III
• Canon 24-105mm f/4 zoom, Canon 70-200mm f/2.8 zoom, and Canon 16-35mm f/2.8 zoom
Lighting Equipment
• Power Packs: 2K Dynalite
• Battery Pack: Dynalite XP1100
• Radio Controls: PocketWizard
• Light Boxes: Chimera
• Scrims: California Sunbounce SUN-SWATTER
• Reflectors: California Sunbounce
• Tripod: Gitzo; Foba ball head
To see more of Keith Lanpher's work, visit his website at: www.lanpher.com.