Judith Pishnery; A Variety of Photo Subjects Keeps Her Enthusiasm High Page 2
A Creative Blend
Currently, the Pisconeri Studio is doing a lot of corporate photography. Pishnery recently finished a job for a plastic bottle manufacturer, which included manufacturing shots of employees and the plant, as well as direct mail and studio photos for advertising. Additional clients include UPS, Nortel, IBM, Sheraton Hotels, ValuJet, and Kodak Photo-Trek/Atlanta. Her work has been published in Southern Accents, Atlanta Magazine, Atlanta Homes & Lifestyles, and Southern Homes.

Pishnery continues doing fine-art photography that she shoots during her travels, and much of this work appears in Atlanta gallery showings. She's also exhibited work at the Central Academy of Art & Design in Beijing, China, and at several galleries throughout the United States.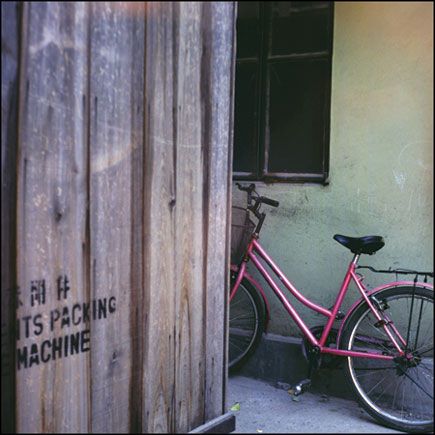 A simple view of a factory in Bejing.
She's on the board of directors for an annual event called "Atlanta Celebrates Photography." This "month-long focus on photography" takes place in October, and is in its fourth year. This event encompasses lectures, workshops, and exhibits "from museums to coffee shops, and everywhere in-between," says Pishnery. This past October, she participated in the exhibits, "Three Atlantans in France" (with Jonathan Brunette and David Goldsmith), "Intoxicating" (a 40-artist exhibition in an urban loft), and "Paris Inspirations," (Parisian images from photographers who have participated in Pisconeri workshops).

In addition to her involvement with this event, Pishnery has been a board member of the Atlanta chapter of APA (Advertising Photographers of America), is an ASID Industry Partner, and belongs to the Society of Photographic Educators.
A graphic composition of San Francisco's Golden Gate Bridge.
Digital and Film
She says she enjoys being so busy--"I love photography," she says enthusiastically. "It's my hobby and profession." To help stimulate creativity, she says, she enjoys experimenting with different technologies. She still loves making black-and-white prints with traditional chemicals in the darkroom. On the other hand, the majority of her color work is run through Photoshop and is printed on an Epson 7500, which utilizes pigment archival inks. She scans her film with a Microtek ScanMaker 5. "I have more control with my digital darkroom than with traditional color processing--better color prints too," she notes. According to Pishnery, most of her fine-art prints are printed on Epson textured fine-art roll paper. She also likes to use Epson's photo lustre paper.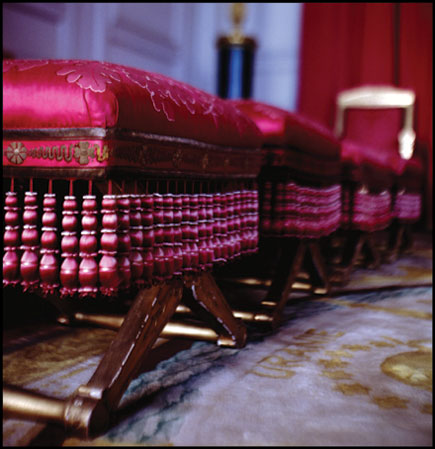 The Grand Trianon at Versailles, France.
She's mastered all formats, having started out with a Yashicamat twin-lens reflex before purchasing a 35mm, and then moved on to 21¼4 and 4x5 cameras. She shoots mostly with a Hasselblad 500CM or 503CW. "I like both, so I just go back and forth between the two," says Pishnery. Her cache of lenses includes 50mm, 80mm, 120mm, 150mm, and a 2X teleconverter. She also uses Sekonic light meters. She's recently purchased a new medium-format Bronica RF 645, with 45mm, 65mm and 100mm lenses. "It's very nice and lightweight," she says, "and easy to travel with." Its convenient features include a built-in light meter. Pishnery also has a Sinar 4x5 F1, which she sometimes uses in the studio and on location. But she's says she's primarily a medium-format shooter, and doesn't travel with her 4x5 camera.

She no longer uses 35mm cameras. "I've sold all of my 35mm equipment." Pishnery points out that because she does so much location and travel photography, she prefers using film, and doesn't use digital camera backs with her medium- and large-format equipment. Her favorite films include Kodak Ektachrome E100S and SW, Fujichrome Provia 100F and 400F ("great for times when I need more speed"), and Fujicolor ISO 800 print film. When shooting black-and-white, she uses mostly Kodak Tri-X and chromogenic T400 CN ("I can just drop it off at a lab in Paris and get back contact sheets").
Rue Du Chat Qui Peche (the smallest street in Paris).
Going Forward
So what are Pishnery's plans? She says, "I'm constantly experimenting with digital equipment. Digital imaging is a realm that opens up new venues of experimentation." She's also preparing "20 years' worth of images" for submission to stock agencies. She plans to market much of her imagery to the travel industry, and says, "My work has evolved because of my travels." She would also like to do more fine-art photography.

She says she loves teaching "to encourage students to learn more about their cameras and to make photographs that they want to create." Her plans include adding new locations in France and around the world to her workshops. Pishnery points out that she likes her new, lightweight Bronica, as more airlines are imposing weight restrictions on carry-on camera equipment these days. "I'm hoping that Bronica considers making the RF 645 digital--it would be such an advantage too, with the lightweight cameras and memory cards."

Pishnery feels that her work is always evolving, and "By doing portraits, studio work, and variety of things, it keeps me excited about photography!"
Judith Pishnery often travels to France to teach her photographic workshops.

To see more of Judith Pishnery's photography and her workshop schedule, visit www.pisconeri.com.