Joyce Tenneson: Translating Inner Light to Film Page 2
The resulting book is a compelling portrayal of female aging. Tenneson successfully combats the negative impressions we normally associate with the elderly, and instead gives us a look at 80 diverse, vital, accomplished and articulate women. She reveals their inner beauty--a beauty that comes with age--and makes no attempt to make them look youthful. Each portrait includes a brief interview with the woman in the photograph, which tells us a little more about her. The vast cross-section of subjects ranges from teachers to Academy-Award-winning actresses. We see women such as Odetta, a legendary folk singer; Dr. Johnetta Cole, the first black female president of Spelman College; Mary Hinkson Jackson, a former dancer with the Martha Graham Company; Sandra Day O'Connor, former Supreme Court Justice; and Dame Judi Dench, a popular actress.
Dr. Maya Angelou--poet, best-selling author, educator, and civil-rights activist.
Tenneson says that while working on this project, she was very surprised to discover that all of these women had achieved a unique beauty and wisdom of their own. She's observes, "During the two years of full-time travel, photographing and interviewing my subjects, I myself was transformed. I no longer fear getting older." And now, she strives to spread this message far and wide. She mentions proudly that Wise Women was featured on the "Today" show--"It's great for our visibility, and for appreciation of our elder women."

From Birth to Death
Tenneson says that after the all-encompassing project of Wise Women, she went back to photographing flowers "as a way of refreshing myself." However, because her attitude toward aging had been altered by photographing elderly people, her approach to flower photography took an interesting turn as well. She approached the Flower Portraits project with the same fervor, and says she's worked on it seven days a week for the past year. The book, which was published in April 2003, depicts flowers throughout their life cycle: birth, bloom, and death, "which reflects back on the human condition." The images are produced in the same brown tones ("not sepia," she points out) as those in Wise Women.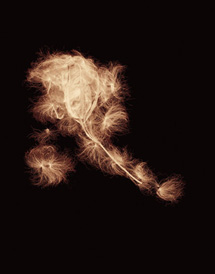 Milkweed, another of Tenneson's Flower Portraits.
The flowers were all photographed against a black background--"I wanted them to be like real portraits, like those in Wise Women, where I concentrated on their faces, hands and eyes," she comments. Tenneson's goal was to reveal what's inside her floral subjects, rather than presenting "just a pretty picture." She says that she concentrated on photographing only a small number of the many species of flowers, those that had "distinct visual and inner personalities."

In her written introduction to Flower Portraits, Tenneson states, "As a portrait photographer, I see flowers not as mere decorations, but as distinctive personalities. Before I do a human portrait, I try to learn as much as I can about my subject, so when I begin the photo session, I have a sense of their history. I try to open myself to their universe--to discover some inner essence that helps crystallize their uniqueness. I photograph flowers with the same respect."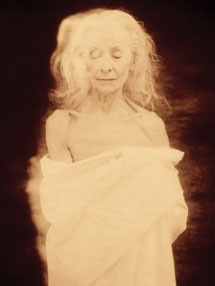 Actress Mimi Weddell, who states, "I couldn't live without heroes" in Wise Women.
Trilogy
Many of her portraits--both human and floral--seem to glow, and take on a transcendent quality. How does she do this? "It's not a technical thing," she replies. "There's an interior life--an inner light--that's often revealed in my subjects." Tenneson says that she continues to photograph flowers--and that it's part of a trilogy of work, one that comes full circle with her Amazing Men project. As with Wise Women, she's chosen a vast cross-section of male subjects, and is busy traveling cross-country to photograph them.

According to Tenneson, Amazing Men will take about two years to complete. "I'm always juggling three projects," this tireless photographer says. Tenneson always been extremely passionate about her work, and appears to have boundless energy. She's also fortunate, she says, to have three full-time assistants and interns. "We all work on my book projects full time," she points out, adding that her staff are all artists--and for that reason, there's a lot of creative energy in her studio.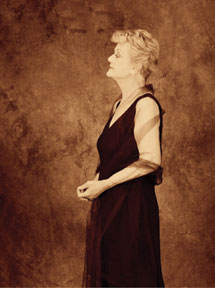 Actress Angela Lansbury, also featured in Wise Women.
As for the equipment she prefers, "I use all types of cameras--Canon EOS-1n, Hasselblad, and currently, a Mamiya with a Leaf back." Tenneson says she'll use a variety of films, depending on what she's shooting. Lately she's been using Kodak T400 CN and Portra 400 black-and-white.

Creative Freedom
In terms of future projects, she says "All I can see right now is Amazing Men," although she adds that a museum has approached her about the possibility of doing a 30-year retrospective of her work. Occasionally she'll do some commercial assignments ("about 5% of the time") for the New York Times Magazine and other editorial clients.

However, Tenneson maintains that her book projects are her passion. They're personally funded by her, and published by Bulfinch Press (a division of Little, Brown & Company/AOL Time-Warner). She has clearly earned the right to do what she wants creatively. "I'm very lucky," she says. "I'm riding with it while I can. These projects are a lot of hard work, but definitely a labor of love."

To see more of Joyce Tenneson's work, visit www.tenneson.com.


LATEST VIDEO