It May Not Be Monday Night Football, But... The Youth Action Sports Market Page 2
You'll probably realize a few mistakes you make at your first event, but that's how you learn. Just continue to improve on your processes and workflow.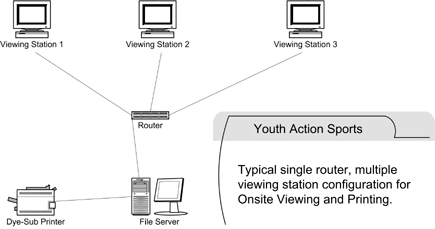 A typical network diagram for setting up a local area network on-site at local area youth sports or other event/action photography events. This setup allows customers to view pictures taken and to order pictures to be printed on-site using a quality dye sub printer.
The Gear
To start off you'll need a professional or at least a prosumer digital camera. Don't try doing on-site event photography with a point-and-shoot digicam, as the time lag alone will end that idea. If you are budget-minded, start with a camera such as the Canon EOS Digital Rebel XTi or Nikon D80. If you can afford one of the more advanced professional models with advanced features, go for it.

In addition to the standard kit lens you'll also need a quality telephoto zoom lens. A 75-300mm telephoto is a good starting point. If you can afford one with an Image Stabilizer option it's well worth the investment, as it is invaluable when shooting action in low light or indoors. If you are going to be shooting indoors, then you'll also need a very good flash. When shooting action or event photography indoors, the flash is probably the most important piece of equipment you'll need. You might even consider using multiple flashes with remote sync capabilities.

If you plan on selling pictures on-site, which is quickly becoming a requirement at a lot of events, then you'll also need a small computer network consisting of some computers and a fast dye sub printer (see Shutterbug's September 2006 issue, page 64, for a Test Report on Sony's UP-DR150 Digital Photo Printer or online at www.shutterbug.com for one option). I recommend one main computer that acts as a file server and at least a couple of computers that act as viewing stations for customers. Quickly organizing and sharing the images on the file server is crucial to making the images easily accessible and viewable by customers. This can be done manually or you can purchase software designed specifically for image management for event photography.

If you've never set up a home network of computers then you may want to find a computer guru to help you get started with selecting the right computer equipment and setting up a simple network. It's really not that difficult with today's computer operating systems. Microsoft's Windows XP even has a built-in wizard that will walk you through setting up a small network. The network can either be connected together via network cables or can be set up as a wireless network. Either way, you'll need a network router to connect all of the computers together.

Doing on-site event photography and on-site printing is not something you can do by yourself, even though I know some who have tried--and failed. You'll need someone to work the table or booth while you take pictures. If your computer tech has an interest, he or she can be a good partner. Another excellent coworker would be someone who is familiar with working with digital images using an image-editing program like Adobe's Photoshop or Corel's Paint Shop Pro. You'll need at least one "table tech" and possibly more, depending on how many photographers you have shooting the event, how many viewing stations you have, and of course, how many customers you end up with.

The initial investment required in doing on-site event photography can begin around $7500, including camera and computer equipment. It can go as high as tens of thousands of dollars. It all depends on the number of computer viewing stations and the quality of camera gear you desire. That's not bad when it's not unusual to do several thousand dollars of picture and poster sales at a weekend event doing on-site printing.

If you already have the camera equipment and a computer or two, then you are well on your way to an endeavor that can be truly satisfying. There is nothing that beats the smile on the face of young athletes when seeing themselves in action in a photo that you took just a few minutes ago. It's instant gratification for both you and your customers.
About The Author
David Whitson's career in the information technology field has included writing custom software for such companies as SBC, American Standard, Johnson & Johnson, Pulte Homes, Blockbuster, Kmart, and others.

After seeing a local photographer attempting to do on-site printing and event photography by himself, Whitson decided to use his experience and talents in photography, computers, networking, and software development, along with his knowledge of youth sports (having grown up in his grandfather's and father's retail sporting goods store) to create and refine a process for that market. His company, 5 Minute Photo (www.5MinutePhoto.com), offers on-site event photography software and wide format poster printing for photographers. Whitson can be contacted via e-mail at David@5MinutePhoto.com.

FEATURED VIDEO