Interfit's Stellar XD 300 Monolight Kit; The Stellar Line Goes High Tech Page 2
The Mode button also controls the audio beeper (I'd leave it on since it also signals flash ready). And the final setting controlled by the Mode button is the photocell. Default photocell setting is 1; settings 2 and 3 are for pre-flash overrides from a shoe-mount/built-in camera strobe that may be used to trigger the flash, or turn it off. Photo-optical and infrared triggering support is built-in, and there is a conventional X-sync terminal (cable provided). I found I could keep my flash meter connected to the XD via the sync terminal for cord-flash readings, while triggering the flash with the Interfit infrared trigger seated on the camera's hot shoe (use fresh batteries or you may experience intermittent dropouts). You can leave the photocell at the default setting even when triggering with a radio release. The last button is the ubiquitous Test button.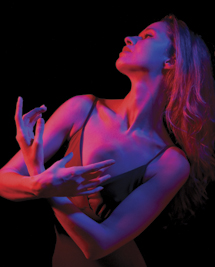 Even when posing, Jeanie was like a morning glory that would refreshingly open and close with countless graceful and beautiful variations. The dramatic yet colorful lighting makes this shot one of my favorites.
Capturing The Beauty Of A Ballerina In Motion
I really wanted to see how creative I could get with these lights, so I asked Interfit to pile on a bunch of accessories with the XD 300 two-head kit they sent me. I made it a point to ask for two barn door sets and lighting gels, with a special project in mind. And then I invited the graceful and talented ballerina Jeanie Clay to a photo shoot, explaining what I had in mind. I would set up the lights with barn doors (to keep light off the backdrop and on her) and different gels on either side of the set. And she would do ballet movements involving a twirling motion. I wanted to capture the movement as a blur, freezing motion at the very end, thanks to the rear-curtain sync setting on my Nikon D300 (the camera used throughout). In preparation, I'd learned about double and triple twirls online, so that I could set my shutter speeds accordingly.

Theory is one thing; practice another. The day of the shoot, we started with 1⁄2-second exposures and progressed to shutter speeds of just under 2 seconds.

I'd blocked out the windows for this afternoon shoot and set up a black Photek PeoplePopper backdrop behind Jeanie, obviously leaving the floor bare. Also, as we progressed, I saw the need to shift the lights a little forward and to adjust the relative heights. And, although I feel it had a negligible effect, I played it safe by adding a large silver reflector, which I held while triggering the tripod-mounted camera with a MicroSync Digital radio remote. The lights were triggered via infrared.

The tricky part was setting focus, even though we were working in a tight space. We did practice runs, where Jeanie executed her movement and held position when she reached the end (when the strobe would fire), at which point I'd lock in focus for that series of shots. We'd repeat this stratagem each time she changed to a different ballet move. We also did a few posed shots with the gelled lighting. The results were dramatic!
With Alexis seated, I mounted a beauty dish onto one Stellar XD on her right.
Multiple Accessories With A Multifaceted Actress/Model
A few days later, I photographed the beautiful actress and model Alexis Ashley. In this instance, I was ably assisted by Donna, who helped with wardrobe, makeup, and most importantly by holding the silver reflector.

With Alexis I'd decided to try three different forms of soft lighting: a square softbox, a 16" beauty dish (without the nylon diffusion sock), and a shoot-through (white translucent) umbrella. My backdrop was a Photek full-size amethyst Background-in-a-Bag, with background support. The cloth was draped from the back along the floor, to a few feet in front. For most of the shoot, we also used a strong fan as a wind machine. (For those unfamiliar with a beauty dish, it's a wide yet shallow reflector bowl with a baffle that bounces back the light, creating a unique soft look with a definable edginess to it.)

I went in for a tighter portrait with the softbox and beauty dish while the model was seated, but switched to the umbrella for standing poses, although some of these were also tight shots. And I did one more thing: to make the light even softer, I used the umbrella without any dish over the flash tube. While the differences may have been subtle, each accessory produced a different feel to the shot—at least in my view. More importantly, each approach worked well to bring out the young woman's classic allure.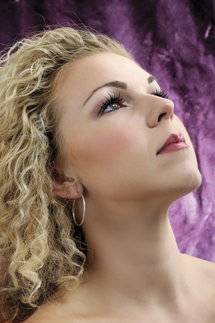 The characteristic catchlight can clearly be seen in the eye. A silver reflector was used for this entire series.
In fact, the Interfit Stellar XD succeeded in highlighting the beauty and grace of each of my models, with any form of lighting that I employed. The Stellar XD might strike a handsome pose on its own, but what counts are functionality, reliability, and consistent results. And I'm here to tell you that this light delivered every step of the way.

The price per XD 300 monolight (includes monolight, flash tube, model lamp, basic reflector, cables) is $349 (street). The price of a two-light kit (includes two XD 300 ws monolights—each as mentioned earlier—plus case, two air-dampened light stands, square softbox, shoot-through umbrella) is $829 (street). (Note: Some specs may vary in 220v models.)
Additional Resources
• Photek backdrops—www.photekusa.com
• MicroSync Digital radio remote—www.tamrac.com

For more information, contact Interfit Photographic Limited, 420 Industrial Court West, Villa Rica, GA 30180; (866) 947-9796; www.interfitphotographic.com.

LATEST VIDEO