This Interactive Map Shows You the Best Days for Photographing Fall Foliage Across the United States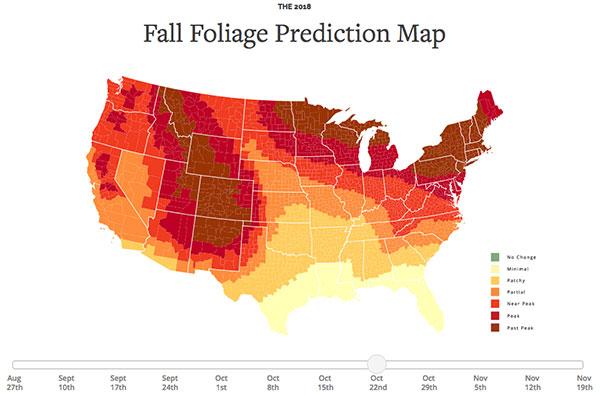 It's probably happened to you before. You load up the car with your best camera gear and drive to the country to photograph the autumn leaves in peak bloom. But when you get there expecting to capture fiery reds and burnt sienna orange on the trees, you discover that most of the best leaves have already fallen to the ground.
"Missed it by that much," as Maxwell Smart used to say.
That's why you should immediately check out this very handy, interactive 2018 Fall Foliage Prediction Map from Smoky Mountains. Just use the slider below the map to adjust the dates to show seven color-coded levels of foliage in the United States: No Change, Minimal, Patchy, Partial, Near Peak, Peak, and Past Peak.
"The 2018 Fall Foliage Map is the ultimate visual planning guide to the annual progressive changing of the leaves," according to SmokyMountains.com. "While no tool can be 100% accurate, this tool is meant to help travelers better time their trips to have the best opportunity of catching peak color each year."
You can access the fall foliage prediction map here. You should also check out the below gif to get an idea of how the foliage will change in the U.S. over time.
You should also read Shutterbug columnist Jon Sienkiewicz's recommendations of his favorite photo filters to use while capturing fall foliage.

FEATURED VIDEO