How to Shoot Striking Swimwear Portraits on a Rooftop (VIDEO)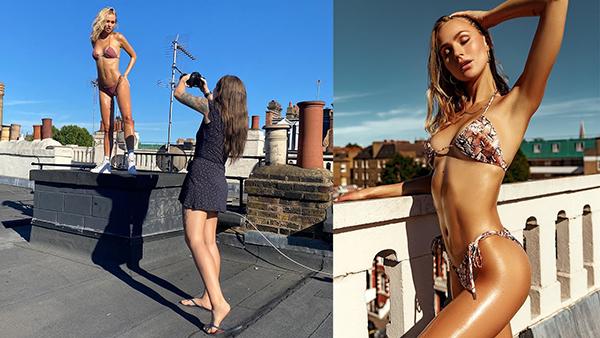 Everyone is being forced to a get a little more creative lately with their photo shoots because of the pandemic. One photographer who is pulling out all the stops with her creativity is Anita Sadowska who has adapted to the difficult current conditions quite swimmingly, pun intended.
In the below video, Sadowska shows how you can create a striking portrait swimwear shoot right on a rooftop. In this case, it's high above the streets of London with Sadowska photographing model Ianthe Rose in a series of set-ups and locations around the rather, ahem, limited space of the roof.
If you've seen her videos before, Sadowska usually does her swimwear shoots at exotic locales such as the beaches and villas of Bali. Her portraits and swimsuit photos are always gorgeous so it was interesting to see how she would handle the more banal confines of the London rooftop.
Not to give anything away but the results were equally stunning. Since most photographers can't travel to Bali and are restricted by the dull backgrounds of everyday settings, it was enlightening to see how Sadowska works with what she has to produce eye-catching shots. Of course, it doesn't hurt to have a professional model like Rose strutting her stuff but it's not essential.
"You see, so now we're set up in a way so it's kind of like half lit so we can see her beautiful abs very well," she explains while photographing her second look at the first location in the shoot. "We have to make sure her face is a bit more in the sun as well. By shooting sideways it shows any kind of muscle and any kind of definition, really, really well. I also do like it on the face because it's kind of like that Rembrandt 45-degree lighting which is really beautiful."
Watch the tutorial below and then go visit Sadowska's channel for more creative photography ideas, like this one where she shows how to shoot great portraits in harsh direct sunlight, and this one, where she explains how to shoot beautiful photos in bad weather