How to Sell Wildlife and Nature Photos: Tips For Turning Your Passion Into a Business
Wildlife and nature photography is certainly a niche market but it turns out to be bigger than many think. According to our contributing photographers in this month's column, photos of nature and wildlife can be sold for a broad range of uses, including stock, editorial, book publishing, interior design, fine art, and even assignment. Other important questions we ask our wildlife and nature photographers this month include what does it take to make your passion for these subjects a business? How do you market and promote your images? What's been your favorite photo shoot? Special thanks to those who participated: Jeff Colburn, Gary Crabbe, Sean Crane, Bev Pettit, and Wendi Schneider.
Q: For your nature and wildlife images, how would you classify your clients and what percentage are stock photography?
Gary Crabbe: For my nature and wildlife images, the classifications of my clients fall across a fairly even spectrum. From a percentage-based perspective, probably the greatest use is sold to stock photography clients through my agents, and probably accounts for between 35 and 40 percent. Sales made directly to editorial magazines or book publishers accounts for another 15 to 20 percent. Sales of fine art prints to private individuals or businesses through art consultants or designers can vary, but typically hovers between 20 to 30 percent. The greatest variance is probably for the commercial client assignment area, where depending upon how much time I spend marketing, is between 10 and 30 percent.
Jeff Colburn: On average, my clients are middle and upper class people who like to own fine art prints of Arizona. About 95 percent of my photographs are sold as fine art through the New State Motor Building Gallery in Jerome, Arizona. I also do a few one-month shows at restaurants, businesses, libraries, and other locations. These result in a few sales a year, too. Interestingly, online fine art sales through my website account for only one to two sales a year, even though I receive between 2,000 and 3,000 visitors a month. Most people won't buy fine art photographs from a website unless they've seen what your images look like in person. The other 5 percent of my sales is a mix of stock and magazines.
Bev Pettit: The majority of my clients are looking for fine art prints. I would say that about 80 percent of my clients are either private buyers or interior designers, looking for fine art pieces to decorate the walls of homes, restaurants, or offices. The other 20 percent of my clients would fall into the editorial and book publishing categories.
Wendi Schneider: At this point, 100 percent fine art prints, both through personal sales and through A Gallery for Fine Photography in New Orleans. I am not currently selling online. Wildlife is not my only subject, but accounts for most of my fine art sales in the last year. I do plan to market to interior designers, art consultants, and book publishers this year. I photographed dozens of book covers in the 1980s and '90s, but most of my connections have now moved on, so I will be starting over. There are so many avenues for having your images printed on items—your imagination and budget are the limitations.
Sean Crane: My day job is as a creative director at a big ad agency in New York. Wildlife photography is something that I do whenever I'm not convincing the world to buy things that they may or may not need. I make money with the photography, but it's always as a nice little bonus on the side, rather than a way to make a living. I do sell stock through Minden Pictures. This is a pretty new venture for me so I'm still waiting to see how it works out as a revenue stream. I also sell stock directly. I've been posting to my Photo of the Day blog for about seven years now and I get a lot of clicks, so my images tend to rank high in search engines. This is usually how clients find me, Google searches, and we take it from there. I also sell prints directly from my website. I'd say stock makes up 70 percent of my wildlife imagery sales for the year and prints the other 30 percent.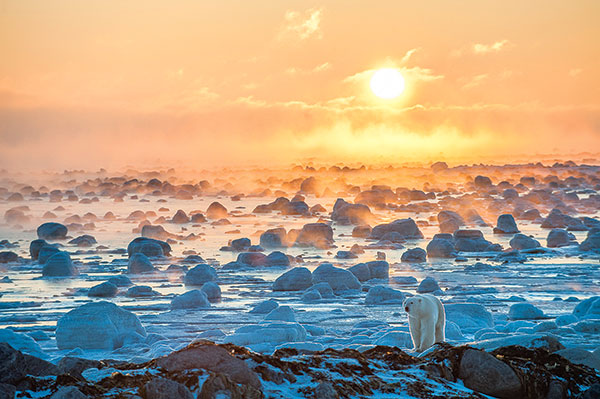 Q: What works best for you when you are marketing and promoting your nature and wildlife images?
Bev Pettit: I'm not sure if one particular area of marketing is working better for me than others. I always try to find out how people hear about me. Many say "on the Internet." I feel that a combination of a professional and easy-to-navigate website that shows off my work, a Facebook business page that is also professional and up to date, and being found easily through Google searches are my best tools. I participate in four fine art exhibits each year and am represented in two fine art galleries in the Southwest USA. This is a good way for me to get my actual printed work out in front of the public. I enjoy working one-on-one with designers and providing their wall art needs for various decorating or design projects. I just completed a large installation for the renovation of a prestigious private club and restaurant facility in Scottsdale, Arizona.
I look for as many avenues as I can to get my work out there into the world and seen by prospective clients. This could come in the way of magazine articles, fine art photography competitions, online galleries, e-mails, and in-person portfolios.
Jeff Colburn: Marketing today is tough. While there are more outlets than ever, especially online, so many people are marketing their products and services that it's easy to get lost in the ocean of ads. Put a post on Facebook and five minutes later it's six screens down and usually never seen. As for print ads, most people don't even notice them.
I promote my photography e-books with Facebook, LinkedIn, and some photographer's forums. In forums, I have a footer that promotes my business. NatureScapes.Net carries some of my e-books, so my footer on their forum lists the e-books by title and says that they are available in the NatureScapes.Net store. I just started trying Instagram, but I'm not having much luck. As with Facebook, people are being hammered with lots of posts.
For my fine art clients I promote through articles on my blog TheCreativesCorner.com, press releases, and magazine articles. Many of my press releases have been printed verbatim in newspapers and magazines, and resulted in several interviews. I've also been a writer for over 40 years. I find that writing articles is a great way to promote my work, and I get paid, too. I've even had magazines pay me to publish my blog posts. It's a real win-win.
Sean Crane: My blog is my home base and where I want to direct all traffic. I use social media as a way to get more people to sign up for the blog. Instagram is a great way to get noticed, but hasn't generated a significant amount of traffic back to my site. However, 500px is another platform that I like to post photos to and this seems to have a bit higher rate of click-through to my website.
Gary Crabbe: For marketing of nature and wildlife images, I primarily use a network of global stock agencies. For images I market myself, I generally prefer direct contact to clients, e-mails, blog posts, and social media to announce new work that's available for sale or licensing, new galleries on my website, or upcoming coverage and travels. In the past, I have used more traditional sources targeted to the nature and wildlife market, which have included things like sourcebook ads, listings on other websites, as well as some direct mail. However, those results were always mixed, and I found it more difficult to work or promote my images in such a non-personalized manner. I've always defaulted to the approach that seems to reinforce a smaller, more targeted audience, but with a much greater level of personal approach and interaction.
Wendi Schneider: I send e-mail blasts to my list approximately once a month or less, with an additional blast if something important comes up. I primarily use my Facebook business page, Pinterest, a bit on Twitter, and have just started on Instagram. A website is absolutely crucial. While I know that blogging is an ideal way to boost your SEO, I am somewhat of a private hermit who thrives on anonymity so I need to find a happy medium. While much of what I have read says that people want to hear about and see your process, I have found I get most responses simply by posting images. I look at all marketing and exhibiting as planting seeds for the future.
Q: What skills or areas of expertise (other than photography) do you think a nature and wildlife photographer has to develop for a successful business?
Sean Crane: Well, first and foremost is being a great business person. There are mediocre wildlife photographers who are great marketers and therefore are quite successful. Conversely, there are great photographers who are struggling to get noticed because they don't know how to (or want to) handle the marketing side of things.
Gary Crabbe: Obviously, marketing and business acumen go a long way toward helping promote your work to buyers. But the underlying tip that I always provide to workshop students and consulting clients is the idea of valuing your work first. I use the phrase, "If you don't value your work, no one else will." Also, you can have the best images in the world, but if you present yourself in a completely unprofessional manner, a client is likely to opt not to deal with you, or figure that you might be an easy target to take advantage of in terms of negotiating lower rates or free use. You need to have a professional-looking website. I do not consider Flickr, Facebook, Instagram, and even 500px professional websites for a photographer. You should have your own site; something that's yours and yours alone, so that when you send a link to a buyer, they get to see and know you and your work in a manner that's unique to you. You should know how to write a license and how to invoice a client, so that when those first few queries come in, you're not stuck like a first grader walking into a high school algebra class. Finally, any photographer needs to have the confidence and ability to negotiate with potential buyers. Knowing when to say no is as important as knowing when to say yes to a deal, just as it is knowing when it's the right time to click the shutter on your camera.
Jeff Colburn: To be successful in the field of nature photography, you need to answer many questions about your art business, including: What does it cost to run your business? What is the cost of putting a print together (ink, paper, wire hanger, tax, shipping, etc.)? How much do you need to make each year to pay your living expenses? These are just a few questions you must answer in order to run a successful business. It's essential to know your costs so you know exactly how much you need to make. There's a good cost of living calculator at nppa.org/calculator.
It's also a good idea to put together a business plan. You can find out how to do this online, and your bank can also help you with this. You also need to know enough marketing to meet two goals: how to let people know you exist and how to stand out from the thousands of other photographers doing nature photography. Knowing this is the key difference between success and failure.
Bev Pettit: I have found that my years in art education and working for corporate business while pursuing my career as a photographer has helped immensely in my own business. I have a pretty good understanding of what people want and how to deliver what they want. I am very customer oriented and try to meet my clients' needs the best that I possibly can. In my opinion, a wildlife photographer would benefit greatly from understanding animal behavior in addition to having a lot of patience and realistic expectations for travel conditions, which can be challenging at best.
Wendi Schneider: First and foremost, you must respect the wildlife and not intrude or interrupt behavior. I am quite certain that I unwittingly harassed several raptors when I was starting out by getting too close or staying too long. As for the business itself, you need to follow through, persevere, be a good listener, nurture your clients, go the extra mile without underselling yourself, and never undersell your gallery.
Q: What was the best (fun, lucrative, creative) photo shoot you have had in this field?
Sean Crane: As a creative director in advertising, I control all aspects of a shoot when working with a client. We control the lighting, the makeup, the location, everything. Wildlife photography is the complete opposite. You can never really fully prepare yourself for what might happen and you have to react quickly to whatever nature throws your way on any particular day. This is one of the things that I love about wildlife photography and every shoot tends to produce something that I didn't expect. I do remember one particular morning in northern Manitoba, Canada. Everything came together just right—the sun was just beginning to rise, lighting up the mist coming off the Hudson Bay, and just as the light was at its most spectacular, two polar bears wandered into the scene. Moments like that are few and far between, but the more you put yourself out there, the more likely good things are going to happen.
Gary Crabbe: One of my favorite nature and wildlife assignment shoots was probably also one of the most fun as well as being quite lucrative. I was hired by a hotel design firm to custom shoot large-format panoramic images that would be used as decor. All of the images and shooting was done in redwood forests and oak woodlands here in California. In addition to natural forest detail shots, which would be used as in-room decoration, I had several images used as 20x50-foot ceiling murals, and the third image which was used as a three-wall 10x80-foot mural of a redwood forest printed in glass. I got to attend the opening of the hotel with my wife and some friends, and it was a real treat to see my images used that large in person.
Jeff Colburn: My favorite happened when a friend invited us over for Thanksgiving dinner at her apartment in Sedona, Arizona. I thought it would be rude to take my camera. I didn't want her to think I was expecting to be bored and would run off to take pictures. My wife said I should bring the camera anyway and I will be forever grateful for her recommendation. We had only been in our friend's house for a few minutes when her neighbor came running in and said, "Quick, look out the back." We stepped onto her balcony and to the right saw a vivid double rainbow among the Red Rocks. And off to the left the light was playing on the Red Rocks as it peeked out from under the rain clouds. The sight was breathtaking. This was a slow-moving storm, and I was able to photograph the rainbow for almost an hour. These photographs have been good sellers over the years.
Wendi Schneider: A few years ago I captured a shot of a red-tailed hawk while driving down the highway in West Texas and knew that it was time to pursue this passion. A while later, I came across an offer for a workshop to study raptor photography. The draw was not only learning the basics, but also having the ability to photograph birds of prey up close. While I thrive on the calm and serenity that I feel when outside listening to the wind and the birds, it can be absolutely brutal waiting for the right moment, especially on frigid, snowy days. One of my most successful photographs is of a red-tailed hawk in the snow. I was at a workshop with wildlife photographer Rob Palmer and the weather was miserable, but I ended up with some great images and developed a relationship with the woman whose raptors we worked with. I now donate a portion of proceeds from sales to the some of these educational organizations and preserves.
Bev Pettit: I have had some pretty great wildlife photography trips over the past few years. Spending a month shooting at various locations in West Africa in 2013 is at the top of my list. Another was photographing the wild horses on Cumberland Island, Georgia. But by far the most trying, challenging, exhilarating, and fantastic photo shoot I have ever experienced was my trip to Sable Island in September of 2014. The wild horses of Sable Island are some of the last true wild horses left on the earth. The 350 horses on this narrow sliver of an island 150 miles off the coast of Nova Scotia are highly protected by the Canadian government. It is a very difficult place to visit. Few people make it to the island due the high cost of getting there, the impossible weather conditions most days of the year, and the extremely limited number of visitor permits available at any given time. I was one of the lucky ones and deem this a photo trip of a lifetime.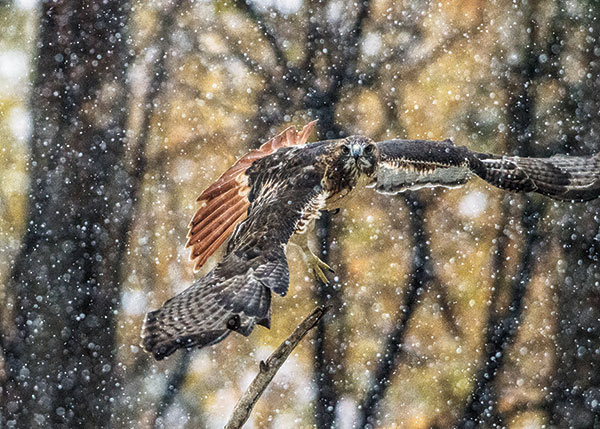 Resources
Jeff Colburn: jeffcolburn.com
Gary Crabbe: enlightphoto.com
Sean Crane: seancrane.com
Bev Pettit: bevpettit.com
Wendi Schneider: wendischneider.com

FEATURED VIDEO