Hasselblad's H3DII Medium Format D-SLR; Medium Format Digital Has Truly Evolved Page 2
One more thing: out of the box, the H3DII does not sharpen images. Factory default sets unsharp masking to zero (0). Based on that, we applied a modest amount of sharpening in post.
Metering And Focusing
The H3DII offers the full range of Exposure modes (from Program to Manual), but it limits metering patterns to center-weighted averaging, spot, and center-spot (a variant of partial-area metering). Outdoors, we found center-weighted metering worked reliably for available light and fill flash, so we stuck with that. While the usual caveats about bright and dark subjects requiring exposure compensation apply (a button on the side of the finder made that a simple step via a generous +/- 5 EV range), we found it largely unnecessary. You could also avail yourself of the AE-Lock function. In the studio, we relied on a handheld incident meter and the histogram in the camera display, with the camera set to Manual mode.

For color balance when working with the 39-megapixel camera we used a Broncolor color meter in the studio, and made test exposures both indoors and in the park using a Macbeth color chart, with our test shots to be applied in post. To arrive at a proper color balance for my tabletops with the 31-megapixel camera I used the camera's custom White Balance (WB) function to read a neutral gray target. I used the resultant color temperature reading for subsequent exposures, tweaking color in post.

The camera comes with a Spherical Acute-Matte focusing screen (interchangeable), which in combination with the 90° finder, gives you a crisp, clear view of the scene. Viewing through the finder was a distinct pleasure, and none of us seemed to have a problem, even while wearing eyeglasses.
We kept the camera in Single-Shot Drive mode, since continuous drive does not refocus the camera for sequential, subsequent exposures once locked in. However, we did selectively apply AF S (single-shot AF) and AF C (continuous/servo AF). We found that autofocusing in AF S mode performed exceptionally well. In fact, it almost seemed as if the camera was using some kind of artificial intelligence, since, in many cases, you could move away from the point of focus and back, hit the shutter button again, and the camera would instantly lock on. What's more, autofocusing works well even with flat, even-toned surfaces. Because the camera does not use predictive AF, continuous AF wasn't as responsive as we'd liked with action sequences, causing us to miss several prime exposures.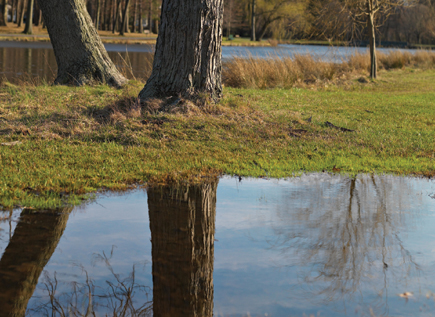 This scene was the perfect opportunity for Gerard Marrazzo to shoot in Aperture Priority, letting the background blur softly with a relatively wide aperture. Originally shot as a vertical, with considerable sky, we cropped down to a horizontal to emphasize the reflections in the pool. (Aperture Priority, ISO 200, f/5.6, 1/350 sec; 100mm.)
© 2008, Bohm-Marrazzo, All Rights Reserved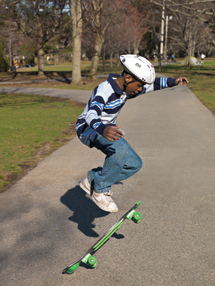 While in the park, I had the opportunity to take a few action shots with the 39-megapixel H3DII in Single-Shot AF mode. For the boy doing skateboard acrobatics, I first focused on him and released the shutter as he made the jump. For the shot of Whoopee the dog, I first had to visually track her movements, squeezing the shutter button to lock in focus as she was about to make the leap, then finally releasing the shutter a fraction of a second later. (Both shots: Shutter Priority, ISO 400, f/8, 1/800 sec; 100mm.)
© 2008, Jack Neubart, All Rights Reserved

Conclusions
Medium format seems to have lost some of its allure with the advent of digital technology, at least among advanced amateurs and photo enthusiasts. In the past, you could pick up a film-based medium format camera, new and especially used, for a very reasonable price. Today, add the digital component and these cameras become pricey, so you need to justify the outlay of cash.

When I look back at the pictures we got, I have to say the camera is worth every penny. While we could quibble with a few things here and there, most notably continuous AF performance and the audible clunking noise that accompanied each exposure, we couldn't argue with the degree of control the camera gives you, the smooth operation of the lenses (when manually focusing, it felt like old times), and of course the superb quality of the images.

Yes, it's bulkier than a top-of-the-line 35mm-style D-SLR. But if you've worked with any medium format cameras at all, you'll appreciate the feel and handling of the H3DII. Contributing to the camera's user-friendliness are various user settings, namely "profiles" (sets of parameters suited to specific subjects) and customizable buttons. Also, stored metadata corrects for digital aberration and distortion ("DAC" in Hasselblad parlance) specific to each lens when converting files in Hasselblad's software. Beyond that, AE metering and single-shot AF could easily compete with this camera's smaller rivals. One surprising treat was the built-in flash and how well it worked.

All in all, I'd have to say that the Hasselblad H3DII felt like it was a natural extension of eye and hand. I was never conscious of holding the camera, whether shooting with it horizontally or vertically. Speaking for each one of us who had a chance to shoot with the Hasselblad H3DII, we were saddened when it came time to return it. I can easily quote the bard and say that parting was indeed such sweet sorrow.

A special thanks to Dona (Make-up by Dona) for the wonderful job she did with makeup and hair.

For more information, contact Hasselblad USA Inc., 15209 NE 95th St., Redmond, WA 98052; (800) 367-6434; www.hasselbladusa.com.

LATEST VIDEO