Handheld Light Meters; Are They Still Important For Serious Photography? Page 2
Low-Light Capability
Top-of-the-line handheld meters from Gossen and Sekonic provide an amazing range of light-reading capabilities that make it possible to take measurements that couldn't be taken with built-in meters. The Gossen Starlite, for example, measures ambient and flash light and includes two spot metering measurement angles, 1Þ and 5Þ. Its measurement range for ambient light is --2.5 EV to +18 EV and for spot measurement of reflected light is +2 EV to +18 EV at 1Þ and +1 EV to +18 EV at 5Þ.

The Sekonic L-758DR DIGITALMASTER also measures both ambient and flash light and includes a built-in 1Þ spot meter. Its measurement range for ambient light is --2 EV to +22.2 EV and for spot measurement of reflected light is +1 EV to +24.2 EV with the ability to measure the cumulative exposure from an unlimited number of flashes. Also built-in is a PocketWizard radio transmitter for remote flash triggering.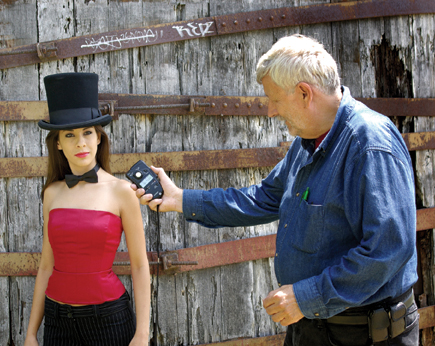 Incident light readings involve metering the light that falls onto a subject. Such readings are frequently more accurate than reflective readings.
© 2007, Maline Khun, All Rights Reserved
Dynamic Range
Designed with the digital photographer in mind, the Sekonic L-758DR can be programmed to match the sensitivity of digital camera sensors. The dynamic range of a camera sensor can be stored and displayed on the meter's LCD screen. This presents the dynamic range limits of the camera's sensor before taking the photograph. Additionally, the L-758DR has blinking pre-exposure warning lights that indicate when a measured highlight or shadow has met or exceeded the dynamic range. Predefined clipping points can also be programmed into the meter for additional exposure control.

While there's the increased temptation to shoot without handheld light meters, perfectionists who understand that good photography starts with good composition and proper exposure still maintain that handheld meters are still essential to obtain optimum results. Light meters can get expensive. While there are some available for as little as $85, the abovementioned Gossen costs $750, while the Sekonic L-758DR sells for $499. But if you're a working pro or even an avid amateur who demands the best exposure for every shot, these are investments well worth making.
Manufacturers/Distributors
Bogen Imaging Inc. (Gossen)
565 East Crescent Ave.
Ramsey, NJ 07446
(201) 818-9500
www.bogenimaging.us

Sekonic USA
8 Westchester Plaza
Elmsford, NY 10523
(914) 347-3300
www.sekonic.com

LATEST VIDEO