Greg Vander Houwen:A Photoshop Pioneer
All Images by Greg Vander Houwen
Greg Vander Houwen describes himself as "an artist by nature; illustrator by trade"--one who often incorporates photography into his digital art. As he puts it, "My primary business is commercial illustration and user interface design." Vander Houwen believes that photography is a limited term these days, and points out, "A scanner can be used to capture images as well. It just has a very limited depth of field."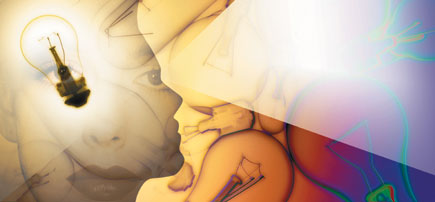 This untitled piece was used in a brochure for an Adobe InDesign event.
This successful digital artist's work draws you into a uniquely beautiful world of his own creation. Vander Houwen's clients include Adobe Systems, Apple Computer, Airtouch Cellular, Columbia House, Microsoft and Oracle Corporation. In terms of fine art, he credits influences such as Gustav Klimt and Paul Klee. It's especially impressive to learn that he's self-taught, with no formal education in photography, fine art, or digital imaging.

Farming to Photography
On his Website, www.netcandy.com, Vander Houwen states, "I have a background in video, computers, photography and apple farming." This last discipline dates back to the days when he grew up on his family's apple farm in Yakima, Washington. At age 12, he was introduced to photography by a friend. His first camera was a Nikon F--"I dropped it too many times, but it survived"--and read magazines (including Photographic) from cover to cover to learn his new hobby.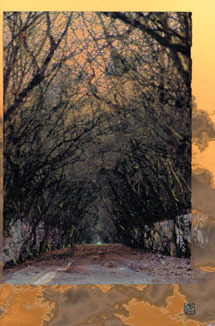 "Tunnel Vision" is a fine-art piece that's been published in books, CDs, and gallery shows.
His first paid job as a photographer occurred in 1980--at age 16--following a phenomenal natural event. Vander Houwen was camping with some friends in May when Mount St. Helens erupted. "It radically changed the atmosphere," he recalls. "It rained at least an inch of gray ash for about an hour or two." He says the sky turned completely black at their campsite. "Oddly enough, a brief lightning storm also accompanied the eruption," he says.

Afterwards, Vander Houwen photographed water damage to local canals caused by the massive eruption. His big break came when he "marched into the offices of Good Fruit Grower" (a local farming magazine). The editor encouraged the young man by publishing his photos of the canal repairs--"it was a big story in the ranching area," according to Vander Houwen.
"Cloud Burst" is a fine-art piece composed from four elements--clouds, waterfall, desert and stars.
Digital Infancy
This first job "planted the seed of the idea that I could do this for a living," he says, although most adults he knew tried to discourage him from making photography a career goal. During his junior and senior year of high school, Vander Houwen attended a vocational program in video production. But at age 18, his father was killed in a hunting accident. Vander Houwen moved back home to be with his family, dropped out of college, and got a job in a local computer store.

It was there that he began to create art on computers. He says, "In 1983 I got started on an Apple 2, the predecessor to Macintosh." There were no scanners in those days, but nonetheless, he began doing "some pretty rough artwork" on his computer. At this juncture, he says, few people viewed computers as serious art tools.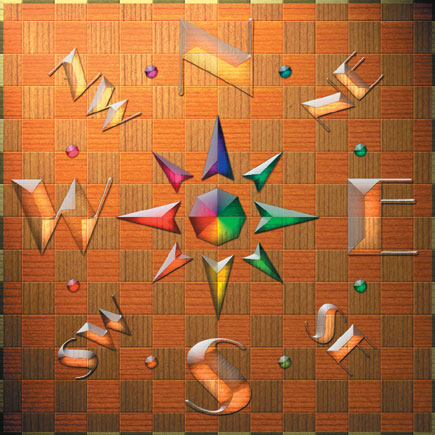 Above: "Metals," "Beveled Glass," and "Aqua Plastic" all illustrate techniques Vander Houwen developed in Photoshop.

FEATURED VIDEO