Get Your Head On Straight; A Guide To Tripod Heads Page 2
· Quick-release mounting plates. Useful when you may need a tripod quickly or when working with multiple cameras--simply attach the plate to the camera in advance. The release and locking mechanisms are a critical component. Better heads lock the release mechanism in the open position, which snaps shut the moment the camera is properly seated. Even better heads have a secondary security latch that prevents inadvertent release of the lever. Otherwise, locking levers should be recessed or at least require firm pressure to prevent accidental release. If the tripod doesn't come with a quick plate, you can always buy one. Keep a penny handy, as most mounting screws on quick plates will require it. Note: It pays to buy extra plates for additional cameras and as replacements, if one gets lost or misplaced.

· Vertical alignment. Fast or slow? With some pan heads, you simply lift the platform into a vertical position, and the platform stops at 90Þ, with movement in only one direction. Other heads require more deliberate action, adding movement in both directions to fine-tune alignment. Ball heads usually come to a dead stop at 90Þ when the head is moved within a grooved slot.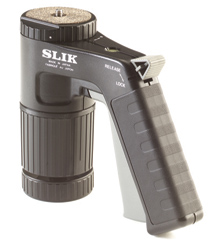 The Slik AF 2100 trigger-release ball head is a grip-action head with rotating top plate and safety release.
· Handles and knobs. Handles should provide a comfy grip. Any knobs should be large enough to grab easily, even with gloved hands. A studio tripod requires tight control, so the pan head should have three separate handles--for the separate movements. A pan head for field work/travel should be more compact and sport a combination of handles and knobs. Knobs on ball heads are suitably sized, but not necessarily for gloved hands. Note: Some pan heads give you the option to attach one handle for right- or left-handed use.

The right tripod head comes to the fore when it is used in the right environment, with the camera gear (translation: load) for which it's best suited. Quality heads are not necessarily costly. But cheap heads can cost you in the time it takes to get them to do
your bidding, and in their inability to properly support your camera. And in lost pictures.
Manufacturers/Distributors
Arca-Swiss
2247 N Geneva Terrace
Chicago, IL 60614
(773) 248-2513
e-mail: arcaswiss@aol.com
Bencher, Inc. (Majestic)
241 E Depot St.
Antioch, IL 60002
(847) 838-3195
www.bencher.com
Bogen Imaging Inc.
(Gitzo and Manfrotto)
565 E Crescent Ave.
Ramsey, NJ 07446
(201) 818-9500
www.bogenimaging.us
Calumet Photographic, Inc.
890 Supreme Dr.
Bensenville, IL 60106
(800) 225-8638
(630) 860-7447
www.calumetphoto.com
HP Marketing Corp. (Berlebach,
Giottos, Linhof, Novoflex)
16 Chapin Rd.
Pine Brook, NJ 07058
(800) 735-4373
(973) 808-9010
www.hpmarketingcorp.com
JTL Corporation
14747 Artesia Blvd., 3-E
La Mirada, CA 90638
(714) 670-6626
www.jtlcorp.com
Kaidan Inc.
703 E Pennsylvania Blvd.
Feasterville, PA 19053
(215) 364-1778
www.kaidan.com
Kenyon Laboratories LLC
29 Plains Rd.
Essex, CT 06426
(800) 253-4681
(860) 767-3235
www.ken-lab.com
OmegaSatter (FLM)
1041 S Carroll St.
Hampstead, MD 21074
(410) 374-3250
www.omegasatter.com
Paterson Photographic Inc. (Benbo)
4680-A Industrial Access Rd.
Douglasville, GA 30134
(770) 947-9796
www.patersonphotographic.com
Pro4 Imaging Inc. (Uni-Loc)
701 Aspen Peak Loop #523
Henderson, NV 89015
(800) 636-0844
www.pro4.com
Ries Industries, Inc.
PO Box 487
Waterville, WA 98858
(206) 842-9558
www.riestripod.com
RTS Inc.
(Cullmann and Studioball)
40-11 Burt Dr.
Deer Park, NY 11729
(631) 242-6801
www.rtsphoto.com
Smith-Victor Corp.
1268 Humbracht Cir.
Bartlett, IL 60103
(800) 348-9862
(630) 830-9200
www.smithvictor.com
THK Photo Products, Inc. (Slik)
2360 Mira Mar Ave.
Long Beach, CA 90815
(800) 421-1141
(562) 494-9575
www.thkphoto.com
The Tiffen Company, LLC
(Davis & Sanford)
90 Oser Ave.
Hauppauge, NY 11788
(631) 273-2500
www.tiffen.com
ToCAD America Inc.
(Hakuba, Sunpak, Velbon)
300 Webro Rd.
Parsippany, NJ 07054
(973) 428-9800
www.tocad.com
Vanguard USA
9157 East M-36
Whitmore Lake, MI 48189
(800) 875-3322
www.vanguardusa.com