Fujifilm's FinePix S5 Pro; A Real-World Test Of A Viable Alternative D-SLR Page 2
Add to the above a new battery that never seems to die; I got well over 400 shots on each full charge. Other items worthy of note include the big viewfinder, high ISO options, availability of a wide range of Nikon lenses, faster focusing, and extremely accurate metering, and you can see the S5 Pro is a serious option for the pro portrait and wedding shooter. The camera also features an "Auto ISO" control which almost functions as your own Program mode, where you set the upper limit of your ISO and lower limit of the shutter speed, plus a "live view" option in the viewfinder.

Are there any drawbacks? The first has to do with the display. The histogram is too small and the lines too large to be very useful. With the bigger display, why is the histogram so small? It's barely useful and hard to tell when the highlight hits the "255 zone" (no detail). And where are the "blinkies" (overexposed highlight warning)? You have to go to the histogram first and then "submenu" through the different colors to find it. How about a big histogram on the top layer? In general, I did find the menu system a little more confusing then some other cameras in this class, but I eventually got used to how to get around. I also found that I would sometimes shoot quicker than the buffer could handle, even in JPEG. You can check the specs for details, but I later learned that turning the Auto Dynamic Range off speeds things up.
The Super CCD SR Sensor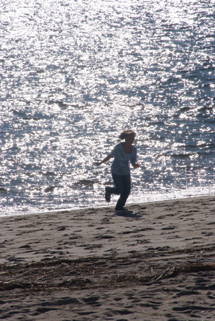 Remarkable to have any detail in the background and sand in this high-contrast image taken with Auto Dynamic Range.
This was taken with autoexposure and Auto Dynamic Range. The exposure is perfect and detail in both the white and dark horses.
The main reason professionals might desire the S5 Pro camera is the sensor. Instead of trying to pack in as many pixels as possible, they have opted for two photodiodes to do the work that one does in most other cameras. The larger "S" diode acts pretty much like the typical one in other cameras. The larger, less sensitive "R" diode is there just to capture highlight detail that would not be held by the "S" sensor. The camera processor works to combine the two seamlessly for you. Since there are about 6 million of each, is this a 12-megapixel camera or a 6? This debate has raged since the introduction of the first variation of this chip, and I can't really tell you the answer. In my totally unscientific eyeball test, I'd say the real-world results are probably comparable to something in between.

What about the dynamic range and how do you make it most useful? To make sure I had a clear understanding of how this all worked and how you could get the most out of your camera, I had a phone conversation with Darin Pepple, consumer and professional marketing manager of the Electronic Imaging Division of Fujifilm U.S.A. My first question was, if we want to get the best image file possible with the most information, why wouldn't we just leave the dynamic range setting set to the maximum (400) value? This is not a good practice. Let's say you have your setting on 400 and you're taking a photo of a doorway in very flat, even light without much brightness range. Using the expanded dynamic range will mean you have more "range" in the chip than in the scene, resulting in a "flat" image. The opposite is also true. By using a standard or narrow range in a scene with a great highlight to shadow brightness range you won't be able to capture as much detail on both ends of the spectrum, resulting in poor image quality. What to do? The easiest is to leave the setting on "auto" and let the camera figure things out. Pepple assured me that the camera is very capable of handling this by itself, even with flash..
On balance, the S5 Pro has turned the corner from previous models that were based on amateur/film cameras to a fully professional, robust camera body with the unique Fujifilm sensor. The FinePix basic software is included with the camera; the fully featured raw editor is optional.
Technical Specifications
CCD Sensor: 23.0mm x 15.5mm Super CCD SR Pro
Storage Media: CompactFlash (CF) card (Type I/II) and Microdrive
Lens Mount: Nikon F mount (with AF coupling and AF contacts)

Usable Lenses:
· Type DX AF Nikkor: All functions supported
· Type G or D AF Nikkor (IX Nikkor lenses cannot be used): All functions supported
· Micro Nikkor 85mm f/2.8D: All functions supported except autofocus and some Exposure modes
· Other AF Nikkor (excluding lenses for F3AF): All functions supported except 3D Color Matrix Metering II and 3D multi-sensor balanced fill flash for D-SLR
· AI-P Nikkor: All functions supported except 3D Color Matrix Metering II, 3D multi-sensor balanced fill flash for D-SLR, and autofocus
· Non-CPU: Can be used in Exposure modes A and M; electronic rangefinder can be used if maximum aperture is f/5.6 or faster; Color Matrix Metering, multi-sensor balanced fill-flash for D-SLR, and aperture value display supported if user provides lens data
Picture Angle: Approx. 1.5x focal length in 35mm format equivalent
LCD Back Monitor: 2.5" approx. 230,000 pixels low temperature polysilicon TFT color LCD (approx. 100 percent frame coverage for playback)
Power Source: Rechargeable lithium ion battery (included) or AC Power Adapter AC-135VN (Optional)
Dimensions (WxHxD): 5.8x4.4x2.9"
Weight: 29.3 oz
MSRP: $1999 (street price: $1600)
For more information, contact Fujifilm U.S.A., Inc., 200 Summit Lake Dr., Floor 2, Valhalla, NY 10595; (800) 755-3854; www.fujifilmusa.com.

Steve Bedell holds Masters and Craftsman degrees from the Professional Photographers of America. Bedell recently released an educational DVD about shooting in the sun called "Sparkle Light." For more information on the DVD or to subscribe to EPhoto, his free online newsletter for professional and advanced amateur photographers, contact Bedell via e-mail at: sb@stevebedell.com.

FEATURED VIDEO