Fujifilm's IS-1; The FinePix S3 Pro UVIR Gets A Little Brother Page 2
Since IR shots have to be processed before use, the same processing steps were applied to each of the different infrared JPEG file comparisons that I made with each filter, including the use of Adobe Photoshop's Desaturate for conversion to monochrome and the Levels and Curves commands to tweak contrast. There are, of course, many, many ways to accomplish these same kind of corrections and I chose this way in order to be simple and consistent and allow you to make fair comparisons between the different filters used.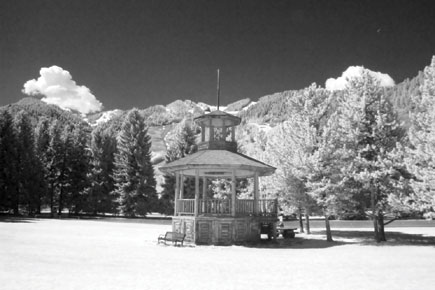 (#1): The exposure with B+W's 092 filter was 1/500 sec at f/5.6 at ISO 400. B+W's 092 filter is really dark red and filters all IR light below approximately 650 nm. The filter factor is approximately 20-40.
(#2): Clearly the best bargain in IR filters, the Cokin Infrared 007 (89B) filter in Series A only costs $37.75, and provides 50 percent transmission at 720 nm. Be sure to hold the filter flush to the lens with your fingers. If you use a Cokin modular holder there's a possibility of light pollution from the open space on the sides. Exposure was 1/600 sec at f/5 at ISO 400.
(#3): This view of Aspen's Paepcke Park was made with the Fujifilm IS-1 set in Auto White Balance mode and was color corrected using PhotoTune's (www.phototune.com) 20/20 Color MD to get it close (but no cigar) to what the scene really looked like. Image was captured in the camera's 3:2 ratio mode to fit the composition of the scene. Exposure was 1/850 sec at f/8 at ISO 400 to give you a comparison with the filtered IR shots that follow.
(#4): The first filter I tried was the Peca 904 that Fuji provided and it produced excellent results. Spring was late coming to Aspen and pine trees show less but some infrared "leaf" effect since digital IR capture of coniferous trees is less vivid because they reflect less IR light. Exposure was 1/400 sec at f/5 at ISO 400, but unlike some IR cameras that I have tried, the Fujifilm IS-1 focuses and exposes through these dense filters.
(#5): Singh-Ray's I-Ray Infrared filter transmits over 90 percent of near-infrared light between 700 and 1100 nm while blocking virtually all visible and UV light. Exposure was 1/420 sec at f/4.5 at ISO 400.
The Fujifilm IS-1 offers three Color modes: Standard, Chrome, and Black and White, and the Color modes bear some of the burden of the camera's IR sensitivity. The upside of the IS-1's infrared sensitivity is that you can put the camera in Black and White mode and when using an IR filter capture the image directly in monochrome. The downside of this capability is that when capturing in either Color mode, scenes with high IR reflectivity, such as landscapes, can be polluted with the invisible infrared light, changing all of the green grass and foliage in the photograph to a washed-out red. All is not lost, however; you can easily or maybe not so easily convert the image file back to "normal" using your favorite image-editing program. Subjects without low IR reflectivity photograph normally or at least more or less normally.

The camera is delivered with four AA batteries and even though they were Panasonic "Alkaline for Digital" batteries, they didn't last long. With the EVF and large LCD screen I was only able to get 70 JPEG shots before the batteries were exhausted. I switched to Energizer's rechargeable AAs and they worked great for five shots and then gave up. I thought that I charged them so it may or may not be the pink bunny's fault; maybe it's mine. Whatever you do, don't leave home without lots of AA batteries.
| | |
| --- | --- |
| | |
| (#1): This image was a JPEG capture with the Fujifiilm IS-1 in Auto White Balance mode and was shot in a park in Glenwood Springs, Colorado, the final resting spot of Doc Holliday. The tree's leaves and the grass were really green. This image visibly demonstrates the effect of IR pollution and why camera companies put filters on their sensors to block it. Exposure was 1/750 sec at f/8 at ISO 400. | (#2): The Fujifilm IS-1 also has a Black and White Capture mode that does a pretty good job of rendering a monochrome image directly in camera. No worry about IR pollution here. |
| | |
| (#3): The Fujifilm IS-1 has a "Chrome" Color mode that pumps up contrast and saturation to produce this result of a scene that has high IR reflectivity. I tried all kinds of Photoshop tricks to make the leaves and grass as green as what my eye saw but was never able to do it and make it look realistic, so I gave up. | (#4): This image was captured with the Peca 904 IR filter that Fuji provided and it produced excellent results. Because this was a deciduous tree, the IR "white leaves" effect is maximized. Exposure was 1/420 sec at f/6.4 at ISO 400 and the file was processed in Adobe's Photoshop using the Desaturate command followed by tweaks with Levels and Curves. |
Although it can be fussy to use, the Fujifilm IS-1 produces impressive but somewhat noisy image files and can even be fun to use once you get past the bells and whistles that pass for its user interface. Nevertheless, I can't quite shake the feeling that photographers who are serious about the aesthetics of infrared photography would not be better off purchasing a used D-SLR that already fits into their lens system and having it converted to IR-only capture. Yet, at this quality level of infrared and "normal" image capture, the IS-1 offers the ability to capture in color, albeit idiosyncratic color, something most converted IR cameras cannot accomplish.

The Fujifilm IS-1 measures 5.0x3.7x5.1" and weighs 22.9 oz. (excluding batteries and memory card). The price of the camera is $799.95.

For more information, contact Fujifilm U.S.A., Inc., 200 Summit Lake Dr., Floor 2, Valhalla, NY 10595; (800) 755-3854, (914) 789-8100; www.fujifilmusa.com.

Joe Farace is the author of the new 160-page book titled "Complete Guide to Digital Infrared Photography" published by Lark Books (ISBN: 1579907725). It's available in all the best bookstores, including Barnes & Noble, as well as Amazon.com.