Field Accessories For Digital SLRs; While Perhaps Not Top Priority, These Items Can Really Come In Handy Page 3
If you prefer to use special color filters in what I call "sheet" form, the wide variety offered by Cokin and LEE fit the bill. With an adapter that mounts on the front of your lens, filters in the "P" category can be slid up and down (in the case of color graduated filters) to compress the values between a bright blue sky or mountaintop and a shaded meadow. There are more combinations than one can count and, between the two makers, just about any effect can be achieved. Cost is governed by the filter, filter adapter, and size.
LEE or Cokin graduated color filters are available in most sizes to fit any camera. This one is mounted on a Nikon lens with a 77mm filter ring.
This placid lake in western Colorado was a perfect candidate for the graduated blue filter. Since the sky was lifeless without clouds, I added just a touch of blue from my filter to make the photograph more appealing.
Flare Fighters
Flare is always a concern when outdoors and no matter how you try to shade extreme side or front lighting, the proper lens shade always seems to be left at home. Nikon has found a solution to fight flare, and you'll only find it in their special edition accessory catalog. At times, when using their brand of polarizer with an oversized adjusting ring it's hard to get a lens shade to match. If you order the Nikon HN-13 (for 72mm polarizing filters) or the HN-34 (for 77mm polarizing filters) you'll have all the bases covered. These lens hoods allow you to adjust the rate of polarization by just turning the hood, a blessing in cold weather when you'd like to keep gloves on. Current prices run from $28-$35, depending upon filter size.
Those who might have the Nikon polarizer with the oversized front ring can add a Nikon lens hood for protection against side or front lighting. As an extra benefit, the larger front surface makes adjusting the polarizer easy even with gloves on.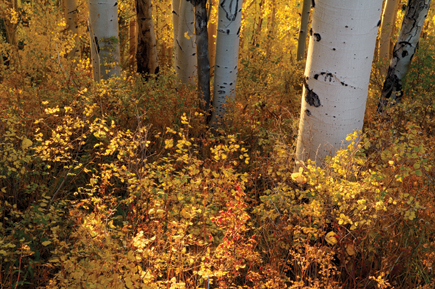 This is the perfect reason for using the lens shade over the polarizer as it kept the strong side and top light from degrading the image.
Speedy Download
For digital fans, the CardBus 32 adapter made by Delkin offers those plagued by slow downloads after a full day of shooting some relief. This 32-bit device cuts the dreaded download time by 4-6 times over the conventional 16-bit adapter. Load the CD into your laptop, download the program, insert your CompactFlash card into the adapter, and wham, all those megabytes start flying into your pre-selected folder. List price from Delkin's online store is $47.99.
The Delkin 32-bit CardBus adapter fits handily into the PCMCIA slot in your laptop, comes in a variety of card sizes, and will transfer images up to 4-6 times faster than the common 16-bit cards.
Stan Trzoniec is a frequent "Shutterbug" contributor and a widely published author on the outdoors, photography, railroads, birding, and travel. His new photography book, "Images of the Present" is now available direct. He can be reached via e-mail at: fotoclass@aol.com.
Manufacturers/Distributors
Canon U.S.A., Inc.
One Canon Plaza
Lake Success, NY 11042
(800) 652-2666
(516) 328-5000
www.canonusa.com

Delkin Devices, Inc.
13350 Kirkham Way
Poway, CA 92064
(800) 637-8087
(858) 391-1234
www.delkin.com

Kirk Enterprises
333 Hoosier Dr.
Angola, IN 46703
(800) 626-5074
(260) 665-3670
www.kirkphoto.com
LEE Filters USA
2237 North Hollywood Way
Burbank, CA 91505
(800) 576-5055
(818) 238-1220
www.leefiltersusa.com

Nikon Inc.
1300 Walt Whitman Rd.
Melville, NY 11747
(800) 526-4566
(631) 547-4200
www.nikonusa.com

OmegaSatter (Cloud Dome, Cokin Filters)
1041 S. Carroll St.
Hampstead, MD 21074
(410) 374-3250
www.omegasatter.com

Really Right Stuff
205 Higuera St.
San Luis Obispo, CA 93401
(888) 777-5557
(805) 528-6321
www.reallyrightstuff.com

Singh-Ray Filters
2721 SE Highway 31
Arcadia, FL 34266
(800) 486-5501
(863) 993-4100
www.singhray.com

Wimberley, Inc.
974 Baker Lane
Winchester, VA 22603
(888) 665-2746
(540) 665-2744
www.tripodhead.com

LATEST VIDEO

SPONSORED VIDEO
Testing Tamron's SP 150-60mm G2 lens while capturing birds and alligators in Apalachicola, Florida.