7 Easy Photo Tips on How To Take Better Pictures At Indoor School Events
I saw you in the high school gym last night, clicking away with your DSLR and long telephoto zoom. You weren't obnoxious like the lady behind you who kept firing her point-and-shoot—with flash—from fifty feet away, or the couple who held their cell phones high above their heads (they were either shooting video, playing 3D Candy Crush or signaling their alien Mother Ship, I couldn't tell which). But I felt sorry for you, because I could tell that your photos would turn out crappy.
We're nearing the end of the school year, so it's time for spring concerts, choral galas and graduation ceremonies. These are truly once in a lifetime events for our youngsters. Here are some photography tips that will help you take home a camera full of memories—instead of a bunch of dark, fuzzy images you can't wait to delete.
1) Turn OFF the following: Flash, Focus Assist Lamp, Beeps. Using a flash at a live performance of any kind is futile and discourteous. Even if the blinding bolt of light doesn't fry the eyeballs of the hapless kids on stage, it will disrupt everyone else, especially the kind folks who are politely shooting video. Ditto the Focus Assist Lamp. If you leave it on there's a real danger that it will cast a ghostly amber glow all over everything. Besides, you shouldn't need it because the lighting is plenty contrasty. Then there's the Beep. Every civilized camera allows you to turn the beep signals off. Check the owner's manual. If you don't know where the manual is, odds are you can find it online.
2) Underexpose: The stage lighting is much brighter than you think—and more importantly, it's brighter than your camera thinks it is. Shoot test shots, by all means, but be ready to set your Exposure Compensation Dial to a minus setting between 1 and 2 stops. If you don't, faces are recorded as glowing blobs and white shirts lose all texture.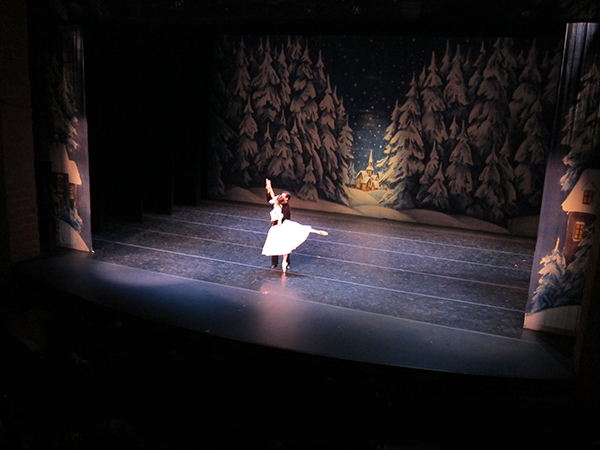 3) Keep It Steady: Camera shake is the number one cause of unpleasant photographs. Even the slightest camera movement during exposure causes images to blur and smear. Telephoto lenses magnify the effect—literally—and long, slow shutter speeds give the shake more time to occur. Add this all up and you can see why it's probably wise for you to leave the 80-200mm f4.5~f6.3 zoom at home. The long telephoto focal length combined with the smallish f/stop and longish shutter speeds form a perfect storm of conditions that produces yucky images.
Yes, you can shoot at high ISO settings as a countermeasure for camera shake, ISO 3200 for instance. Some cameras perform well at high ISOs and some do not. In any case, you may have to settle for images speckled with digital noise and in some cases, smudged details.
4) Use a Stabilized Lens: A great—albeit expensive—alternative is to use a zoom lens that has image stabilization and a fast aperture. One example is the Tamron 70-200mm f2.8 VC zoom lens, which costs around $1500. Sigma is another great choice. Their 70-200mm f2.8 EX DG APO sells for about $1200. If four-figure price tags bust your budget, take a close look at the Tamron SP 70-300mm f4-5.6 Di VC. It is exceptionally sharp and offers excellent image stabilization for about $350.
5) Use a Stabilized Camera: And still another option is a high-end, high zoom, point-and-shoot camera that has image stabilization. Several good examples come to mind. Some have outrageously powerful zooms. One such is the Canon PowerShot SX50 HS which offers a 50X, 24-1200mm zoom, high speed burst shooting up to 13 shots per second and effective optical image stabilization. It's a lot of camera for less than $400.
6) Practice: Now, if you plan to buy a new camera specifically for an important upcoming event, be sure to use it several times and get a lot of practice in before the big day comes. And be sure you learn how to turn off the Flash, Focus Assist Lamp and Beeps.
7) Lower Your Phone: Not sure why, but for some reason people think it's okay to hold their smartphones in the air like they're hailing some celestial taxi. Even people who were too shy to use a camera in public seem willing to torment us by blocking our view with their phone. I'm not suggesting that you don't use your phone to record these important scholastic events (even though a camera would probably do a way better job) I'm simply asking you to use them with the same eye toward courtesy as us camera users.
—Jon Sienkiewicz

FEATURED VIDEO