Digital Oil Painting In Corel's Painter X; A Step-By-Step Guide To One Of Its Many Tools Page 3
10. If you inspect closely a painting by the old masters, in a museum, you will likely discover a great range of paint textures. Often the bumpy canvas can be seen in some areas. In other areas the texture of the canvas is obscured by the thickness of the paint application. In order to mimic that feel, we will enlist the aid of a mask.
We now need to add a mask to this duplicate layer. Go to Layers>Add Layer Mask. Our duplicate layer has all the canvas texture, right? The underlying layer has the brush strokes. With black, as our color, paint on the mask anywhere that you would want the brush strokes to obscure the canvas. Voilà! You have brush work that truly mimics a real painting.

11. Because this technique is so realistic, it would be a great candidate for printing it on real canvas and perhaps treating yourself to a gallery wrap-type presentation, where the canvas is actually stretched around stretcher bars, just like a real oil painting.
12. Completed painting.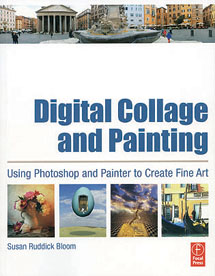 Susan Ruddick Bloom has been involved in making art on the computer for over 20 years. She holds an MFA from the Maryland Institute College of Art. She is Professor and Chair of the Department of Art and Art History at McDaniel College in Westminster, Maryland.

In addition to her college teaching, Ruddick Bloom conducts many of the top workshops, including the Maine Photographic Workshop, Palm Beach Photographic Centre, Santa Fe Photo Workshop, Common Ground, and Common Ground - Scotland. She also leads photo tours throughout the world.

Ruddick Bloom's book, "Digital Collage and Painting," by Focal Press, was released in 2006, and is currently being translated into Chinese and Russian. Ruddick Bloom is also the "photo expert" for www.eons.com, writing a blog for that new site, devoted to the baby boomer generation.

LATEST VIDEO

SPONSORED VIDEO
Testing Tamron's SP 150-60mm G2 lens while capturing birds and alligators in Apalachicola, Florida.