Digital Life Preservers ; How To Organize, Archive, And Protect Your Valuable Photos Page 2
Disc Handling And Storage
Here are some recommendations from Verbatim on how to best care for your valuable back-up DVDs and CDs:
1. Leave discs in their spindle or jewel case to minimize the effects of environmental changes. Remove the shrink wrap only when you are ready to record data. Return discs to their jewel cases immediately after use.
2. Don't bend or force the discs out of the jewel case. This can crack the protective layer and lead to oxidation damage. Press gently on the center nub of the case and carefully lift the disc off. Make sure your hands are clean and only touch the outer edges or the center hole. Never touch the surface of the disc.
3. The top or label side is an important protective area to keep intact. Avoid any type of sharp pen or solvent-based ink. If you are going to mark on the disc, do it only on the top side and use a water- or alcohol-based soft marker. Do not mark the recording/reading underside in any way.
4. Do not use adhesive labels on the surface of the disc.
5. Store your discs in their jewel cases like your books, vertically.
6. Store the discs in a cool, dry, dark environment in which the air is clean--relative humidity should be in the 20-50 percent range and temperature should be in the 39-68ÞF range.
7. Don't worry about minor scratches on the clear underside of the disc. The scratch has to be pretty deep to make your data unreadable.
8. Remove dirt, foreign material, fingerprints, smudges, and liquids by wiping with a clean cotton fabric in a straight line from the center of the disc toward the outer edge. Do not clean in a circular direction around the disc. Use de-ionized (best), distilled, or soft tap water to clean your discs. For tough problems use diluted dish detergent or rubbing alcohol. Rinse and dry thoroughly with a lint-free cloth or photo lens tissue. Do not use benzene, thinners, or solvents.

Taking these simple precautions should maximize the life of your discs and the photos stored on them.
Hard Drive Options
Some photographers use multiple hard drives to store their images. Hard drives are fast, and they're becoming less expensive every day. But, most experts agree that hard drives will fail or seriously crash and lose data after 3-5 years. That's why most professionals I know are using CDs and/or DVDs, as well as hard drives.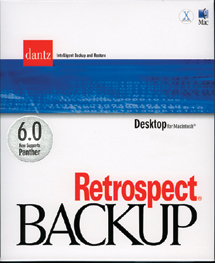 Whether you're backing up to a CD/DVD or to a hard drive, Retrospect Backup 6.0 software for Mac and Windows from EMC Dantz offers powerful features and ease of use.
Personally, I have two internal hard drives in my primary desktop computer, each running a different operating system. In addition to DVD and CD backups, I recently added a LaCie external 250GB hard drive. Today, many external hard drives are available with three interfaces--FireWire 400 and 800 as well as USB 2.0. Purchasing such a drive gives you great portability and flexibility to transfer data to many other machines.

Furthermore, I use Retrospect Backup 6.0 back-up software from EMC Dantz, (for both Mac and Windows) and back up religiously (if you don't do this now, I guarantee that you'll be praying that you did at some point in the future). When the new external hard drive arrived, I first reformatted it into three partitions with Mac OS X Disk Utility. Using Retrospect, I then created duplicates of each of my internal hard drives on two of the partitions of the external drive. You must use the Duplicate feature--simply dragging or copying will not copy all the hidden system files. This way, if I have a hard drive failure on my desktop machine, I can reboot from the external hard drive with whichever operating system I choose. Once you've done this, you can set Retrospect to back up only new files or files that have changed. Also, Retrospect will make separate backups to CD and DVD.
Cataloging And Indexing
OK, you've been backing up your digital image files to CD or DVD for several months or years now. Today, a client asks for an image that you made two years ago. How do you find it? In the best case, use a database software program that you've used to index your images. The database generates a catalog of thumbnail preview images which can be searched visually. But much more powerful is the ability to search based on caption information or "keywords" that you assign to your photos.
Due to its power, flexibility, and rich feature set, Portfolio 7 from Extensis is one of the top choices of professionals to catalog their photos.
When you receive a stock request for flowers or circuit boards, simply type in these words in the software search engine, and in seconds you'll see a list of the photos you have that match these criteria, as well as thumbnail pictures of them. You'll also see the unique number which you gave to each of your archive discs so that you can find where the pictures are located physically.

The two database software programs used by most professional photographers are Portfolio, now in Version 7 from Extensis, and Cumulus 6.5 from Canto. Portfolio, which I use, is said to be more user-friendly and intuitive, though both require some time to learn. See my review of Portfolio 7 in the February 2005 issue of Shuttterbug or online at: http://shutterbug.com/test_reports/0205portfolio/. In addition to images, these multimedia databases will also catalog text, video, sound and music files, and generate digital slide shows as well. Both programs make it relatively easy to batch caption or keyword groups of similar photos, so you don't have to re-type the same information many times.
One of several views of photo thumbnails created automatically by dragging a group of photos into Portfolio 7. You can then search visually, and/or by caption information, keywords, date, and whatever other categories you want to use.
Labeling And Storage
It's very important to label each of your discs with a unique number, such as a series beginning with 0001, a date-based system, or other filing procedure you've already established. I store the CDs and DVDs in plastic jewel cases, in the dark, standing up on edge, not flat. The storage area should be cool and dry as well. I use adhesive labels on the plastic case, not on the discs themselves.

Acids and other chemicals from inappropriate inks and adhesives from labels placed on the CD or DVD can eventually eat into the disc and destroy data. Further, adhesive labels placed on the discs can cause them to wobble at high speeds, leading to read and write errors. DVDs are more affected by this than CDs. What about using a special inkjet printer (such as those made by Epson) to print directly on the surface of a printable disc? Verbatim claims 50-100 years for this as well as the newest LightScribe laser labeling method.
Filing And Finding On A Smaller Scale
If you have a large collection of photos and need to retrieve images often, I recommend the database approach. For smaller archives, though, here are some alternate methods to consider:

One approach is to make a cover showing thumbnails of the photos on each disc. This is printed out on your inkjet printer, then fits neatly inside the clear plastic disc case. This cover will literally show you what's inside on the disc--by creating a mini contact sheet. For a larger thumbnail size, print multiple sheets per disc. You can do this with the Contact Sheet function in Adobe's Photoshop 5.5, 6.0, 7.0, and CS as well as Elements.

Here's another option, especially if you have discs with lots of photos on them: Use the Contact Sheet function to print thumbnails on standard 8.5x11 sheets and keep these in a three-ring binder, keyed with a number and/or title to each CD. When you have lots of photos on each disc, this is an easier way to see everything at once. But you have to be organized. Keep careful alphabetical records of caption information.

Both Mac OS X and the latest Windows operating systems can show fairly large thumbnails of photos in files on discs and hard drives, facilitating a visual search. Further, the File Browser in Photoshop 7.0 and CS can show very large previews.
Here are some suggestions for organizing the backup and storage of your valuable digital pictures:
Archiving Workflow
1. Establish a cataloging and filing system that will make it easy for you to store and find your photos, preferably incorporating an image cataloging software program.
2. As soon as you have completed a shoot, copy your memory cards to CD or DVD. If you are scanning film or prints, copy these scans to CD or DVD.
3. Once you have made your selections and then corrected and enhanced these images in Adobe's Photoshop or other
image-editing software, save copies of these selects to a new CD or DVD in their native format. The Photoshop PSD format allows you to preserve all your layers as well as caption and copyright information for each image.
4. Give each disc a unique name or number.
5. Make two copies of each disk. Store them in individual plastic cases in a cool, dry place, one in your studio and one off-site.
6. When burning a disc, always verify it with your software if this feature is available. If not, verify yourself as described in item
7. Consider selecting the ISO 9660 format in your disc-burning software to maximize future compatibility. Be aware, though, that this will limit file name length and which characters you can use in the name.
8. Once the disc has been written and verified, test it by opening a few files on it in your image-editing program. Check to be sure all layers and other information are present.
9. Catalog each disc and add caption information (and keywords) which will help you find it later. Use either a cataloging program or your own filing system.
10. Label each disc with its unique number and store it in alphabetical or numerical order in a way in which you can retrieve it quickly and easily.

So, now when you have a request from a client for a photograph you took three months or three years ago, you'll be able to find it in a flash. Furthermore, you'll sleep better knowing that you have taken control of your digital photo files by archiving them on digital life preservers.
Manufacturers/Distributors
Canto Software, Inc. (Cumulus 6.5)
221 Main St., Ste. 460
San Francisco, CA 94105
(415) 495-6545
www.canto.com
Delkin Devices, Inc.
13350 Kirkham Way
Poway, CA 92064
(800) 637-8087
(858) 391-1234
www.delkin.com
EMC Dantz (Retrospect Backup 6.0)
3003 Oak Rd., 3rd Fl.
Walnut Creek, CA 94597
(925) 948-9000
www.dantz.com
Extensis, Inc. (Portfolio 7)
1800 SW First Ave., Ste. 500
Portland, OR 97201
(800) 796-9798
(503) 274-2020
www.extensis.com

LaCie USA
22985 NW Evergreen Pkwy
Hillsboro, OR 97124
(503) 844-4500
http://lacie.com
Maxell Corporation of America
22-08 Route 208
Fair Lawn, NJ 07410
(800) 533-2836
(201) 794-5900
www.maxell.com
Nero Inc. (Nero 6.6 Ultra Edition)
330 N. Brand Blvd., Ste. 695
Glendale, CA 91203
www.nero.com
NTI (NewTech Infosystems, Inc.) (Dragon Burn 4)
5 Mason, Ste. 150
Irvine, CA 92618
(949) 421-0720
www.ntius.com
Roxio, a division of Sonic Solutions (Toast 6 Titanium)
455 El Camino Real
Santa Clara, CA 95050
(408) 367-3100
www.roxio.com
Sonic Solutions (MyDVD Studio 6.1)
101 Rowland Way
Novato, CA 94945
(415) 893-8000
www.sonic.com
Verbatim Corporation
1200 West W.T. Harris Blvd.
Charlotte, NC 28262
(800) 538-8589
(704) 547-6500
www.verbatim.com

LATEST VIDEO