Digital Innovations
It's A Brave New World
The Leaf Cantare 6Mp digital back mounted on a Mamiya RZ67. The back is also compatible with other cameras, including Fuji, Hasselblad, and Sinarcam.
As digital imaging technology matures, trends are beginning to emerge. For digital cameras these trends are going in several different directions. Higher resolutions at lower prices mean that the image quality gap between professional field cameras is narrowing. Right now, the pennies per pixel ratio for the under $1000 digicam is the best it's ever been, and it's only going to get better as competition between manufacturers intensifies. The other trend for digital cameras is that they are finally starting to look like cameras. After a rocky start with designs that resembled everything from binoculars to ocarinas, digital cameras are starting to look like film-based models. The Olympus C-2500L, for example, bears more than a passing resemblance to the 35mm IS-3 Deluxe. That design influence is being carried over to operational aspects as well. The C-2500L has full manual control and this feature is popping up, in many forms, in other cameras including the new Epson PhotoPC-850. Other "real" camera features are also beginning to appear on digital cameras including hot shoes and PC connections for electronic flash units.

On the output side, computers and printers are beginning to replace traditional wet darkrooms. Since my wife and I moved into our new home a little over three years ago, all of my darkroom equipment has been stored in boxes. Last year I took all of the darkroom gear to a photo show, sold everything and never looked back. My new darkroom consists of a Power Macintosh G3 and Adobe Photoshop 5.5 crammed with as many plug-ins that will fit. Images are printed on an Epson Stylus Color 900G that does as good a job with text, labels, envelopes, and photographs, also an Epson Stylus Pro 5000 for images as large as 13x19. Since most of my images are printed for fun or publication, the stability of ink jet media is good enough for me, but on those rare occasions when I need a "real" photograph, I have a professional photo lab make silver prints. That doesn't happen very often, but it does happen.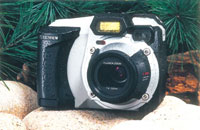 If you're looking for a digital camera with rugged construction and off-road looks to match your new Land Rover, check out Fuji's new DS-260 HD.
Digital Cameras For All Kinds Of Photographers. Indicative of the current crop of digital cameras is this trio, that represented the state of the art as we went to press.

Using automobile analogies to describe digital cameras is one of my favorite pastimes. So, if the Fuji MX-2900's styling reminds me of a retro BMW Z3 roadster, then their new DS-260 HD has got to be Isuzu's bad-boy VehiCROSS 4x4. The water-resistant, dust proof DS-260 HD is designed for the outdoor enthusiast as well as industrial applications, such as construction. The camera has a 1.5Mp imaging chip and a 3x Fujinon glass zoom lens which has a 35mm equivalent range of 35-105mm. Images are stored on Wheat Thin-like SmartMedia cards and an 8MB card is bundled with the camera. You can save images at three compression levels--fine, normal, and basic--which allows you to store 12, 23, or 46 images on the 8MB card. The DS-260 HD can capture high resolution 1280x1024 images in color or black and white for use in applications such as newsletters produced on laser printers. The macro mode lets you focus as close as 10" and a manual exposure mode helps you make pictures under tricky lighting conditions. The price tag for the DS-260 HD is $1199 which includes a rechargeable lithium ion battery and a copy of Adobe Photo Deluxe 3.0 Home Edition image-editing software. For more information about Fuji digital cameras, call (800) 800-3854 or visit their web site at: www.fujifilm.com.

Scitex recently announced the 6Mp Leaf Cantare one-shot digital back that's capable of capturing live subjects at high resolutions. The back's 2048x3072 CCD (Charged Coupled Device) imaging chip can capture a 12 f/stop dynamic range, and uses Leaf's Active Cooling system to reduce image noise by adjusting the chip's temperature to its optimal level. This allows the CCD to capture subtle tonal gradations, even in shadowed areas. The Cantare has a Rapid Shoot mode allowing photographs to be captured at a rate of one every 1.3 sec. A VHtwist, mechanism internally rotates the CCD head for shooting vertical or horizontal images while your camera remains in its normal position. Cantare is compatible with most professional medium-and large-format cameras including Fuji, Hasselblad, Mamiya, and Sinarcam. Output from the back is in a 42-bit HDR (High Dynamic Range) file that's capable of reproducing 16,384 gray levels. Use of the HDR format produces a 36MB RGB file size allowing images to be saved or archived without data loss. Cantare is compatible with traditional studio lighting, including electronic flash, "hot lights," daylight, and even Hollywood-style HMI movie lights. An optional Live Video Preview mode lets you compose, focus and adjust lighting for real time viewing of setups on a monitor at a resolution of 512x768. Right now, the $23,000 Cantare is only compatible with the Mac OS, but a Windows version is expected by the time you read this. Sinar Bron Imaging is the exclusive North American distributor for Leaf digital camera backs and you can obtain more information from their web site at: www.sinarbron.com.

Sony's idea of using a standard floppy disk as storage media for a digital camera was a good one but had one major flaw: the 1.44MB capacity of a floppy disk didn't provide much room for many or even one high quality image. Panasonic's take on the concept embodies using a SuperDisk drive that has a 120MB capacity enabling the PalmCam PV-SD4090 digital camera to hold up to 1500 images in Standard Resolution (640x480 pixels). At High Resolution, (1280x960 pixels), this disk holds approximately 450 Super Fine images or 900 Fine images. The camera is also compatible with 1.44MB disks, and will hold five Super Fine, 10 Fine, or 17 High-Resolution images on a traditional floppy. The SuperDisk camera uses a 1.3 million CCD imaging sensor to make digital photographs that can be viewed on the built-in 2.5" color LCD monitor, and deleted or saved for later use. For computers that lack a SuperDisk drive, the PV-SD4090 is USB-compatible for image download. The camera has a built-in flash for low-light situations and an automatic multiple flash function to reduce "redeye." The PV-SD4090 uses a lithium ion battery, which can be recharged in the bundled charger. Other features include: video recording (10 sec) with audio, burst mode with 16 images taken approximately every 0.5 sec (at 640x480), still image recording with audio, and time lapse photography. The PV-SD4090 includes one 120MB SuperDisk diskette, AC adapter charger, DC cable, lithium ion battery pack, a cable for viewing pictures on a standard television set, USB cable and driver software, camera strap, Adobe PhotoDeluxe and Apple QuickTime software. The PV-SD4090 PalmCam SuperDisk digital camera is compatible with Macintosh and Windows computers and has a suggested retail price of $999. For more information, call Panasonic's Customer Call Center at (800) 211-7262 or access their home page at: www.panasonic.com.

Agfa's new SnapScan 1236u is a 36-bit, 1200x600, 1200dpi color flat-bed scanner that sports a USB interface.
Newest Member Of Agfa's Scanner Family. Agfa recently introduced a new flat-bed scanner called the SnapScan 1236u. The new model is a 36-bit, 1200x600, 1200dpi color flat-bed scanner that connects through your computer's Universal Serial Bus port. These specifications are identical to Agfa's SnapScan 1236S except for the interface. The "S" model uses the SCSI (Small Computer System Interface) that's optional on many computers, with the exception of workstations from companies like Intergraph. The 1236u's optical resolution can be interpolated up to 9600 but for images of any size, my personal recommendation would be to limit interpolated scans to twice the scanner's optical resolution. A 2400dpi scan of a color image, with a little tweaking using Adobe Photoshop's Unsharp Mask controls, should look pretty good. The scanner has a retail price of $199. There is also an optional document feeder and transparency module that are available for a suggested price of $249 and $220 respectively. The SnapScan 1236u is available for Windows and Mac OS computers. For more information about the scanner, check out Agfa's home page at: www.agfahome.com.

How Sweet It Is. I have lots of fond memories about Zing.com. When I traveled to Europe last year, one member of our group captured lots of snapshots of our antics with an Agfa digital camera. Within a day of returning home, I got an e-mail from the guy directing me to the Zing web site where I was able to see all of the images from our trip as individual photographs or a slide show. It was a perfect example of how digital imaging expands the limits of traditional photography while adding some fun to the process. But Zing offers more than just image sharing, there are a wide range of services such as information, entertainment, and education, to shopping for anyone who enjoys really "playing" with digital images. One of the most interesting of the 120 gift ideas that Zing offers is Photo Cookies. These are shortbread cookies that can be personalized by adding digital images to the frosting. Each box contains 18 2.5x3" individually wrapped cookies for $33.95. How good are they? As I write this I'm munching on one of the samples and sipping a glass of milk. The cookie I'm eating has a photograph of three kids at a birthday party and the quality is amazing considering it's in icing. In fact, it's downright tasty. Zing also offers greeting cards, T-shirts, Christmas ornaments, mouse pads, photo mugs, and coasters. Check out their web site at: www.zing.com for more fun things to do with your own digital images.

Keeping Track Of Digital Images. At Comdex 1999, G&A Imaging introduced PhotoRecall Deluxe 3.0, the latest version of their image management software. The backbone of this program is the Library, which uses the Microsoft Access 97 database engine to create (.MDB) files. The Library interface lets digital imagers create Shelves--a.k.a. categories--and within those Shelves, you can create an unlimited number of Albums to store photographs. Once you've loaded an image into an Album, you can add descriptions to any of the seven available data fields, five of which are customizable. The Library function provides a full keyword and date search for all images stored in Albums. The PhotoRecall Deluxe Portable Player utility lets you create self-running multimedia presentations and is an ideal tool for creating electronic catalogs or portfolios. Since the file is self-running, recipients don't require any special software or system setup to experience the presentation. PhotoRecall Deluxe's web publishing tool is built around a step by step guide for building HTML (HyperText Markup Language) pages for your web site. The program's print utility includes a variety of pre-defined and custom print layouts, and supports Kodak's Inkjet Media templates as well. Images and descriptions can be selected and printed in the chosen layout making it ideal for producing contact sheets and pages of thumbnails for reference. The suggested retail price for PhotoRecall Deluxe 3.0 is $50. You can get more information by calling (888) 772-7601 or by visiting G&A's web site at: www.photorecall.com.

Miscellaneous Rumblings. From time to time I mention a product I'm testing and promise to follow-up. Similarly, like all things digital, some information that appears in this column may change as practices and software updates occur. Since this is our annual digital issue, I wanted to provide a few updates.

· Picture CD. As I write this, Kodak has made its Picture CD fully compatible with the Mac OS. Earlier sample discs I tested could only be used by Mac OS image-editing programs via their Open command, but the latest Picture CD I tried, made with my own film, worked well with my Power Macintosh G3. Also, some remarks I made regarding Picture CD and Seattle FilmWorks' High-Resolution Pictures on Disk apparently confused some readers. Picture CD files use the JPEG (Joint Photographics Experts Group) format with compressed images having a resolution of 1536x1024 from 35mm film or 1536x864 from Advanced Photo System film. Seattle FilmWorks provides 1500x1000 resolution images from 35mm film, but the scans are made from your prints not from your film, the way they are done with all of Kodak's digital services. Scanning the print adds a generation to the image file and is ultimately dependent on the quality of the print. Read more about Picture CD at: www.kodak.com.

· Mac OS 9. This is the most stable OS release from Apple Computer that I've tried in a long time with no Finder Error messages that were a daily and annoying occurrence with System 8.6. While a few Extensions and Controls Panels are not compatible, updaters are available or will be by the time you read this. Before I installed OS 9, I ran a back-up of my Power Macintosh G3's 9BG hard disk using Dantz Development's Retrospect software. Based on the previous small, nagging problems that occurred when I upgraded to OS 8.6, I decided to use Apple's "Clean Install" option when installing the new operating system. The disadvantage of doing this is that all of the Extensions, Controls Panels, printer and scanner drivers, sounds, and fonts you may have previously added will not be present in the new System Folder. I consider that an advantage and planned to gradually move bits of software back into the new System Folder as I need them. During installation, everything proceeded smoothly and more quickly than previous OS installs that I had done. To order a copy of OS 9, visit the Apple Store at: www.apple.com/store.

· Epson Stylus Pro 5000. This big, 50 lb six-color printer has provided me with the most fun with digital imaging I've had in years. While its $3000 price tag may seem steep, the Stylus Pro 5000 is clearly aimed at the emerging "print for pay" market in which output is delivered directly to clients who are paying for prints. Right now, one of the printer's most popular uses is the creation of promotional material by professional photographers. Having the ability to output 13x19" prints on Epson's Photo Paper or Epson/Dupont matte finish paper which produces some of the most dramatic output I've seen from any ink jet printer. The driver for this printer, plus the Epson Stylus Color 900G I'm also using, are completely compatible with Apple OS 9. In fact, the Stylus Pro 5000 seems to run better under the new operating system. For information about Epson's poster-sized printers, check out their web site at: prographics.epson.com.

FEATURED VIDEO