Digital Innovations Speed Photographers' Workflow; Not Your Grandpa's Ordering System Page 2
What about other orders from Mom in Boise or the groom's parent in Boston? No problem, my lab has set up a website for 180 days so everyone can see and order the photos. When an order comes in, I get an e-mail notice of the new order. I can either whip out the ordering CD or access the order directly from Lab Link Plus and never touch the CD. And when the wedding order comes in, I can order the prints and design the album using Lab Link Plus or design it online and have the bride approve it. The client also has the option of designing the book themselves online, although this hasn't been used yet by my clients. Once the design is done, the prints are either shipped to you or they can go directly to Capri Album (www.caprialbum.com) for binding and you get the book all done!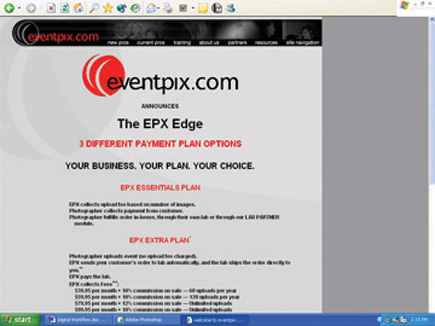 3: Eventpix has several different pricing plans that make it feasible for both large studios and part-time photographers to find something that fits their budget.
Note that this is just my method, and I usually go for the quickest and easiest method I can, even if I have to pay a little more for it. If you feel you've got a good handle on color management issues, you can use the same system without any lab input and save money.

Our portrait system is similar. We retouch the images in Photoshop (the lab can do that also), open the retouched images in Lab Link Plus, crop them, add options such as mounting and spraying, review the order, and send it via the Internet. Since we're now sending full-resolution files, it takes longer than the little wedding files, so a DSL or cable connection is pretty much required.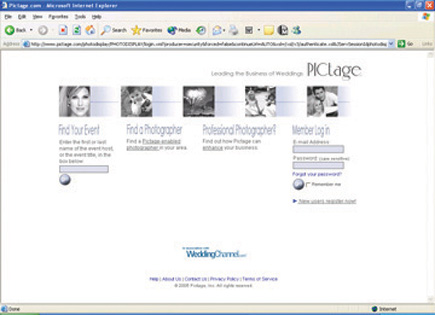 4: Pictage differs from the other sites in that they have their own lab and fulfill all orders, sending you a monthly check. All the sites also make efforts to market their photographers.
Web-Based Solutions For Your Ordering Needs
I've described in the article a typical workflow using lab-based software. But there are other methods to make your life easier and also cut down on the amount of time you spend processing orders. There are several companies that offer web-based solutions to your viewing, ordering, and order fulfillment dilemma. Here's how they typically work:
First, you become a "member" of the site, by paying a fee either up front, once a month, by each event, or by some combination of these options. At Eventpix.com (www.eventpix.com), you pay a fee then have several choices. They have several lab "partners" and when your client places an online order, they handle it, send it to one of many lab "partners," and the finished order is shipped to you or your client. They also get a percentage of the sales.

At Collages.net (www.collages.net), they also partner with several leading labs and you can either pay a monthly fee or go per event. Like the others, it also makes efforts to market Collages.net photographers with links to bridal sites like The Knot. Most also offer complete album design and a variety of album companies to choose from.

Pictage (www.pictage.com) operates a little differently. You pay monthly fees based on volume but they handle all details, from taking the order to shipping it to your client and even collecting the money! They send you a check each month and you go on your merry way, not having to touch anything. It's up to you to decide if the expenses are worth the freedom. Like the others, they offer album design and referral services, but they also own their own lab, so all printing is done by them.
5: Another difference in Pictage is that in addition to dealing with some of the major album companies, they also have their own albums.
Much of what I've described earlier is actually faster than it sounds. And it makes the previous methods sound downright primitive. While many photographers bemoan their increased workload, I feel it's mostly their own fault for not taking advantage of the many benefits of digital photography and trying to save pennies while ignoring dollars. Spending too much time editing? Maybe you're overshooting, and if you shoot in raw format, maybe you should consider only using it in certain situations (large prints, difficult light) where its advantages can be exploited. A well exposed and properly shot JPEG will beat a sloppy raw file every time. Too much time retouching and color correcting? Let the lab do it. Making your own prints? That's a whole other article. Just keep in mind that the more work you accept as your responsibility (retouching, color correcting, printing), the more time and skill you'll need in each area. It's up to you to decide if the time and skill issues contribute or detract from your bottom line. Yeah, I'm an artist, but I'm also a businessman, and I feel a lot more artistic when I'm not worried about gassing up the car or paying the oil bill. Hopefully, this discussion of workflow issues will help you to examine how you're doing things and perhaps look at ways to boost your productivity. And remember to sign up for my free e-mail newsletter at steve@stevebedell.com.

LATEST VIDEO

SPONSORED VIDEO