Digital Darkroom Days; Swinging Into Plug-Ins & Actions Page 2
Digitally Weave Your Photos
Weave it! is the latest free Photoshop Action from PanosFX (www.panosfx.com) and lets you turn photographic image files into woven textiles. Like most actions, this is a simple process, although you must play the Pattern Generator Action first after which you will be prompted to load an image and begin the weaving action. Panos's Tip: Carefully follow the instructions given during the process of running the action. Weave it! Actions (two are included in this set) are designed to work with Mac OS and Windows computers and you'll need Photoshop CS2 or higher along with any application that works with ZIP files to decompress the download. If you like Panos's actions as much as I do, you can get the full arsenal of PanosFX products for about $90.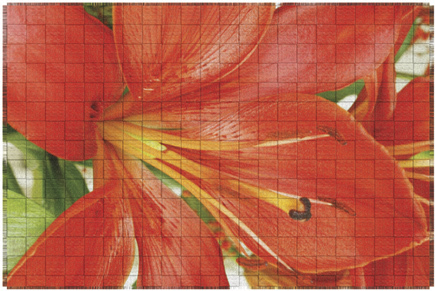 © 2008, Joe Farace, All Rights Reserved
Photo/Graphic Edges
Photo/Graphic Edges 7.0 is the latest version of Auto FX Software's (www.autofx.com) creative sz that debuted in 1994 and along the way evolved from a collection of edge effects you had to apply manually (it wasn't that hard) into a sophisticated Photoshop-compatible plug-in and stand-alone program that lets you add edge effects, borders, frames, and accents to image files. Photo/Graphic Edges 7.0 Platinum Edition now sports an updated interface and a rendering engine along with an improved content management and previewing system. The Platinum Edition has an impressive collection of new content, including Film Frames, Grunge Edges, and Natural Media Frames, that can be enhanced using intuitive transformation controls. Classic effects such as Darkroom Edges with over 350 darkroom styled edges and transfer effects are also included. New effects such as Storyboard contain photo layouts that can be used for albums or prints. A collection of new textures, including Mottled, Pastel Creations, and Painted Scenic, can be used to add a natural backdrop to your images. Photo/Graphic Edges 7.0 includes 32 new effects and costs $249. Upgrades from Version 5 or 6 are $129.
© 2006, Joe Farace, All Rights Reserved
PhotoTools 2: Plug-In Of The Month
One of my favorite Photoshop-compatible plug-ins of 2008 was onOne Software's (www.ononesoftware.com) PhotoTools. The latest version is available in two editions, including a Professional Edition ($259.95) and a Standard Edition ($159.95), and features an expanded range of effects and an improved interface. PhotoTools 2 has a new Preview mode that includes dozens of before and after previews for each effect to help you make the choice of the one that best suits your image and what you're trying to accomplish. The Professional Edition offers a library of more than 300 photographic effects from Photoshop guru Jack Davis and wedding photographer Kevin Kubota and supports both Lightroom 2 and Aperture 2.1. When you choose a PhotoTools 2 Professional Edition preset from within Lightroom 2, the file is handed directly to Photoshop where the effect is applied and then automatically returned to Lightroom.

New features in both editions of PhotoTools 2 include an Effects Library that makes it easier to choose effects with several options for finding the "perfect" effect or combination of effects, including an improved Category mode with groups such as Image Optimization, Portrait Enhance, Landscape Enhance, and Color Tints. There's also a Keyword mode that lets you use emotive keywords to narrow down the list of effects. A new Preset mode displays a list of presets or effects recipes or any presets you create yourself. Any presets can be downloaded for free from onOne Exchange (www.ononeexchange.com), a community site dedicated to PhotoTools users. Upgrades from PhotoTools 1 to PhotoTools 2 are available for $99.95.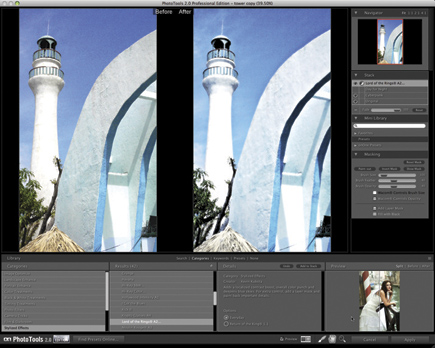 © 2006, Joe Farace, All Rights Reserved

LATEST VIDEO

SPONSORED VIDEO