Covering The Photo Beat; Lighting Special Page 2
Lowel Blender
The Blender features a twin array of color-accurate LEDs in daylight and tungsten color temperatures that are blended together by two rotary controls on the back of the unit. It allows you to simply dial in the type of light you require for any lighting situation. The compact Blender measures 4x3x3" and is powered by video camera batteries or its own AC power supply. It comes with a selection of hard plastic front diffusers that soften or diffuse the mixed output.
Contact: Lowel-Light Manufacturing, Inc., 90 Oser Ave., Hauppauge, NY 11788; (800) 645-2522; www.lowel.com.

LumiQuest Snoot XTR
Perfect for the studio or on location, the versatile Snoot XTR is a two-piece kit designed to isolate light to a specific area, allowing the unit to be used as a hair or accent light. When used alone, the Snoot XTR can isolate light to approximately 10?, but inserting the telescoping extender allows you to isolate light to an area of 5? or less. The Snoot XTR has a suggested retail price of $34.95.
Contact: LumiQuest, 28540 Durango Dr., New Braunfels, TX 78132; (830) 438-4646; www.lumiquest.com.

LumaHawk Monolights
LumaHawk monolights are easy to use and offer a fast recycle time. The LMX-XL300ws model has a guide number of 113, a recycle time of 1.2 seconds, a 55? angle of illumination, and a flash output range of four stops (in 1⁄10 stop increments). The LMX-XL600ws model has a guide number of 163, a recycle time of 1.8 seconds, a 55? angle of illumination, and a flash output range of four stops (in 1⁄10 stop increments). Both flash units can be triggered by the photo cell, sync cord, or test button.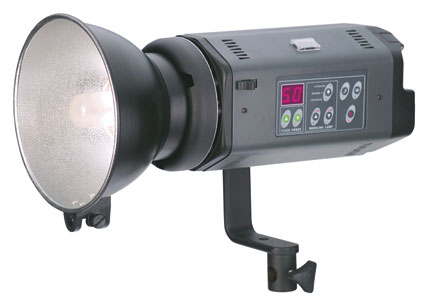 Contact: Nadel Enterprises Inc., 425 Attwell Dr., Toronto, Ontario, M9W 5C4 Canada; (416) 745-2622; www.nadel.ca.

Novatron Lighting Accessories
The Accessories by Novatron line features a variety of softboxes, snoots, handheld reflectors, light stands, plus a beauty dish and rolling case. The softboxes range from 9x36" strip boxes to 36x36" square boxes to 36" diameter octagonal models. The snoot and the 16" beauty dish are both crafted from lightweight, heat-resistant aluminum. The snoot includes a grid spot and is compatible with other popular lighting brands. The heavy-duty convertible boom stand extends to nearly 4 feet. The boom arm can be removed and placed on top to create a durable stand that raises the flash head or monolight to 13 feet. The lightweight case has black heavy-duty fabric and a semi-rigid inner shell with a solid wheel and handle system.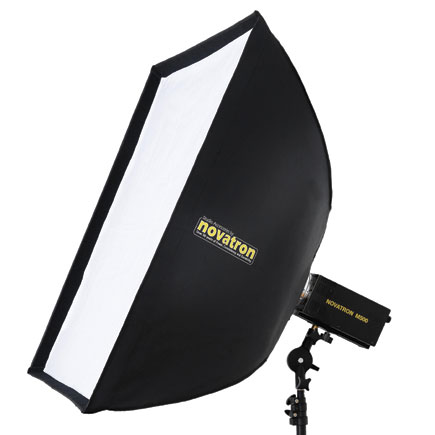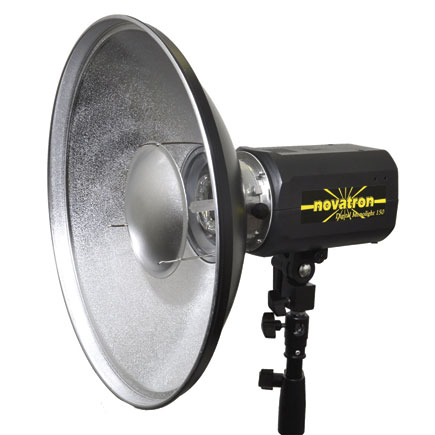 Contact: OmegaBrandess, 626 Hanover Pike, Ste. 102, Hampstead, MD 21074; (410) 374-3250; www.omegabrandess.co.

Paul C. Buff Einstein Studio Flash
The Einstein 640 Studio Flash offers all-digital nine f/stop power variability from 2.5 ws to 640 ws, global plug-and-play from 95-260VAC, and flash consistency within 0.10 f/stops. It provides color consistency plus or minus 50K at any power. The bright 250w modeling lamp tracks flash within 0.2 f/stops, and the device ships with v.22 firmware. Pressing the Easy Set Button provides users with instant setup and clears any special programming from the unit; the other features can be set to fit your needs. The retail price is $499.95.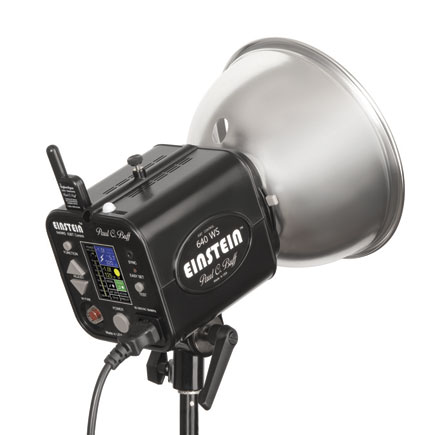 Contact: Paul C. Buff, Inc., 2725 Bransford Ave., Nashville, TN 37204; (800) 443-5542; www.paulcbuff.com.

Photoflex LiteDome xs Basic Kit
The LiteDome xs Basic Kit is designed for photographers who already own their own shoe-mount flash and wireless trigger/receiver. The kit contains an extra small LiteDome softbox, a basic connector, adjustable ShoeMount hardware, and a ShoeMount MultiClamp for an MSRP of $164.95.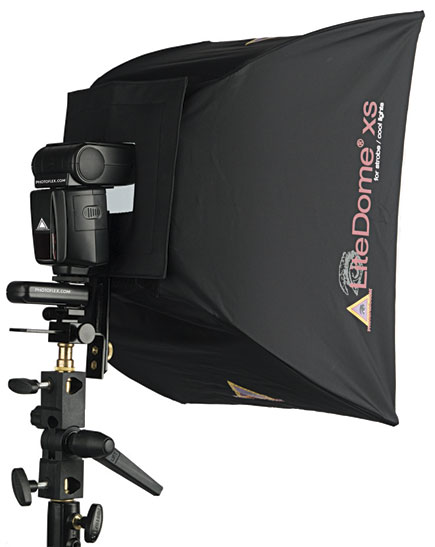 Contact: Photoflex Inc., 97 Hangar Way, Watsonville, CA 95076; (800) 486-2674; www.photoflex.com.

The Profoto BatPac
Created with the portrait and wedding photographer in mind, the versatile BatPac is a "portable power in a bag" unit that combines a dedicated inverter with a high-capacity battery. It can power up to four Profoto D1 flashes, two Profoto ComPact monolights, or one Profoto Acute2 generator. Its integrated heavy-duty battery offers up to 300 flashes with D1 1000 ws, 600 flashes with D1 500 ws, or 1200 flashes with D1 250 ws units. The integrated protective circuits guard against overcharge, short circuits, high temperatures, and low input voltage while the ground fault circuit interrupter protects the user and all the connected devices. A durable and comfortable black nylon bag with a detachable shoulder strap and stowable harness is an integral part of the BatPac.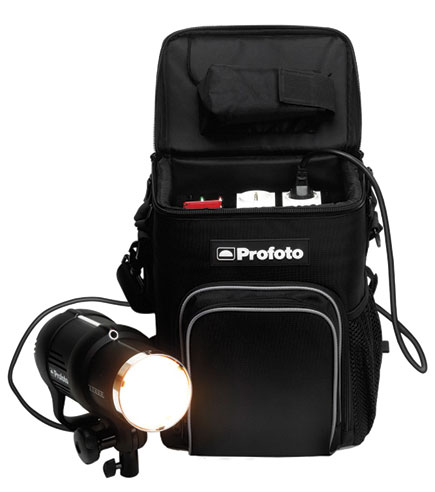 Contact: Profoto Professional Division, Mamiya America Corporation, 8 Westchester Plaza, Elmsford, NY 10523; (914) 347-3300; www.profoto-usa.com.

Quantum TURBO Blade
The TURBO Blade is a durable, compact, and lightweight device that offers high-voltage recycling for up to 400 full power flashes. If you are using your flash in Automatic/TTL mode or you simply don't need to use full power, you can expect to get thousands of flashes. It works with most shoe- and handle-mount professional-quality units as well as all the Quantum Qflash T-Series portable flashes. The TURBO Blade can be recharged hundreds of times and features Quantum's "fuel gauge" indicator lights so you will know at a glance how much power is available.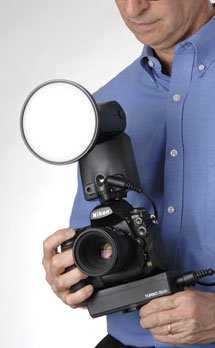 Contact: Quantum Instruments, Inc., 10 Commerce Dr., Hauppauge, NY 11788; (631) 656-7400; www.qtm.com.

Speedotron Explorer 1500 Digital Portable Power Supply System
Created for location shoots where electricity may not be available or easily accessible, the Explorer 1500 is said to be a powerful portable digital power supply system that is more convenient and cost effective than a gas-powered generator. This compact device offers a maximum flash power of 1500 ws and a minimum of 15.6 ws, a power range of 7+ in 1⁄10 f/stop increments, and up to 225 full power flashes per charge. It weighs 24.8 lbs, measures 9.5x5.4x11.7", and features two light unit outlets, a photo slave cell, a built-in low battery warning and shutdown, plus a power cord and phone plug PC cord.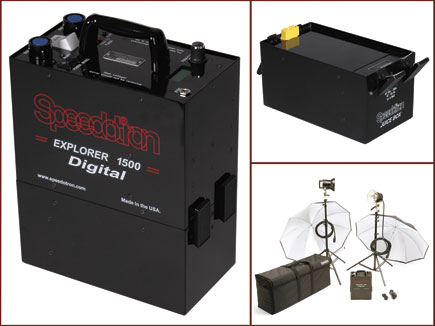 Contact: Speedotron, 310 South Racine Ave., Chicago, IL 60607; (312) 421-4050; www.speedotron.com.

The Omni-Flip
Durable and easy to use, the Omni-Flip was created to be compatible with most Canon, Fuji, Kodak, Nikon, Olympus, Panasonic, Pentax, and Samsung D-SLR cameras. The device fits into the camera's flash shoe mount for use with the pop-up flash. Simply install it with the Omni-Flip in the up position, pop up the flash, then rotate the Omni-Flip to the down position, set your camera to P, AV, SV, or M mode with an ISO of 400 and you're ready to shoot.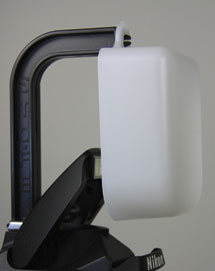 Contact: STO-FEN Products, PO Box 7609, Santa Cruz, CA 95061; (831) 427-0235; www.stofen.com.

Lighting Gear From Zylight
The Zylight Z90 HD LED is a compact bright light designed for both film and video use. It offers the flexibility of variable color temperature and access to any color of the rainbow at the touch of a button without the aid of gels or filters. It can switch between fully calibrated daylight and tungsten with no color shift or dimming. The built-in controls are easy to use and setup is simple with the aid of the digital display and user-defined presets that allow you to store your favorite settings. Snap on the Accessory Adapter to mount barn doors or a snoot.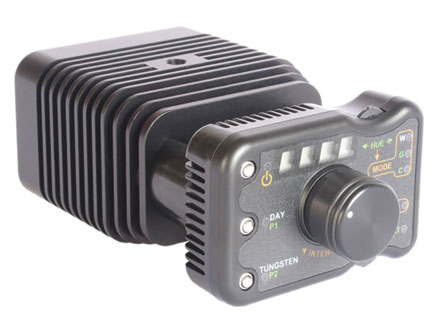 Contact: Zylight LLC, PO Box 54, Chelmsford, MA 01824; (978) 244-0011; www.zylight.com.

The Spiderlite TD5
The Spiderlite TD5 provides natural looking, true daylight-balanced continuous light which makes it an ideal tool when shooting photos or video. It can be rotated 180? and provides over 900 "equivalent" ws power when using fluorescent bulbs. Tungsten halogen and strobe options are available as well. Crafted from durable metal, the Spiderlite TD5 has a built-in adapter ring for direct attachment of a softbox and three controls, allowing for the operation of 1-5 lamps.
Contact: The F.J. Westcott Company, 1447 N. Summit St., Toledo, OH 43604; (800) 886-1689; www.fjwestcott.com.
To submit information for Roundup, please contact our New Products Editor by e-mail at: Cynthia.Boylan@sorc.com or regular mail at: Shutterbug Magazine, 1415 Chaffee Dr., Ste. #10, Titusville, FL 32780.

LATEST VIDEO

SPONSORED VIDEO
Testing Tamron's SP 150-60mm G2 lens while capturing birds and alligators in Apalachicola, Florida.