Covering The Photo Beat; Filters And More Page 2
Quick Access To Equipment On The Fly
Lowepro has introduced a new line of camera bags designed for sports photographers, photojournalists, or anyone who wants quick and easy access to their cameras and accessories. The unique design of the new SlingShot 100 AW and 200 AW camera bags allow photographers to go from "carry mode" to "ready mode" in seconds. Without removing the bag, simply rotate or "sling" the bag toward the front of the body. The SlingShot AW then provides complete access to cameras, lenses, memory cards, and other accessories. The Full Access Lid with reverse open design allows photographers to safely and easily work out of the bag and Zip-Stop Buckles keep equipment from falling out.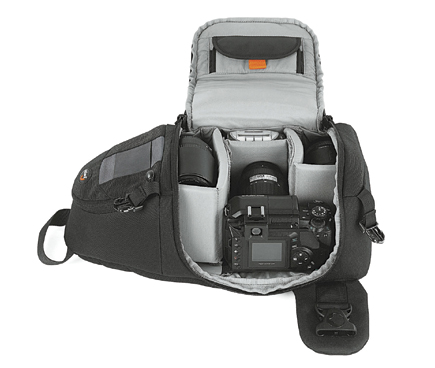 The Full Access Lid also includes a built-in memory card pouch to quickly access and store memory cards. A microfiber LCD cloth protects the camera's LCD screen from scratching. The two generous accessory pockets provide quick access to cables, adapters, small accessories, or personal items. Additionally, the SlingShot AW bags include Lowepro's patented All Weather Cover to protect the equipment from rain, sand, and dust.

The new Lowepro SlingShot 100 AW and 200 AW camera bags include a Tuck-Away Stability Strap for additional support and stability, and SlipLock Attachment Loops for adding additional storage accessories and customizing the bag for individual shooting preferences. Other features include Silent Zipper Pulls for quiet access to equipment and a mesh back pad provides additional comfort.

The Lowepro SlingShot 100 AW (8.1x6.7x17.7") lists for $79.99. The 200 AW (9.4x7.1x17.3") lists for $99.99. Contact: Lowepro USA, 1003 Gravenstein Highway North, Ste. 200, Sebastopol, CA 95472; (707) 827-4000; www.lowepro.com.
Waterproof Wired Jacket
For those individuals who must carry lots of electronic gadgets while on location, the new Tactical 4.0 technical jacket from SCOTTeVEST should be very appealing. It contains 40 pockets and compartments, the firm's patented Personal Area Network (PAN) with built-in wiring, detachable cargo catch carrying devices, magnetic closures, side-seam zippers, and more. This all-weather jacket is made of waterproof, windproof, and breathable black Finetex exterior and has a Coolmax mesh lining to keep you cool inside. Options include a built-in volume control and solar charging panels. The prices range from $230-$635. Contact: SCOTTeVEST, Inc., 500 Bell Dr., Ste. 17, PO Box 2626, Ketchum, ID 83340; (866) 909-8378 (US only), (208) 727-6700 (International); fax: (208) 975-1186; www.scottevest.com.
Easy To Load Album Pages
New from Taprell Loomis is Premira, an album for traditional or digital prints up to 10x10", which is said to eliminate the chance of making an assembly mistake that could possibly spoil the album. Each page utilizes a new "Slip-Lock system" that is quick and easy to load and can be loaded outside the album cover then inserted in any desired order. Premira offers the feel and elegance of a library-bound album and is available in black with or without a window and each comes along with a deluxe gift box. Contact: Taprell Loomis, 2160 Superior Ave., Cleveland, OH 44114; (800) 827-5679; fax: (800) 276-2572; www.tap-usa.com or www.premiraalbums.com.
Manufacturers/Distributors
Calumet Photographic, Inc.
900 W Bliss St.
Chicago, IL 60622
(800) 225-8638
(312) 944-2680
www.calumetphoto.com

HP Marketing Corp. (Heliopan)
16 Chapin Rd.
Pine Brook, NJ 07058
(800) 735-4373
www.hpmarketingcorp.com

Lee Filters USA
2237 North Hollywood Way
Burbank, CA 91505
(800) 576-5055
(818) 238-1220
www.leefiltersusa.com

OmegaSatter (Cokin)
1041 S Carroll St.
Hampstead, MD 21074
(410) 374-3250
www.omegasatter.com

Photo Control Corporation (Lindahl)
4800 Quebec Ave. North
Minneapolis, MN 55428
(800) 787-8078
(763) 537-3601
www.photo-control.com
www.lslindahl.com

Pro4 Imaging Inc.
701 Aspen Peak Loop #523
Henderson, NV 89015
(800) 636-0844
www.pro4.com

Sailwind Photo Systems
1809 Commonwealth Ave.
Charlotte, NC 28205
(704) 375-8453
www.cameraworldnc.com

Schneider Optics Inc. (B+W)
285 Oser Ave.
Hauppauge, NY 11788
(631) 761-5000
www.schneideroptics.com

Singh-Ray Filters
2721 SE Highway 31
Arcadia, FL 34266
(800) 486-5501
(863) 993-4100
www.singh-ray.com

THK Photo Products, Inc. (Hoya)
2360 Mira Mar Ave.
Long Beach, CA 90815
(800) 421-1141
(562) 494-9575
www.thkphoto.com

The Tiffen Company
90 Oser Ave.
Hauppauge, NY 11788
(631) 273-2500
www.tiffen.com

ToCAD America Inc. (Sunpak)
53 Green Pond Rd., Ste. 5
Rockaway, NJ 07866
(973) 627-9600
www.tocad.com

Visual Departures, Ltd. (Hitech)
30 Myano Dr.
Stamford, CT 06902
(800) 628-2003
(203) 487-0789
www.visualdepartures.com