Corel's Paint it!; Easy Image Effects Page 2
In some instances the images that resulted were what I call "pixel victims" and were not convincing as the media they were supposed to emulate, but in other cases, such as oil, the illusion was more convincing. Learning how to work with the Eraser tool is essential in bringing some semblance of recognition to images with people. Otherwise, they become abstract icons rather than family and friends. And, in some cases, the program went off on a tangent that, while interesting, bore no resemblance to the original. That happened most with the so-called "modern painting" effect that, if you take "modern" literally, might simply be mirroring the rather ditzy times in which we live.
The oil painting effect takes some time to form but the result can be quite good. In some cases features get a bit smeared, but that's easily fixed by slight (light opacity) erasure. Printing this on canvas paper made for a great gift.
© 2010, George Schaub, All Rights Reserved
Corel is the leader in creating programs that allow you to emulate other media, or even create computer painting and artwork from scratch, and Paint it! shows they know their stuff. The software is aimed at the mass markets and scrapbookers who enjoy having "fun with photos," but it's inexpensive enough and has enough facility to be intriguing to digital photographers in general. Though limited in scope and control, the program might appeal to advanced digital photographers who like to have fun sometimes, too.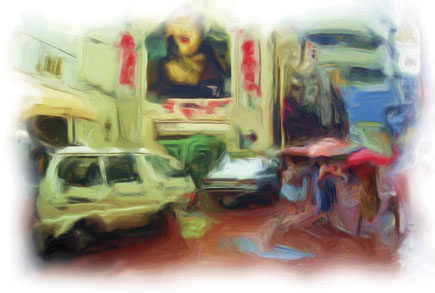 For me the "modern" option is the most unpredictable, and while unpredictability has its charms, it never quite gave me a look that made sense or worked for any image on which I tried it. This shot of a Tokyo street scene (with three girls with umbrellas walking by a taxi and under a large advertisement using a painting of the Mona Lisa) got a fairly modern treatment, I guess.
© 2010, George Schaub, All Rights Reserved
I found myself drawn mostly to the illustration option, here a photo of a small shovel machine on a colorful street. After the program did its thing I used the Eraser tool to bring back the machine itself and left the background as the program drew it.
© 2010, George Schaub, All Rights Reserved
For more information, contact the Corel Corporation at: www.corel.com.

FEATURED VIDEO