Up Close & Personal; With Konica Minolta's DiMAGE Xg
Konica Minolta DiMAGE Xg Quick Look
· 3.2 Million effective pixels
· $299
· 1.6" LCD Monitor
· 12x Zoom
Further Inforamtion
KONICA MINOLTA DiMAGE Xg
http://www.minoltausa.com
When most people purchase digital point-and-shoot cameras, it's because they want to capture family memories, weddings, holidays, and other special moments. As Jerry Seinfeld once said, "not that there's anything wrong with it" but, you may be missing what someone else once called, "The Joy of Photography."

Some of the most fun I had while testing Konica Minolta's new (www.konicaminolta.com) DiMAGE Xg was making close-up photographs of flowers. You see, this clever little camera will focus as close as 5.9" (or 0.15 meters if you're reading this in the rest of the word) from the front of the camera. While hardly what experts might call "Macro" photography, the little Xg lets you get even closer than that with a little fudging about where you focus and what end of camera's zoom lens range you're using.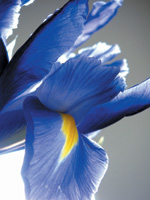 Photos © 2004 Joe Farace, All Rights Reserved
The Good And Bad News
The bad news is that the DiMAGE Xt, my favorite little pocket digicam is gone. The good news is that it's been replaced with the Konica Minolta DiMAGE Xg. What's the difference? The cameras look similar but the Xg manages to add a little more panache to what must already be one of the most stylish digital point-and-shoot cameras available. I like the Konica Minolta name on the front next to the sliding cover hiding the proprietary lithium ion battery and Secure Digital card slot. You can use a MultiMedia Card (MMC) and I often do, especially since the $299 camera is bundled with a minuscule 16MB SD card.

The DiMAGE Xg has a start-up time of approximately 0.8 seconds, which is 1/2 second quicker than the Xt's already fast start-up time. It also features automatic digital subject program modes, a larger 1.6" LCD monitor, and continuous advance of 2 fps. It's PictBridge compatible, so you can connect it to any digital printer--without a computer--enabling direct printing on the spot. What's missing? You can't shoot TIFF files with the DiMAGE Xg. The lack of the ability to shoot truly high-quality files kinda breaks my heart, but explains the 16MB SD card.
The Xg's 37-111mm equivalent lens is very sharp even when capturing JPEG files. And the larger screen helps when you're lying on the garage floor making a close-up of the racing wheel on my wife's Mazda Miata. Not only can you see specks of disc brake pad dust, but also the edges of the decals on the wheel are clearly defined.
Up Close And Personal
The DiMAGE Xg weighs only 4.2 ounces and is just 0.79" thick. Like other DiMAGE Xs it uses folded optics to eliminate a protruding zoom lens and keeps the case designer-slim. The 3x optical zoom (37-111mm equivalent) lens is adjusted internally, letting you get extremely close to your subject, while the mostly useless 4x digital zoom extends the zoom range to 12x for those times, like the kid's hockey games, when you can't get close enough and don't care if the photographs aren't as crisp as they might otherwise be.

Steady And Ready
When making the flower photographs, a tripod can be a big help. With such a diminutive camera you don't need some big clunky, expensive European-made tripod; instead use a compact well engineered pod like Pedco's Ultrapod (www.pedco.com). The UltraPod I used for the flower shots that accompany this story weighs two ounces and is made of Fiberglas reinforced nylon and aluminum. It costs less than $15 and folds up small enough so there's no excuse for not having it with you.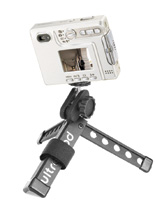 Pedco's Ultrapod is made of Fiberglas reinforced nylon and aluminum. It costs less than $15 and folds up small enough so there's no excuse for not having one with you at all times.
Another important accessory for macro work is a cable release because it minimizes camera shake which is more exaggerated the closer any camera gets to the subject. Like most moderately and some higher priced point-and-shoot cameras, the DiMAGE Xg does not even have a place to plug in an electronic release. That's one of the reasons a tabletop tripod braced against your body as a chest pod works so well, allowing you to minimize camera movement.

No matter how you support the Xg remember two things: squeeze the shutter to minimize camera shake and keep your fingers out of the shot. With the lens up in the upper left-hand corner (from camera position) it's easy to let the tip of your index finger hang over the front and become part of a not-so-interesting composition. Brace the camera between the index finger of your left hand then do something similar with your right hand, letting the index finger rest on the shutter release. After you make the photograph, use the zoom controls to take a closer look at the image on the preview screen to make sure it's sharp. If not, try again. Don't you just love digital photography?
This close-up image was made using natural light coming from the kitchen window with the DiMAGE Xg mounted on an Ultrapod I.
Modes, Movies, And Noise
With its Automatic Digital Subject Program Selection function, the DiMAGE Xg assesses the situation, determines the most suitable photo mode, and automatically controls color reproduction, contrast, and sharpness. If you want more control, try the Xg's Program Selection modes. Portrait mode produces softer skin color reproduction but hair and eyelashes remain sharp. Got kids in sports? Sports Action mode selects faster shutter speeds ensuring that a moving subject stays in focus. This is one feature where the Xg shines over the Xt.

In Landscape mode the entire frame, from foreground to background, stays in sharp focus, while Sunset is designed to accurately reproduce the subtle hues of sunrise and sunset. Then there's Night View for nighttime scenes such as city lights, and Night Portrait for photographing people against a nighttime backdrop. Where's the Macro mode? There isn't any. I use the basic automatic mode for most of these shots, but if I want a softer look I use the portrait setting even if the portrait is of a flower, not a person.


The tiny built-in flash is useful outdoors for fill for flowers or portraits (less useful indoors when light is low) but indoors for flower photography can produce harsh ugly shadows. Using Pedco's Ultrapod, I made two separate exposures of this iris: one with flash, one without. Then I used Adobe Photoshop CS to place each one on a separate layer and erase parts of each layer while changing layer opacity settings to produce a single image that combined the best aspects of flash and natural light. I can hear the purists now...
I noticed how well the Xg controlled noise compared to more expensive and even higher megapixel count cameras. This is especially noticeable in low-light images, where the built-in Dark-Noise Reduction combines to reduce graininess while maintaining needed contrast to provide accurate reproduction of the scene.
Motion Clips
I'm not much of a fan of making video clips with digital still cameras, but the DiMAGE Xg makes it so much fun I just might change my mind. In Movie mode it can record longer movie clips, at resolutions of 160x120 or 320x240 pixels, onto the memory card for as long as its capacity allows. (Not much with the standard card.) In addition to recording 15 fps, the 30 fps mode produces "real" video. There's even a Night Movie function that lets you shoot video clips in dimly-lit locations. The DiMAGE Xg has a Movie Editing function that lets you shoot and edit in the camera. You can cut out unwanted parts of a clip, as well as extract still images.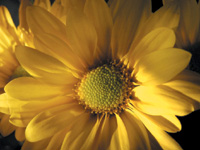 The DiMage Xg lets you choose from 50, 100, 200, 400 and Automatic. In Automatic ISO modes, this available light image was made at ISO 80.
The Konica Minolta DiMAGE Xg is the perfect pocket digital camera. It's easy to carry, but be sure to get the leather clip-on pouch. The Xg is also a great digicam for parents or grandparents and I've recommended it to many as a second (maybe third or fourth) camera for professional travel photographers when they want to be incognito. The Konica Minolta DiMAGE Xg is simply an amazing little camera; just make sure you never leave home without it.
What's A Macro?
Defining Macro photography is not an easy task. Here are some definitions I found on the Internet: Macro photography is magnified images of typically a small object. My favorite was: "Taking close-up pictures of small things is called macro photography. I have no idea why. Perhaps because the small things in macro photography are generally larger than the things you are taking pictures of when doing micro photography."


I try to set the ISO speed low as possible to make the finest noise free image possible. This image was made at ISO 50 and maintains good detail in a high contrast subject.
But the one that makes the most sense to me is Timothy Edberg's (http://www.edbergphoto.com/pages/Tip-macro-tools.html) and goes like this: Macro photography is simply another name for close-up photography. The closer you can focus on your subject the larger it will appear in the frame, which is the point to macro photography--to magnify small objects. Some purists insist that the term macro be reserved for images that are at least life-sized in the film--an object one inch long must record an image one inch long or longer in the film to count as macro to these folks." Check out his website for some tips on making up close and personal images.
Facts
· Number Of Effective Pixels: 3.2 million
· ISO: Automatic (between ISO 50-160 equivalent), ISO 50, 100, 200, 400
· Lens Focal Length: 35mm equivalent of 37-111mm
· Minimum Focus Distance: 5.9" (0.15m) from front of camera
· Viewfinder: Optical real-image zoom viewfinder
· Monitor LCD: 1.6" (4.0cm) digital-interface TFT color monitor with anti-reflection coating
· Shutter Speed Range: 4-1/1000 seconds
· Exposure Control: Programmed AE
· Exposure Compensation: ±2 EV in 1/3 increments
· Flash Range Wide: Approximately 0.5-10.5 ft. (0.15-3.2m)
· Telephoto: Approximately 0.5-8.2 ft (0.15-2.5m)
· Recording Media: SD (Secure Digital) Memory Cards, MultiMediaCards
Outdoors, the built-in flash does a great job of fill with the kind of shadows produced indoors under low light are nowhere to be seen.
Special Features
· Multi Frame: capture 9 sequential images in a 3x3 grid in a single frame
· Image Pasting: Embeds an image within another image.
· Night Movie Audio Recording: Maximum 180 minutes but a 128MB memory card is required.
· E-mail Copy Function: Creates a compressed 640x480 or 160x120 JPEG image for transmission.
· Crop Frame: Trims parts of captured still pictures and save the image as a separate file.
· Dimensions: 3.37x2.64x0.79"
· Weight: Approximately 4.2 oz without battery or recording media
· Price: $299
Contact
Konica Minolta Photo Imaging
(201) 574-4000
www.minoltausa.com

LATEST VIDEO