The Changing Range Of Light; Portraits Of The Sierra Nevada Page 2
I enjoy photographing landscapes that appear untouched and pristine; however it can be difficult to convey through these photographs the complexity of the ecosystems which exist within the scenery. Landscapes are not just the visible entities we see, but also the community of living things present in the habitat: the trees, the birds, the mammals (including humans), the insects, and the microbes. The landscape also includes many soundscapes, along with invisible components and silent presences and processes. The landscape is never still; and what we see is filled vibrantly with what we cannot see—atoms, geological movements, winds, seasons, sap, microbes, thoughts of animals, rotation of leaves. Places are alive with movement and complexity. The characteristic interplay of biological and physical forces within a place is its identity—its soul, its personality, its essence. I strive in my work to capture this expression of a place, to communicate a fleeting gesture of the landscape that is forever changing.
Wildflower Sunset
Sunset on Lupine wildflowers along the North Shore of Lake Tahoe, taken in une. Camera: Hasselblad H3D-39 with 35 mm lens, Gitzo tripod, Really Right Stuff Ballhead, Lee Split ND filter.

What is not so visible in my images are the subtle changes that are occurring to these landscapes, year after year, as we humans heat the planet. The main crisis the Sierra range now faces is the unnatural change wrought on these places by human-induced global warming. The effects of global climate change sometimes appear to be happening only in a far away place, at the ends of the world on continents we may never experience. Melting icecaps and receding glaciers seem a world away from where we live and recreate. While these areas may be experiencing the most obvious signs of a planet under stress, the changes are also happening in areas with which we are more familiar, and that we experience on a much more personal level.

Through this photo-essay of Sierra landscapes paired with narration by prominent scientists, I hope to give readers a glimpse of what is at stake as climate change affects our cherished corner of the world. I hope these images will inspire action to counteract these threats so that future generations can enjoy the Sierra Nevada we know, and the animals and plants that rely on these landscapes for survival will be spared extinction. One fact is certain—if we do not join together as a civilization to address this problem, the beauty and biodiversity of the "Range of Light" could be forever dimmed. I hope future generations will be able to personally experience the landscapes pictured herein, and not just view them nostalgically in photographs.
Winter Sunset Tahoe
Taken on the East Shore of Lake Tahoe in early winter. Camera: Hasselblad H3D-39 with 35 mm lens, Gitzo tripod, Really Right Stuff Ballhead, Lee Split ND filter.
Winter White Tahoe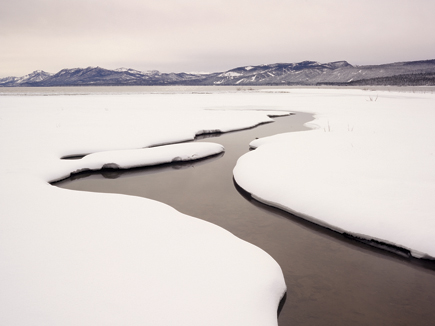 Taken on the North Shore of Lake Tahoe in the winter. Camera: Hasselblad H3D-39 with 50-110 mm lens, Gitzo tripod, Really Right Stuff Ballhead, Lee Split ND filter.
As a way to bridge the gap between the stark reality of science and the uplifting inspiration of art, I have interspersed the data on climate change with a selection of poems, both to nourish the heart and to provide readers another portal into the beauty that surrounds us. If we take to heart the words of John Muir, I feel there is cause for some hope in the face of the bleak scientific data: "The wrongs done to trees, wrongs of every sort, are done in the darkness of ignorance and unbelief, for when the light comes, the heart of the people is always right."
Elizabeth Carmel is a Sierra-based photographer specializing in unique, expressive landscapes and "waterscapes." Elizabeth has spent years exploring and photographing the diverse landscapes of the world. Her award-winning images are in numerous museums, galleries, and private collections throughout the US. Elizabeth is one of 12 photographers worldwide honored with the Hasselblad Master Photographer award for 2006. Elizabeth and her husband Olof, who is also a fine art landscape photographer, own and operate The Carmel Gallery in Truckee, California. More information on their gallery is at: www.TheCarmelGallery.com. For more information about Elizabeth's work, to order limited edition prints, and to find out where to purchase additional copies of "The Changing Range of Light" or "Brilliant Waters," please visit: www.ElizabethCarmel.com.
Where To Buy "The Changing Range of Light"
Available by order through all bookstores and online through Amazon.com.

Available through Ingram Bookstore suppliers.

Signed copies available from: Hawks Peak Publishing (www.HawksPeakPublishing.com).

Distributed by (for wholesale orders): Mountain Press Publishing Company, PO Box 2399, Missoula, MT 59806; (800) 234-5308 (toll free), (406) 728-1900 (local); e-mail: info@mtnpress.com.

ISBN-10: 0-9776877-1-6
ISBN-13: 978-0-9776877-1-8

LATEST VIDEO

SPONSORED VIDEO
Testing Tamron's SP 150-60mm G2 lens while capturing birds and alligators in Apalachicola, Florida.