Canon's i9900 Photo Printer
Reaching A New Level Of Ink Jet Performance Page 2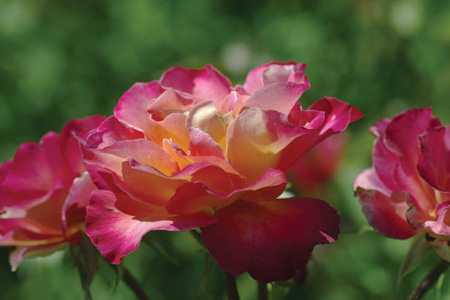 The benefit of the Canon i9900's additional red and green inks is evident in the subtle variations in color and tone in some shots of red roses I made with a Canon EOS Digital Rebel.
Rather than my usual criteria for image selection for test printing, I chose a good number of images that previously were difficult to scan or had been a challenge to print, as well as some that I thought could take advantage of the new ink colors of the i9900. In addition, I made prints of recent Canon EOS Digital Rebel flower shots and some new Recreations I had recently finished. Most of these were first printed using letter-sized Canon Photo Paper Pro premium glossy paper. Most of the images were printed with Canon's Easy-PhotoPrint--all the rest were printed from Photoshop CS using Print With Preview and selecting a profile as the Print Source. I turned off any driver color adjustments in the Color Management drop-down window. This workflow is preferred because I have found it delivers the most consistent print matching. It is also the most effective way to utilize custom profiles made for third-party papers, and provides a consistent basis for comparison and evaluation.

I then moved on to printing with a number of different matte papers, including the ones from Adorama and Calumet, as well as other papers in stock I have used previously with other printers, using the Canon Matte Paper (MP) profile installed with the printer's software. I then made custom profiles with the ColorVision SpectroPRO Suite of these third-party papers to make more prints with these matte papers.

I found that although the Canon (MP) profile is in the ballpark with most third-party matte papers, particularly with those that don't have a "natural" warm tint, using a custom profile produces better color matching and in some cases superior control of image brightness and contrast. After using up most of two complete ink sets, I'd made a sizeable collection of prints with the i9900. And, although image content will affect ink usage substantially, based on past experience with similar printers, I would estimate ink cost per print should be modest and competitive, even though there are now two more colors in an i9900 ink set.
Evaluation And Recommendation
Compared to the Canon i9100 printer I reported on last year, the differences and improvements in this new i9900 are not dramatically obvious. The i9100 was and is a top performing photo ink jet printer. It is in the subtleties that distinguish one image from another in look and style that the significance of the advantages of the i9900's performance becomes obvious. For instance, although the different brands of slide film all reproduce subjects effectively, there is a distinct difference in the look and style between the images of a particular subject made with one brand and another. But, through the process of scanning, editing in Photoshop, and then making a print with an ink jet, the classic "Kodachrome look," for example, can become muted in a print. The i9900 prints from those film scans showed off the subtleties in distinct fashion. I found the same occurred with recent images I made of flowers with my Canon EOS Digital Rebel. The prints displayed the delicate gradations of color and tone with quite unusual fidelity to the subject.

One would expect that the Canon i9900 would reproduce all of the attributes of a photographic image with good color accuracy and fine image definition on Canon's own premium glossy Photo Paper Pro. And it did, with a wide range of subjects. But from my perspective, super glossy prints have their place, but it is not in a picture hung on the wall. Besides providing a look and feel of quality, fine matte papers offer a greater range of choice in style and subject accommodation more appropriate to portraits and landscapes, for instance.

The Calumet Brilliant matte paper is a double weight that has a very smooth velvet-like surface on an exceptionally bright white base. The Adorama ProJet fine art media Velvet Smooth is a heavier based paper with a cold-press finish, with a fine texture and slight natural tint that responds to ink with depth and richness of tone. The Adorama ProJet Photo Rag Warmtone 190 responds to ink with a little softer tone and favors portraits and landscapes. All of the matte papers I printed with the Canon i9900 produced quite good results using the photo matte (MP) Canon printer profile. However, the finest quality was achieved after custom profiling the i9900 for each paper using the ColorVision SpectroPRO Suite.
I nearly always have a camera with me while traveling. All too often the picture that presents itself does so at a time of day that doesn't favor capturing the subject ideally. Some of the near misses I captured on film and have scanned, and now printed with the Canon i9900, have resulted in prints that are more pleasing than I had ever gotten, or even expected.
My conclusion is that Canon has achieved a new level of photo ink jet performance with the new i9900 model. It prints finer images with greater color fidelity, particularly when reproducing natural greens and skin tones. This significantly improved image print performance is achieved with no loss of the fast print speed enjoyed with the previous i9100, and without any apparent loss in economy in ink cost per print. In addition, the $499 list price is competitive for a top of the line dye-type 13" wide photo ink jet.

For more information, visit the Canon website at: www.usa.canon.com.
ColorVision SpectroPRO (Suite)
Now an individual photographer can afford his or her own sophisticated, professional printer profiling that has been available to most of us only through service bureaus and labs. ColorVision's new SpectroPRO is a combined hardware and software solution that's based on the precise readings of an LED-based spectrocolorimeter to exactly measure and calibrate targets printed from the included ColorVision ProfilePRO software application, with the aid and control of their new PatchReader software. I found I could obtain dead-on printer profiles for all the media I wanted to use and get precise color matching. I also found that I could accomplish this in just a few minutes following easy steps guided by on-screen instructions. In addition, another software Photoshop plug-in included in the package, called DoctorPRO, allows you to edit your profiles to achieve a personalized custom print style or look. You do this by making the adjustments just once using your familiar Photoshop tools, that are then applied to your profile.

As part of my evaluation of the Canon i9900 printer I used the SpectroPRO to produce targets, measure, and profile each of the third-party papers used (as well as profiling my own personal printer). Had I not had the SpectroPRO to do this paper/printer profiling I would not have been able to realize the full capabilities of the i9900 on the variety of high-quality fine art papers tested. In the past I have tried several CM software and flat-bed scanner solutions for printer profiling, all with limited success. The ColorVision SpectroPRO consistently produced custom profiles quickly and easily that rival expensive professional service bureau made profiles I have relied on in the past. The list price of the ColorVision SpectroPRO package is $888, and the Suite, which includes a ColorVision Spyder and SyderPRO software, is $999. For more information, visit their website at: www.colorvision.com.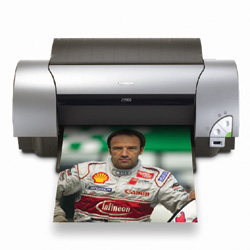 Technical Specifications
Print Speed (Up To): 4x6 Color Photo, Borderless--approximately 38 seconds; 8x10 Color Photo--approximately 50 seconds
Number Of Nozzles: 6144 nozzles (768x8 colors--C, M, Y, Bk, PC, PM, R, G)
Print Resolution (Up To): 4800x2400dpi in color
OS Compatibility: Windows XP/Me/2000/98 and Mac OS (8.6 to 9.x), Mac OS X Version 10.2.1 to 10.3.x. See www.canontechsupport.com for updated compatibility.
Standard Interfaces: USB 2.0, USB 2.0 Hi-Speed, FireWire (Mac only), Direct Print Port (cables not included)
Paper Sizes: Letter, legal, 4x6", 5x7", 11x17", 13x19", US #10 envelopes
Paper Compatibility: Plain paper, envelopes, Canon Specialty Papers--High Resolution Paper, Matte Photo Paper, Photo Paper plus Glossy, Photo Paper Pro, Transparencies
Software Included: CD-ROM including Printer Driver, Setup Software and User's Guide, Electronic User's Guide, Photo Application Guide, e-registration, Easy-PhotoPrint 2.0/Easy-PhotoPrint Plus (Windows/Mac), PhotoRecord (Windows), ZoomBrowser EX (Windows), ImageBrowser (Mac), PhotoStitch (Windows/Mac), Easy-WebPrint (Windows, requires Microsoft Internet Explorer Version 5.5, Version 6.0 recommended). Note: System requirements vary by application. ImageBrowser, Easy-PhotoPrint 2.0/Easy-PhotoPrint Plus, and PhotoStitch are not supported on Mac OS 8.6.
Price: $499

LATEST VIDEO

SPONSORED VIDEO
Testing Tamron's SP 150-60mm G2 lens while capturing birds and alligators in Apalachicola, Florida.