Cameras; Rangefinder 35mms, Medium & Large Format Cameras Page 2
The importer will probably be ALPS-WIDEPAN, who also bring in the WIDEPAN 140Þ camera. The WIDEPAN is what purists call a "true panoramic" camera, because it has a swinging lens, but this has as many disadvantages as advantages, especially the strangely bowed fronts it gives to buildings: whether you choose swing lens or wide angle is very much a matter of application and aesthetics. For stitching, though, it should work rather better than a wide angle, and three shots (420Þ) give a full circle with a few degrees left over for easy matching.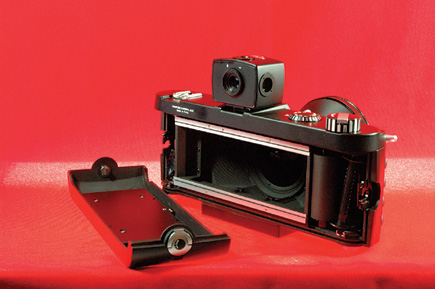 The WIDEPAN 140Þ camera has a 50mm f/3.8 Tessar-type lens focusing down to just under 3 ft/80cm (closer with supplied dioptric lenses), and accepts 120 (6-on, 50x110mm), 220 (12-on), and even, via an adapter, 35mm (10-on, 25x110mm). There are only three shutter speeds, equivalent to 1/2 sec, 1/60 sec, and 1/250 sec, but because it's a swing-lens camera, these are merely exposure equivalents: it actually takes significantly longer than this for the lens to swing through its arc. At 4.4 lbs (2 kg) it's no lightweight but it sits reassuringly in the hand. It's also battery independent, except for the illumination of the focus and f/stop settings, and this is merely a matter of convenience rather than necessity. Unfortunately I kept missing the president of ALPS-WIDEPAN so I don't know the price; contact the company for more information.
Tosh Komamura of Horseman shared Rollei's stand, because they now have a mutual support and marketing agreement, which should greatly increase the availability and ease of purchase of Horseman cameras. I have already mentioned the stereo camera, but this was not the only Horseman introduction--nor yet the only Horseman introduction for real film. There's also a new 6x17cm wide angle camera, with interchangeable lenses and interchangeable backs, swappable in mid roll. The latter may not sound unusual but with other 617 cameras you have to finish the roll (only four pictures, admittedly) before you can change films or use the focusing ground glass. If you are into 617, this one deserves very serious consideration indeed. There was no price before our press deadline, but you can be sure that it won't be cheap.
The only news in large format was a 6x12cm back from GoShot. Again this is Chinese made, and it is frankly a bit agricultural with its red-window film advance, but there is no reason it shouldn't work. The good news is that the prices are very reasonable, well under $1000 for both the back and the rather good ground-glass system with an excellent strut-supported bellows focusing shade. It's a special-order item, but as far as I could see there may also be a 6x17cm version, which will also be usable on 4x5" cameras with wide angle lenses: certainly 90mm, probably 135mm, and possibly longer.
Actually, there was one more medium format introduction, a new Holga with square filter holder. I have never quite been able to see the appeal of these cameras--I'd rather have a Lubitel TLR, which is very little more money, especially if you can find one used--but if you like them, your options are now extended. They are distributed by Freestyle.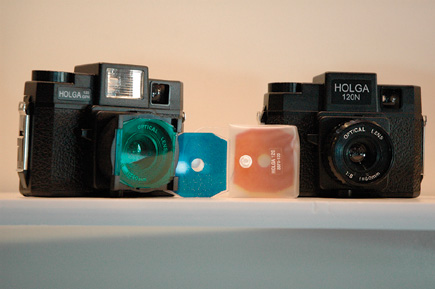 Am I downhearted at this rather sparse collection of news? Not especially. It confirms two things. One is that we are dealing with a niche market, and indeed in some cases with a niche-within-a-niche: how many new stereo rangefinder cameras do you expect to see? The other is that while PMA is an important show, on the world stage it is still a long way behind photokina, the great biennial German trade show. Indeed, Mamiya announced the availability of their 22-megapixel medium format ZD just after the PMA Show had finished, but in time for us to include it in this report. I expect to have a great deal more to report from Cologne in September, about rangefinders, medium format, large format, and more. Watch this space in six or seven months' time!
A Note On The Illustrations
Several of these pictures were shot in a Kaiser Folding Studio; others were shot using the American Recorder equivalent (the 612 back and camera grip) and on the Argraph portable studio (the Chinese 617 with the red background). I would like to thank HP Marketing Corp. (who handle Kaiser), the Argraph Corporation, and American Recorder for the loan of this equipment.

Manufacturers/Distributors' addresses can be found on page 174.

LATEST VIDEO