California's Central Coast; A Photographer's Paradise Page 2
Here we head west on State Highway 1 to Morro Bay. The volcanic peaks on your left are the Nine Sisters and were formed some 25 million years ago. The last in the chain is Morro Rock, also known as the Gibraltar of the Pacific. Morro Bay is still home to a fishing fleet, although it's fading fast due to regulation and dwindling stocks of market fish. When you get to the embarcadero park the car, grab the camera, and explore. You can also rent a kayak, or take a guided tour of the bay on the Tiger's Folly.
The rest of our trip will take us up Scenic Highway 1 but there's much of interest back on US Highway 101 as well. An extended itinerary might be north on Highway 1 to Monterey and then a leisurely return south on US Highway 101 to Santa Barbara.
North of Morro Bay you'll enter what has been called California's Magic Kingdom. A very touristy, but thoroughly charming, spot is Cambria. Again, great restaurants, quaint inns, and places where you can get all the ingredients for a seaside picnic. Stop at Linn's Fruit Bin and try the cobbler...mmmmmmm!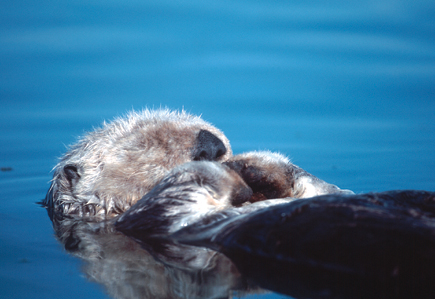 This otter was so relaxed he actually fell asleep as I was taking his portrait. Score another one for kayak photography.
If you have never visited Hearst Castle you really should try to include it on your itinerary. Continuing north will bring you to the Big Sur Coast. Sur is Spanish for south and every inch is fantastic. Take your time and explore; you won't be disappointed.

The next town of any size is Carmel. Point Lobos State Reserve is just south of town and is a must see. Adams described it as the most beautiful confluence of land and sea in the world. Plan on spending some of your time in Carmel gallery hopping. Start with Photography West on Dolores Street and pick up a gallery guide while you're there. If you have a spare $150,000 you can also pick up a copy of Moonrise Over Hernandez, signed by the man himself.

This trip is great anytime of the year but I'll let you in on a local secret. The best weather happens in the fall, right after the tourists have gone home, or in the spring, before they arrive. Summer tends to be overcast due to the marine influence and while winter is usually mild it is possible to get a week or more of rain at a time. However, winter swells can produce some very dramatic waves to add spice to those ocean landscapes.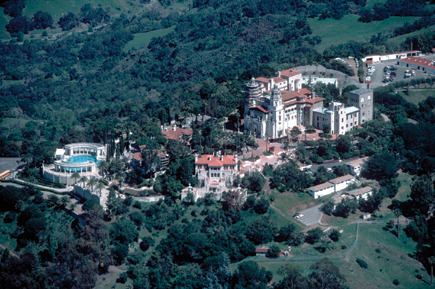 I promised you a real castle and here it is. The former estate of William Randolph Hearst and currently a California State Park. The visitor's center is worth the time even if you can't manage one of the Castle tours.
I've barely touched on a few of the sights, but then again half the fun of a trip like this is the discovery of new delights. Just be sure to bring lots of film or plenty of memory cards. Good shooting, and don't eat too much chowder.