Blog, Blog, Blog, Blog, Photoblog
How Photographers Are Making The Internet Work For Them Page 3
Of course, some photographers do not find such limitations onerous or insurmountable and, by nature, readily adjust what they do photographically to what the public and the establishment has determined will "sell." But I also think there are many more photographers, like myself, who are too independent and find that catering to popularity does not serve their motives for making photographs in the first place, or who are not comfortable with traditional venues. For some time now I have been giving prints away to friends and acquaintances whom I have reason to believe would welcome and enjoy the images and that has proven
much more satisfying.
URL: http://wvs.topleftpixel.com. "As a full-time digital artist, I tend to look around me all the time trying to see things differently. I also like photography a lot and that's how it all started. So I began `daily dose of imagery' to showcase and share my day-to-day visual practice with a (then small) group of people. One of many great things about a photoblog is the ability for the viewers to comment and share their thoughts about every single photo in real time. Having a photoblog also made me go around and explore my surroundings a lot more than I usually used to, in order to find a new image for the day. Sometimes I'm too busy to shoot a good photo in a day so I start digging in my archive of my thousands of photos and post an old photo that I haven't shared before. Updating the site can be at times frustrating due to my full-time job and lack of time, but mostly it's rewarding and I find it to be a great project to keep my eye and my skills fresh. Overall, `daily dose of imagery' ended up to be much more than I originally planned it to be and that's a great feeling to have this many visitors daily and it also adds a sense of responsibility for me toward all these people."--Sam Javanrouh
Although the web imposes physical restrictions as to size and resolution, photobloggers are free to show whatever kind of image expresses their interest (of course, with some sponsored sites sexually explicit material is often censored--but that's OK because there are plenty of other places on the Internet one can go if desired).

In short, the photoblog virtual community is about as ideally democratic and egalitarian as one can imagine. And, the investment required to show and share images is minimal and mostly involves how much time you are willing to invest. The satisfaction or advantage that may come from doing a photoblog is as individually diverse as the reasons people have for being interested in making photographs. Obviously the rewards must outweigh the investment as many people pursue the activity with enthusiasm and, in many cases, what can only be described as enduring tenacity. Personally, I cannot imagine a venue for showing and sharing photographic images better suited to the photo enthusiast.

Corresponding with an enthusiast recently I thought out loud that if Marshall McLuhan--the media guru who coined the phrase "the global village" to describe a world made small by electronic media, and named patron saint of Wired magazine--were alive today he would surely smile largely and knowingly in response to photoblogging.
URL: http://thenarrative.net. "I've been taking photographs for as long as I can remember, but life has gotten in the way of taking it seriously, so I gave myself the photo-a-day blog challenge as a way to keep me thinking photographically, to force me to keep shooting. So far, maintaining thenarrative.net has helped me grow as a photographer. Because it's a persistent chronological record of my work, I am constantly reminded of the choices I've made and the ways I've changed. And because I find myself with a sizeable audience following my pictures daily (and often giving feedback), I feel encouraged, inspired, and challenged to keep going just a little farther. I now have a responsibility to take the most interesting pictures I can. I hope I can keep doing this for a long time so eventually it tells a narrative of my life, of what and how I see, and particularly the people I photograph."--Matt O'Sullivan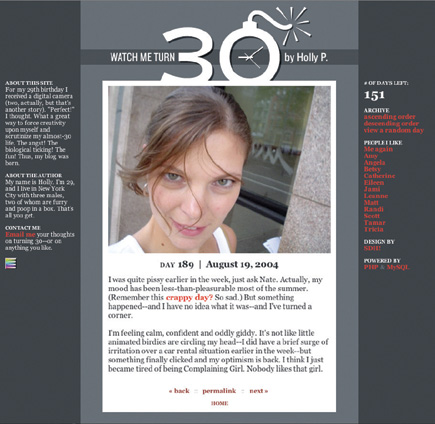 URL: www.watchmeturn30.com. Holly P. says about her "Watch Me Turn 30" photoblog, "For my 29th birthday I received a digital camera. Perfect, I thought. What a great way to force creativity upon myself and scrutinize my almost-30 life. The angst! The biological ticking! The fun! Thus my blog was born." Wow! What a challenge to give oneself, particularly when it involves an almost daily self-portrait. How do you do something like that without seeming self-serving, egocentric--even maudlin--or at best banal? After leafing through over 100 days, all I can say is Holly's photoblog is definitely none of the above, and although I left 30 behind some time ago, and males are not supposed to be concerned by birthday symbols until much later in life, what Holly reveals is touching and poignantly honest by just being real with herself, life, you, and me.--Holly P.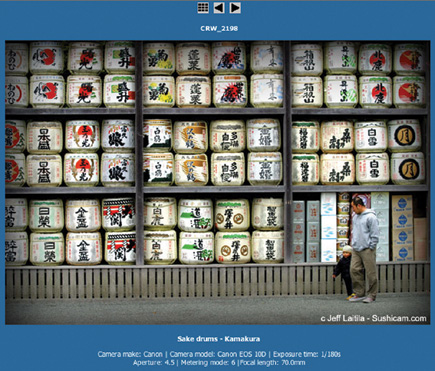 URL: www.sushicam.com. "What I try to do with my photoblog, Sushicam, is convey a sense of being there to my viewers, to share my passion for Japan with the rest of the world. The best compliment I have received about one of my images was when someone said, `It made me homesick for a place I have never been.' This is the reaction I strive for, knowing I have hit the mark by really connecting with someone."--Jeff Laitila