Balcar's AQ Lighting System
An On-Location, Battery-Powered Strobe Page 2
Pro-Oriented System
Balcar was thinking of the pro market here. Nothing on the new AQ pack or Iris head seems in any way compromised to meet a price point. The pack is rugged steel with a completely digital interface. The snap-on, snap-off battery pack is also super heavy-duty, with no less than three fuses present to eliminate any chance of electrical maladies. The head is a sweet aluminum work of art with a big fat cooling fan, a ridiculously strong reflector mount system, and Balcar's familiar removable pan-and-tilt mounting assembly. What was totally unexpected was the entirely new socket system.
Since the 1970s all Balcars have had a round plastic plug with a series of fairly thin gold wires inside. (A rep once told me these plugs were "French Military Spec," which should say a lot.) This made for a lightweight and compact cable assembly, but meant that mounting a head cable to a pack was a very precise job. Squeeze that plug in just a bit off kilter and you'd bend the plugs or push a wire back into the socket. I've blown up more than a few Balcar plug assemblies by pushing the flash sync wire back into the shell, and then have the pack try to jump 535v through 1/2" of air. Balcar's new plug system looks very similar to the Elinchrom plugs--long, thin rectangles that snap together. Zero chance of bending pins, zero chance of messy and expensive arcing.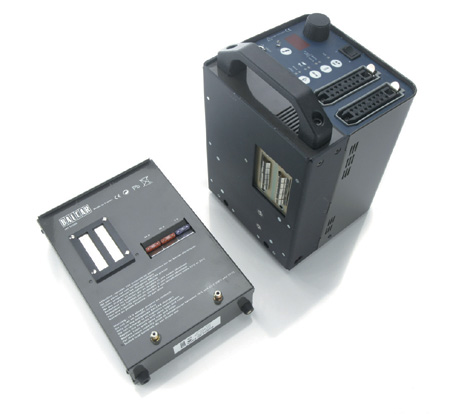 The AQ pack features a clever quick-release snap-off battery. Note the three big fuses inserted into the battery. Obviously reliability is a new focus for Balcar.
I used the new AQ system side by side with my own Balcar Concept B3 gear for several weeks. While both systems share the legacy Balcar/White Lightning mount, nothing else from one system is compatible with the other system. Certainly the new AQ is a slicker system. It's a little bit more compact, just a touch lighter, recycles faster, and looks nicer. Overall system control stays essentially the same.

You've still got the exceptional six-stop range of control, digital display, beep for recycle ready, and a nice power indicator. Now Balcar has a much more compact charger, and a much more sensitive built-in slave. The biggest difference for me is the new Iris head. Apparently these heads will be usable on both the AQ and the upcoming Balcar Nomad studio packs, and they are a noticeable improvement over past Balcar heads. Balcar has evidently heard from their users, and has finally done away with the polycarbonate end caps, sheet metal screws, and finicky Pyrex shell clips. Now the heads are all metal; the screws are all proper machine screws, screwing into threaded holes; and the Pyrex shells now pop in and out with simple spring clips. Since the Iris heads are available with the old round head plugs as well, I can smell a total upgrade coming for my own studio, at the very least.

The really amazing thing about the Balcar Nexus and AQ series packs is the multi-brand compatibility. It almost seemed too good to be true when I bought my first $4800 Nexus pack. Get one super fancy studio strobe pack and use anyone's heads! Broncolor strip lights, Speedo focusing spots, Profoto ringlights--just buy the appropriate cable and they all plug in and work flawlessly. Fairly amazing given the voltage difference, but I've been running a studio full of different lights for a year now and nothing has blown up.
The old Balcar lug is on the left, and you can see how fine and closely spaced the pins are. Compare that to the big broad metal connectors on the new plug.
AQ On Location
Using the AQ pack on location is fairly straightforward. It's one of those really great bulletproof pieces of gear that makes you quite bold. I used my loaner on the tarmac at Logan airport, on the roof of an industrial complex, lakeside in a stiff breeze, and in a Class 1 clean room. All of these locations had no AC power available, and in every case I just plugged in, hooked up my PocketWizards, and fired away. You totally forget after a minute or so that you're not plugged in. The AQ recycles to full power in under 3 seconds, and does not slow down at all as the battery is depleted. It's a totally seamless experience, going from the studio to the location, since you just keep on shooting without fretting over your battery life.

Balcar claims 200 full power flashes, but I certainly got more than that. On one shoot I had my main light on at about 70 percent of full power, and after about six hours I realized that I had shot 350 images and the Balcar was still going! On another occasion I shot with the pack for several hours and then plugged it into the charger. When I returned the following morning, the charger was not glowing, since I forgot to plug it into the wall! Undeterred, I grabbed the pack and headed off to my shoot. Close to 200 images later, the AQ still had a charge.

I've used a few other battery-powered packs that had this kind of battery performance, but never one that had this combination of speed, power, and style. Calumet offers this package--the AQ pack, a single Iris head, battery, and charger--for $2495, which seems like a fairly reasonable investment for equipment of this quality. If outlet-free shooting is your thing, then you must investigate the Balcar AQ system.

For more information, visit Calumet Photographic's website at: www.calumetphoto.com.

LATEST VIDEO

SPONSORED VIDEO