The Bag Man Looks at Domke as they Approach One Million Bags Sold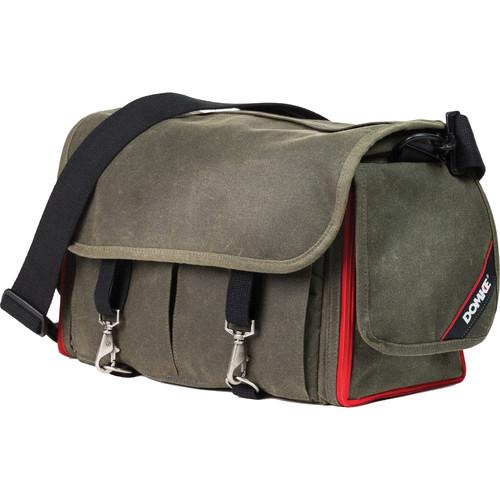 You all know the story of Jim Domke, the Philadelphia photojournalist who nearly 40 years ago (1975) developed a camera bag to suit his own needs and in the process created a product family that's sold nearly one million units and is used by photographers around the world. If you stay interested in photography long enough, sooner or later you'll own a Domke. Or two.
First, let me tell you what Domke bags are not. They are not heavily padded, so if it's your habit to roll down mountainsides horizontally or throw your gear into the back of your SUV like a sack of potatoes, forget this baby. I can say this, however: in the thirty or so years I have been using Domke bags, I have never had a single piece of equipment damaged because of the lack of padding.
For the most part, Domke bags are made of waterproof fabric and protective, repositionable interior dividers. All are manufactured in the US. Because the flexible canvas allows the bag to more-or-less conform to your shape, the bag is unobtrusive and easy to carry. The fabric construction keeps the empty bag weight low; it's both strong and light so you can fill it up and carry as much as you can handle.
And they are durable. I overheard a professional photographer say, "I've been shooting weddings so long that I'm on my second Domke." I knew he was lying because Domke bags never wear out.
Which Domke bag? That's like Jay Leno asking himself, "Which car should I drive today?" It's hard to make a bad choice. There are many models, sizes and colors. The smart move is to ask your friend how he or she likes their Domke bag. I have two favorites that are as different as can be. I use a Domke F-5XB when I'm carrying one or two compact cameras or a mirrorless with a couple lenses. The F-5XB has a fold-over flap and a full-length zipper across the top. It also has a large, integrated belt loop which I'll have to try someday.
The other bag is the Domke New Generation Chronicle. It's essentially an upgraded version of my faithful old "original" Domke F2. I usually work with two camera bodies and four Tamron lenses. One body and three lenses go in the Chronicle along with a flash, batteries, GPS and a small Shetland pony. Okay, I'm just kidding about the pony, but you get the point—the Chronicle holds a ton of gear. There are large flap pockets on either end and in the summer I carry 1-pint army surplus pilot flasks—flat canteens that were designed to be carried in BDU trouser pockets and are much more convenient than water bottles.
The New Generation Chronicle Military Ruggedwear has a wax-coated exterior and comes with a can of waterproofing material for renewal and touchups. Sounds sticky and oily but it's not. It sheds water (although it's a good idea to avoid rain and snow when possible, no matter what kind of bag you're toting). Cosmetically, the bag is very appealing with contrasting accents and antique-toned hardware. If you prefer something less gorgeous, the Chronicle also comes in bland khaki or black canvas and in black nylon-like Cordura fabric.
We asked Rick Booth, vice president of marketing for Tiffen, manufacturer/supplier of Domke and several other well known brands, why Domke bags have been so successful. He said this: "Timeless styling, protection, durability, comfortable to wear…and the most popular choice for photographers who don't want to draw attention to the expensive camera equipment they are carrying. In fact, 'flying under the radar' is one of the key reasons photojournalists take Domke on assignment."
Beware of out-and-out counterfeits. The original Domke innovations were developed under US Patent number 4,260,004 but that doesn't stop some interlopers from stealing the design, producing inferior products in third-world sweatshops and offering them online. Because I don't talk through my hat, I purchased two of these knockoffs and I can attest that they are not Domke quality. All genuine Domke bags are manufactured right here in the USA, so look for the proud American flag label.
—Jon Sienkiewicz

FEATURED VIDEO