Auld Lang Syne; It's Music To My Ears Page 2
www.fluxn.com
Justin Martin's website is focused. It's designed to allow you to view his work in a pleasant environment and then purchase affordable prints in a stress-free manner, using the kind of shopping cart experience familiar to anyone who's ever bought a book on Amazon.com. You'll need to allow your browser to accept pop-up windows to do your shopping and if you hate pop-ups (like I do) you can always set an exception for fluxn.com. Martin's photographs are collected into four major galleries, beginning with "Pacific Northwest," and feature tiny thumbnails that, when clicked, reveal larger landscape images of startling brilliance and clarity. His photograph of "Columbia River Gorge" elicited a Wow response from me. Clicking more thumbnails I was even more gee-whizzed by these meticulously crafted and composed photographs of both urban and natural scenes. Surprisingly, Martin's "People" images exhibit a loose '50s rockabilly essence that serves as a counterpoint to his more controlled landscape photos. "Places" is mostly filled with alternating powerful and quiet monochrome images that are introspective and while some of the images in the "Misc" gallery are stylistically related to those in "Places," they demonstrate how Martin is a man of many moods who has an abundance of talent.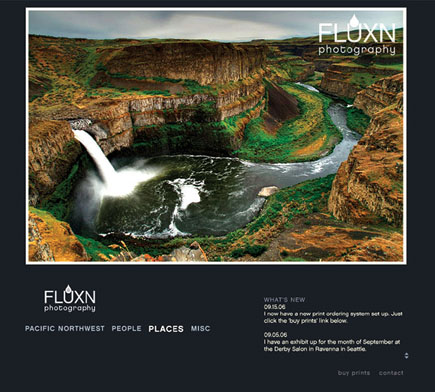 © 2007, Justin Martin, All Rights Reserved
www.dolgachov.com
Occasionally a website achieves a symphonic effect with the perfect blending of photography and design. Lev Dolgachov is an Estonian who just a few years ago was a street photographer and now his images appear in magazines. Once you get a look at them you'll know why. You might want to read his story in "About" before bouncing over to the Portfolio, which is arranged as a series of thumbnails. Clicking on one of them opens a series of similar images. They're not named or numbered so just browse away to see modern interpretations of what might be called "glamour" photography, but contain none of the clichés prevalent in similar kinds of American work. His style is clean, crisp, and well focused, and for the most part consists of high- and low-key studio photography that places the emphasis on his extraordinary lighting and posing skills. The "Fallen Angel" (there are no titles, that's just my take) series is especially interesting for its effective blend of high- and low-key elements. Nudity Advisory: While most of the images here are PG-13 rated, there is an occasional glimpse of nudity--Dolgachov is a Playboy photographer--and while it's always done in an extremely tasteful manner some people might be offended. Dolgachov also has a blog but unlike his site it's written in Estonian! Fortunately, you don't have to be able to read it to appreciate his photographs and tear sheets of recently published work.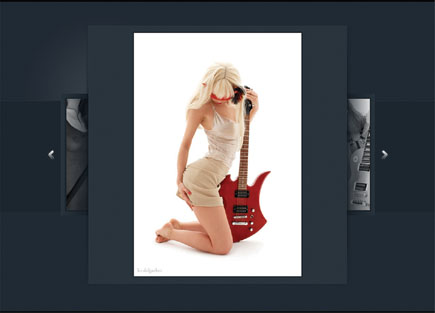 © 2007, Lev Dolgachov, All Rights Reserved

LATEST VIDEO