April Table Of Contents
April 2008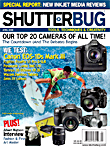 On the Cover
This month our focus is on black and white photography--from capture and conversion to processing and printing. We show you how to use film and digital technologies together to get the best of both black and white worlds. In addition, we have a plethora of Test Reports to further enhance your imaging. As an added bonus, we have a profile of master photojournalist Eli Reed on page 71.
TOOLS
26 Inkjet Paper Options
A Sampler Of Media For Pigment-Ink Printers
by Jon Canfield
32 Roundup
Covering The Photo Beat
by C.A. Boylan
48 Digital Innovations
Helping People See The World
by Joe Farace
68 Test Report: Fujifilm's FinePix S5 Pro
A Real-World Test Of A Viable Alternative D-SLR
by Steve Bedell
76 Test Report: Ilford's Galerie Gold Fibre Silk
A Galerie For The Gallery Wall
by George Schaub
96 Test Report: Canon's EOS-1Ds Mark III
The Big Kahuna Has Landed
by Joe Farace
106 Test Report: Panasonic's Lumix DMC-L10
A Versatile 10-Megapixel D-SLR With Live View
by Peter K. Burian
114 Test Report: The JTL Product Table
Shoot Tabletops Like A Pro--Anywhere
by Jack Neubart
118 Test Report: Wacom's Bamboo Tablets
A Prime Tool For Image Editing
by Jon Canfield
120 After The Kit Lens
Tips On Expanding Your Optical Options
by Jon Sienkiewicz
128 Test Report: Zeiss ZV Lenses For Hasselblad
Classics In The Modern Age
by Roger W. Hicks
130 Test Report: Tamron's AF28-300mm F/3.5-6.3 XR Di VC LD Aspherical [IF] Macro
The First Tamron Lens With Vibration Compensation Stabilizer
by Peter K. Burian
140 Classic Cameras
The Canon 7 And The "Dream" Lens
by John Wade
142 The Top 20 Cameras Of All-Time Countdown
We Begin Schneider's List--Do You Agree?
by Jason Schneider


TECHNIQUES

40 Business Trends
Making A Difference With Photography
by Maria Piscopo
58 Hard Light Portraits
An Island In A Sea Of Softboxes
by Steve Bedell
62 Web Photo School
Posing & Lighting
by Norm Haughey
146 Back Up Your Photos Now!
You (Probably) Already Have The Software You Need In Windows (And There's A Free One For Mac Users As Well)
by Rod Lawton
148 Creative Multiple Exposure
Digital And Film Options
by Howard Millard

CREATIVITY
10 Talking Pictures
"Showing Her The World..."
by Celeste McWilliams
14 Picture This!
Monthly Photo Assignment
by The Editors
20 Web Profiles
Great Photo Sites Reviewed
by Joe Farace
80 Personal Project
Staying In Focus In Iraq
by Scott Stulberg
84 On The Waterfront
AJ Neste's Pro Surf Shot Strategies
by Barry Tanenbaum
88 Master Interview: Albert Watson
The Discerning Eye
by Howard Millard
92 Locations
Over The Rainbow
by Brad Perks

DEPARTMENTS

126,183 Book Reviews
291 Contests
204 Digital Help
8 Editor's Notes
200 Help!
144 In Memoriam: Henry Froehlich
183 Trade Shows
184 Workshops

LATEST VIDEO

SPONSORED VIDEO
Testing Tamron's SP 150-60mm G2 lens while capturing birds and alligators in Apalachicola, Florida.